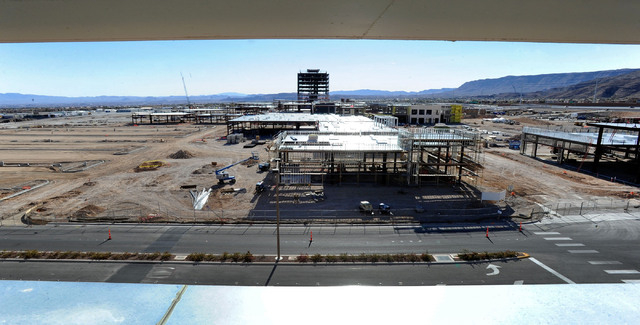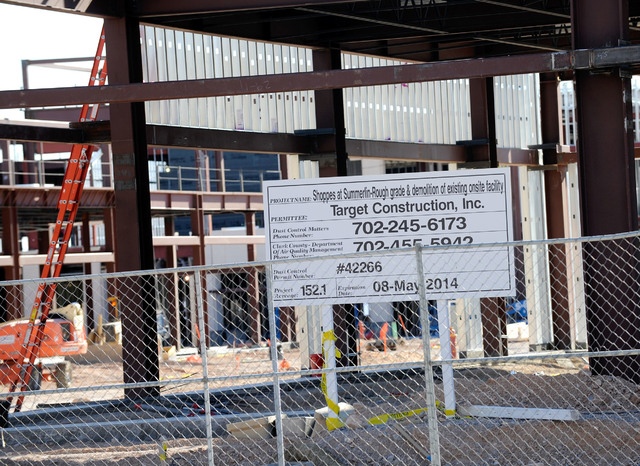 Downtown Summerlin is coming.
As The Shops at Summerlin rise from the dirt adjacent to Red Rock Resort, the first piece in the Downtown Summerlin puzzle will be set.
The steel is up, framing's going in, landscaping is being planted and the concrete is being poured. When all is said and done, the project will provide about 2,000 construction jobs. An opening just before the 2014 holiday shopping season is planned.
"It's a very busy site," said Tom Warden, senior vice president of community and government relations for The Howard Hughes Corp.
When finished, the retail center will provide about 2,000 permanent jobs for people working across 1.6 million square feet of retail, dining, entertainment and office space on a 106-acre site. Class A office space will occupy 200,000 square feet of the total. Very few of the 125 stores, restaurants or entertainment venues have been announced yet, but Warden said to expect major news soon.
"Retailer response to (the) project thus far has been terrific," Warden said.
The 200,000-square-foot Dillard's and 180,000-square-foot Macy's are already announced. A third department store is slated to round out the anchors. The Nordstrom Rack will show up in the marketplace section of the center. As the open-air, pedestrian-friendly district begins to unfold, Summerlin residents will begin to see one-lane streets winding through shops designed to turn the suburbs into a sustainable urban center.
"It's about creating a wonderful environment for people," Warden said.
Bryan Wachter, spokesman for the Retail Association of Nevada, said: "We're obviously excited that it's coming on line. It's a large project and creates a partnership with a lot of different retailers. It should inject some confidence in the retail market as it relates to growth."
Since the recession, Wachter said, the state hasn't had many new retail projects. The association is hoping that this project will turn that tide and allow people to look at the economic conditions enabling this project, thereby spurring more growth.
"It's important to create new experiences and not repeat others that are already here," Wachter said. "I think this completes that goal."
Much of the U.S. has been overbuilt for retail, but Las Vegas has room to support a regional center like the Shops at Summerlin on the valley's western rim, Warden said.
"There are very few regional retail projects of this magnitude in construction or even in consideration in the U.S. right now," he added.
Overall, 2014 is looking up for retail, Wachter said. The recent holiday shopping season was projected to have sales increases of about 7 percent statewide to $1.7 billion this year, up from 2012's $1.59 billion in holiday spending. The association is confident those projections were met, even if national sales weren't on par. September's retail-specific taxable sales increased 5.8 percent, and the association expects similar increases to sustain for the end of 2013.
The mall is directly south of Red Rock Resort. On the east side there are more than 200 acres of open land, which will become the rest of Downtown Summerlin.
Hughes Corp. has big plans for those 200 acres: If their plans come to fruition, expect an urban center to fill the space with a mix of townhomes, possibly condominiums, office space, street-side retail, park spaces and restaurants.
"We need to provide regional services where people live," Warden said.
A little more than 100,000 people live in Summerlin. Specific project costs were unavailable for The Shops at Summerlin, as The Howard Hughes Corp. doesn't release them.
Contact reporter Laura Carroll at lcarroll@reviewjournal.com or 702-380-4588. Follow @lscvegas on Twitter.