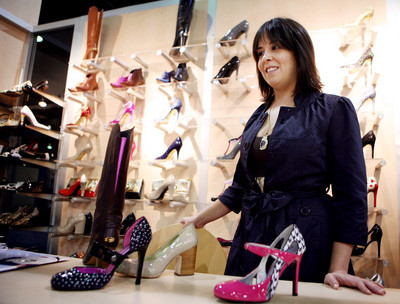 In Tom Robbins' novel "Skinny Legs and All" character Spike Cohen loves shoes so much he gazes at footwear on passers-by even as he lies on a Manhattan sidewalk with a critical gunshot wound.
Had Spike the shoe fetishist been gunned down this week during the World Shoe Association show in Las Vegas he would have thought he'd died and went to heaven.
The world's largest footwear show kicked off Thursday at Mandalay Bay and The Venetian. About 37,000 shoe-industry people from 95 countries are expected to make tracks to Las Vegas for the event.
"The shoes are the only part of my outfit I can see all the time," shoe designer Alison Muskat said. "I like to look down at them and have them make me smile."
The show covers more than 2 million square feet at the hotels and the Sands Expo and Convention Center. It includes sneakers, pumps, mules, boots, slippers, socks and flip-flops. Handbags and accessories are also part of the show.
The big booths are populated with household names like Rockport, Kenneth Cole, Skechers USA and Crocs, among others. The event lasts through Saturday and generates an estimated $59.3 million for the local economy, plus whatever the guests lose gambling.
But much of the passion at the show — not to mention some of the best designs — comes from self-made shoe enthusiasts fueled by a passion for fashion.
Muskat, 33, of New York, wore a black and champagne-color party dress and slinky champagne high-heels decked with clear, sharp costume jewels.
She pulled favorites from her "oh … DEER!" line of footwear from the shelf behind her and rattled off the inspirations behind each look.
The collection of four-inch heels included a pair with pink and houndstooth uppers, inspired by New York fashion, another in black, maroon and gold with an art deco shape inspired by the 1920s and a pair of navy blue and studded closed-toe heels inspired by women on the street in Paris.
"Women in Paris look better than women anywhere in the world," Muskat gushed.
Muskat started designing shoes more than four years ago and on Thursday she was showing her third line. But her background in footwear goes back even before her birth.
Her dad is the president of Deer Stags Footwear and her family's history in the shoe industry dates back to the 1940s.
"I don't know that I have any non-shoe-related memories," Muskat said.
Unlike Muskat, who was born into the shoe business, others such as Blake Mycoskie have a career in footwear thrust upon them.
Mycoskie, 31, calls himself designer and chief shoe giver for Toms: Shoes for Tomorrow.
Mycoskie, a former technology entrepreneur, founded the shoe company 20 months ago after a trip to Missiones, Argentina. He noticed many children in the village didn't have shoes and decided to start a company that would give away a pair of shoes for each pair sold.
He gave away 10,000 pairs during Toms' first three months of existence while operating from his Los Angeles apartment.
"I had never worked in shoes before," Mycoskie said. "It has unquestionably changed my life."
Now the brand is available in about 300 stores and online at the Las Vegas-based shoe-selling Web site Zappos.com. Mycoskie has also given away shoes in Africa.
The shoes are designed for the climates and conditions faced by the recipients. The Argentina-inspired footwear is lightweight and breathable, designed for the arid climate. The African shoes are waterproof and made to protect wearers from a ground-based pathogen that plagues villagers' feet.
"When we go to an area and find out what the foot problems are, we give what is needed," Mycoskie said.
The Toms on display this week in Mandalay Bay look and feel like slippers, except for the stiff rubber sole Mycoskie says is durable enough for hiking over rough terrain. They retail for about $40.
Most pairs were decorated with earth-toned prints. But one pair, called Toms Vote, sport either an elephant or a donkey, the symbols of the Republican and Democratic political parties.
At another booth a trio of former Arthur Murray dance instructors from San Diego showed off a line of women's handbags.
Charles Thomas, 39, designed the bags, each style named after a woman in his life.
"Each one has their own personality," he said.
His original design, the Shirley, named after his mother, was a conservative brown purse that wears over-the-shoulder or in-hand and remains standing on its base when set down.
"It has to wear well," said Thomas, who draws the designs by hand and makes sure each purse includes a key hook, cell-phone pocket and nonblack liner to make it easy to find items inside.
"It is hard as hell to find things in a black bag with a black liner," he said.
His line also includes a combined purse and laptop bag.
"A lot of laptop bags look kind of unisex," he said. "This is going to give her a lot more sophistication."
Finding passion to design handbags is easy when you think about their significance to the wearer, Thomas says.
"You are carrying your most important items in there," he said.
Contact reporter Benjamin Spillman at bspillman@reviewjournal.com or (702) 477-3861.