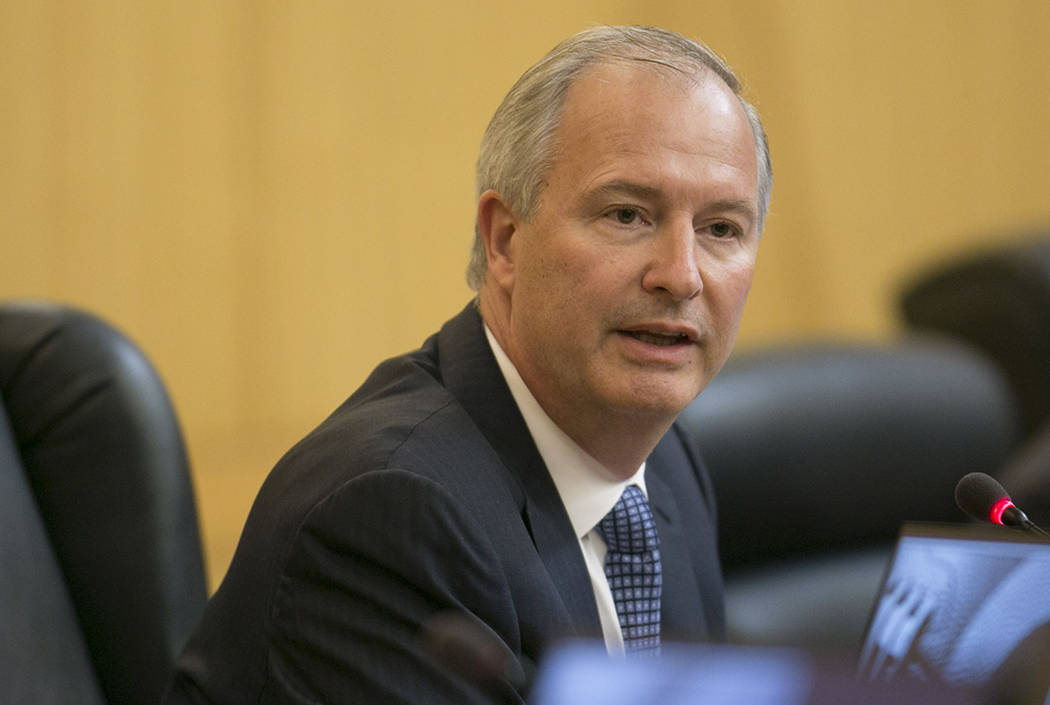 It's a question that often hits big decision-making boards in Las Vegas.
"Is Nevada such a unique place that it's a waste of time to bring talent from outside, somebody who has to adapt to our very unique culture as opposed to going with a known commodity who can hit the ground running?" said Fred Lokken, a political science professor at Truckee Meadows Community College in Reno.
Such is the question facing the Las Vegas Convention and Visitors Authority in its search for somebody to help lead the public agency, Lokken said.
The authority oversees the marketing of Las Vegas and management of the Las Vegas Convention Center. The center hosted 22 percent of convention attendees traveling to Southern Nevada in 2016. Las Vegas-based research and consulting company Applied Analysis estimates the authority directly supported an estimated 11,800 jobs, paying $495 million in wages and salaries.
Steve Hill, director of the Governor's Office of Economic Development, is on the short list to become an executive at the authority, possibly the president/chief operating officer. The authority board will consider combining the roles at a meeting Tuesday .
The salary for that position has not yet been finalized.
A former authority board member, a gaming industry representative and one of Hill's former colleagues say Hill would make a valuable addition to the authority. Independent analysts agree that Hill is uniquely qualified but say the process to fill the position at the authority has been "truncated."
"I don't quite understand the process that's been followed, but I've seen it before," Lokken said.
"It sure looks like a negotiation," said Eric Herzik, chairman of the University of Nevada, Reno's political science department.
Searching long and far
Authority administrators have been working on a leadership succession plan since January 2016. Authority spokesman Jeremy Handel said hiring for that plan has included a national search for three positions.
Cam Walker, who was an authority board member from June 2009 until June 2017, said he and others on the board at the time "did a full study and review and realized" the need for a chief operating officer, a chief financial officer and other individuals to manage and run the Las Vegas Convention Center.
"If you look at a multibillion-dollar business, which the Las Vegas Convention Center is, normally you have more executive-level support for somebody like (authority President and CEO) Rossi Ralenkotter," Walker said.
At its inception, the plan was estimated to cost $1.1 million in salary and benefits annually plus additional support staff for the new executives.
Since the proposal was approved, the authority filled the positions of chief financial officer, chief human resources officer, chief communications and public affairs officer, and legal counsel, according to Handel.
Handel said the authority hired Hanold Associates to search nationwide for the chief human resources officer and the company Heidrick & Struggles to search nationwide for the chief communications officer. Heidrick & Struggles was also hired to search nationwide to fill the role of chief operating officer.
"We left it to Rossi to fill positions as he saw fit," Walker said. "We didn't go out and hire four people really fast. We took time and gave our attention to this process over a long period of time."
'Choreography'
The chief operating officer position has not formally been filled or announced. But in September, former Republican Assembly Leader Paul Anderson announced his resignation from the Legislature and took a position with the Governor's Office of Economic Development.
Hill confirmed in September that he was leaving the office for a position at the authority, saying, "I look forward to meeting with members of the board to discuss their vision for the organization and how I might play a role."
Anderson began his position, which he said is "incoming director or deputy director," at the economic development office Oct. 2. Hill told the Las Vegas Review-Journal in late October that he intends to stay at the development office until mid-January.
According to an authority policy committee meeting agenda released Oct. 31, the authority will consider combining the roles of president and chief operating officer to round out the executive team. The combination hints at how Ralenkotter's titles of president and CEO might be split.
Herzik said this type of "choreography" signals that Hill and the authority are working together to figure out details.
Walker said he doubts that a national search would be fruitful for finding a chief operating officer, given the unique qualifications for the role that the authority is seeking.
Herzik and Lokken agreed.
Checking 'all the boxes'
"I hate making sports analogies, but this is like when the Yankees go out and hire a manager. That is such a rarefied pool of people that they're not really doing a wide-open search. The LVCVA knows who they want to get, and Hill checks all their boxes," Herzik said.
Likewise, Lokken said sometimes public agencies know exactly who they are looking for and don't need to conduct a private search.
"We see it with school boards and superintendents," he said. "I think the public interest is served, since this has generally been discussed in public and maybe they did conduct a private search themselves."
Lokken said Hill is uniquely suited for a role at the authority given his intimate knowledge of Nevada's economy and his connections.
Walker said Hill is a very attractive candidate for the authority given his experience in both the public and private sectors.
"It's taken that long to find the right type of person that could manage the public sector and the private sector, considering our board is made up of both," he said. "I was at the Legislature during one of the special sessions and saw his ability to work with the public sector to get laws passed and things changed."
Jan Jones Blackhurst, executive vice president of public policy and corporate responsibility at Caesars Entertainment Corp., said Hill is a "tremendous choice."
"He has the business background, he's thoughtful and strategic," and he's already very familiar with the authority and its mission.
Guy Hobbs, managing director of Ong Hobbs & Associates, who has worked with Hill on the Southern Nevada Tourism Infrastructure Committee, said Hill is "among the most intelligent" people he knows.
"His familiarity with the convention center expansion project and the underpinnings of how that's financed, and why it's so important to the community as a whole I think puts him in a rather unique position," Hobbs said.
Contact Nicole Raz at nraz@reviewjournal.com or 702-380-4512. Follow @JournalistNikki on Twitter.
LVCVA executive-level hires
January 2016 — Rana Lacer promoted to chief financial officer with a salary of $257,876
April 2016 — Barbara Bolender hired as chief human resources officer with a $193,731 salary
March 2017 — Jacqueline Peterson hired as chief communications and public affairs officer with a salary of $190,798
August 2017 — Legal counsel Luke Puschnig is added to the C-Suite with a salary of $198,764.