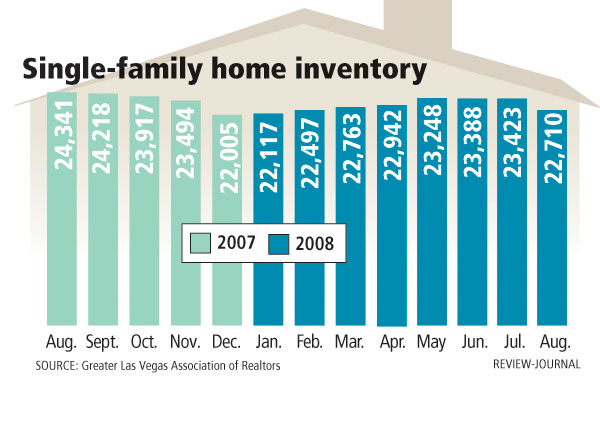 Las Vegas snapped its seven-month streak of increasing home sales in August, the Greater Las Vegas Association of Realtors reported Tuesday.
Realtors sold 2,545 single-family homes during the month, compared with 2,592 in July. But sales increased 93.4 percent from 1,316 in August 2007.
Though the numbers dipped slightly, August was still a strong month for sales, Realtors association President Patty Kelley said.
At $210,000, the median price fell 4.5 percent from July and 30 percent from a year ago.
As in past months, Kelley attributed the price decline to the unprecedented number of foreclosures in Las Vegas, where roughly two-thirds of home sales are bank-owned properties.
"Of course, this is great news for qualified buyers who are finding bargains all over town," Kelley said. "There's no way to know for sure whenprices will increase, though history tells us prices like this won't last long."
The inventory of single-family homes for sale on the Multiple Listing Service declined to 22,710 in August, down 3 percent from July and down 6.7 percent from a year ago. Another 5,390 condos and townhomes are on the market.
The numbers could be worse, housing analyst Dennis Smith of Las Vegas-based Home Builders Research said. At least people are still buying homes.
However, resale prices will continue to soften through the fourth quarter, he said.
"As long as rising foreclosure numbers in Las Vegas continue to make headlines, we can expect to see existing home prices darken the recovery cloud," Smith said. "Will the median price go below $200,000? We hope not, but it could happen."
Las Vegas-based Applied Analysis showed a reduction in resale inventory to 21,941 as of Sept. 1, down 155 units from the previous week. Listings are down 6,684 units, or 23.4 percent, from the same week of the prior year.
Many listings expire at the end of the month, which may have contributed to the decline, Applied Analysis reported. Inventory levels continue to slant toward investor and speculator units with 64.5 percent of supply consisting of tenant-occupied and vacant homes.
Pending sales, or homes under contract to be sold, totaled 7,220 as of Sept. 1, down from 7,339 in the previous week. About 48.8 percent of the contingent units are identified as short sales, suggesting they may still be subject to bank approval.
Contact reporter Hubble Smith at hsmith@reviewjournal.com or 702-383-0491.