Strip benefits from baccarat
February 20, 2010 - 12:00 am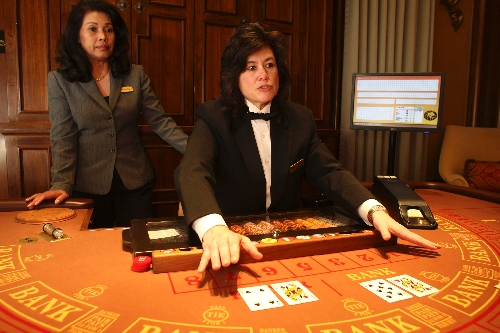 The two-week-long Chinese New Year celebration is in full swing on the Strip.
But to casino operators, a five-month stretch at the end of last year seemed like a giant baccarat game.
In 2009, statewide and Strip gaming revenues took their largest single-year tumble since Nevada began keeping record 55 years ago.
But without the figures from baccarat, the casino industry would have experienced an even worse decline.
On the Strip, where the card game accounts for 99 percent of the state's total baccarat numbers, gaming revenues from baccarat were more than $970 million in 2009, an increase of 26.5 percent compared with 2008. The figure was the single-highest one-year win total ever reported for baccarat on the Strip, topping the $911.3 million won in 2007.
Baccarat gamblers, an estimated 90 percent of whom traveled from the Far East, wagered almost $8.6 billion on baccarat, 20 percent more than in 2008.
On the whole, the Strip's 2009 gaming revenues of $5.55 billion declined 9.4 percent from 2008. The total amount wagered on table games, $22.8 billion, was 2.6 percent less than 2008.
Gaming Control Board Tax and License Division Chief Frank Streshley said Strip gaming revenues would have declined 14.5 percent for the year without baccarat.
"No question, (the game) helped the Strip," Streshley said.
However, it wasn't until August that baccarat numbers began to swing upward, Streshley said. Several months, including December, had 100 percent or better upturns in baccarat revenues compared with their corresponding months.
Streshley credited the jump to Asian high-end gamblers giving in to their pent-up demand and taking a Las Vegas getaway. The international economy kept many customers closer to home in the first part of the year. By late summer, high-end players began developing an itch.
Casino operators agree with that assessment, saying that Far East gamblers' bankrolls helped keep Las Vegas somewhat afloat by the end of the year.
Special events, such as championship boxing, New Year's Eve and the much-anticipated opening of the MGM Mirage-owned CityCenter gave high-end play a boost.
"If you go over to Asia as much as I do, you can see that the Asian economy is remarkably strong," said Rob Goldstein, president of The Venetian and Palazzo resorts for Las Vegas Sands Corp. "There is a socioeconomic segment that wants to visit Las Vegas. They want to come here and we saw that at the end of the year."
MGM Mirage Chief Marketing Officer Bill Hornbuckle said the declining value of the American dollar, along with the robust Asian economy, have created a growing base of potential Las Vegas customers on the other side of world.
Both Las Vegas Sands and MGM Mirage, along with Wynn Resorts Ltd., operate casinos in the Chinese gambling enclave of Macau, which has helped create a connection with Las Vegas.
"Macau does not hurt Las Vegas. It's helped the market," Hornbuckle said.
And the game of choice for those customers is baccarat.
The results of the game are often reflected in a company's quarterly earnings.
"It's not a very volatile game in the long run, but it is volatile in the short run," Goldstein said.
When a casino hosts a high-end customer with a seven- or eight-figure bankroll, day-to-day swings can be dramatic.
"We have to look at the game from a long-term perspective," Goldstein said.
Because of amounts wagered, baccarat carries a large portion of the Strip's handle and win. This year baccarat accounted for more than 35 percent of the Strip's total gaming revenues, up from 26 percent last year, and 27 percent in 2007 and 2006.
The game has European origins, but baccarat draws the interest of high-end Asian play.
Scott Jensen, a casino shift manager and executive director of MGM Grand's 13,000-square-foot baccarat salon, said customers dictate the pace and style of play, which is determined by bankroll.
Customers inside the MGM Grand baccarat room can wager between $20,000 and $200,000 a hand on baccarat depending on their line of credit or what's been deposited in the cashiers cage.
Unlike blackjack, baccarat has no formula for how many hands should be dealt in an hour.
Robbie Ling, who has dealt baccarat at the MGM Grand for 16 years, said she's seen a player go through an eight-deck baccarat shoe in anywhere from 18 minutes to three-and-half hours.
"The game has rules, but it's the customer who sets the tone," she said. "Over the years, we get to know the customers, their likes and dislikes, and their certain habits."
Shifts are typically 12 hours, but Ling said she and other MGM Grand dealers have worked overtime if customers requested their presence.
Oftentimes, players will request certain dealers because they might have had a good run with a group of dealers, which is typically from three or four per table. If a losing streak comes up, players might ask for another dealers contingent.
"It's a very customer oriented game and I personally believe we do a good job of catering to that customer," Jensen said.
Hornbuckle and Goldstein said a push is on to attract potential players from Eastern Europe and the Middle East. Goldstein said Las Vegas Sands, which is opening a $5.4 billion resort this spring in Singapore, is looking to build its baccarat database in that region.
Baccarat, however, does not seem to hold an interest for the American gambler.
"I really don't have an answer to that question," Goldstein said.
Contact reporter Howard Stutz at hstutz@reviewjournal.com or 702-477-3871
BACCARAT BASICS
Baccarat originated from the European card game chemin de fer, made famous by its appearance in several James Bond movies.
Historical accounts have baccarat landing on the Strip in the late 1950s, around the same time the Cuban government began closing casinos in Havana.
Baccarat is considered one of the simpler casino games. Players wager on which of two hands will be closer to 9, the player or the bank. Unlike blackjack, in which each player is dealt a hand, the table wagers on just the two hands.
Cards are dealt alternating face down, two to the player and two to the bank. The cards are turned over and added together. Tens and face cards are worth zero points and all other cards are worth their face value with aces being worth one point.
If the total value of the two cards is more than 10, the second number is the hand's value. For example, two 7s equals 4.
Players draw a card if their hand is 0 through 5; and stand on 6 or 7. If a natural (8 or 9) is drawn, neither the player nor the bank can draw a card.
The bank has various rules. When a player stands on 6 or 7, the bank will draw on totals of 0 through 5 and stand on 6 through 9.
LAS VEGAS REVIEW-JOURNAL