Strong economy energizes Black Friday in Las Vegas
Updated November 23, 2018 - 6:37 pm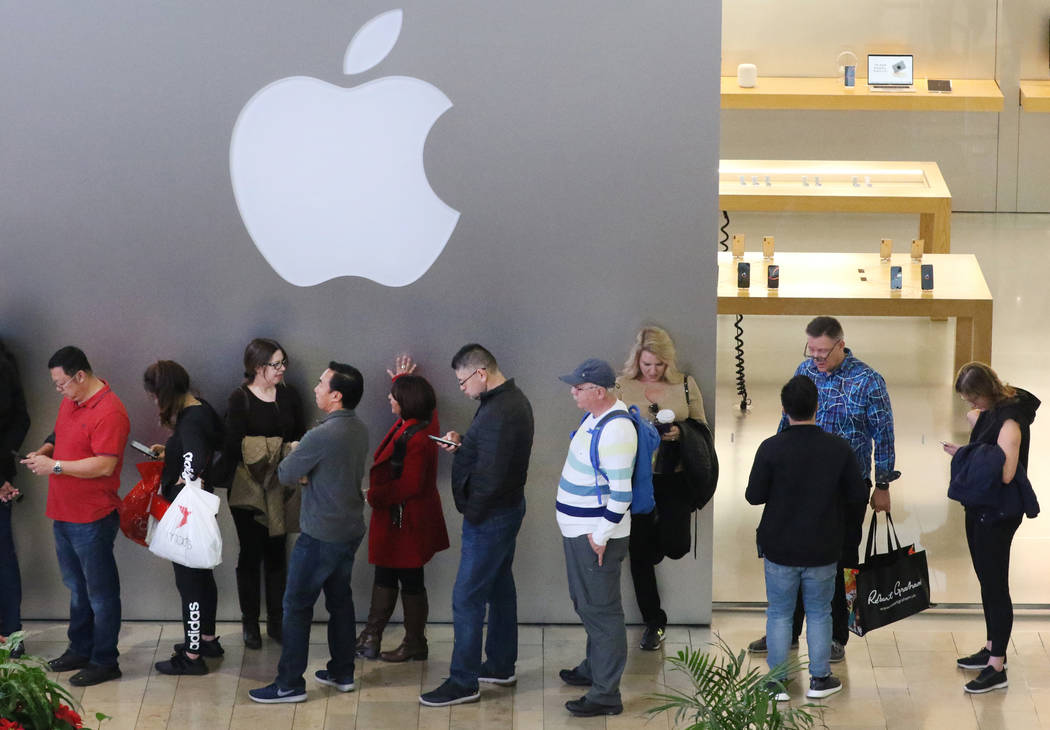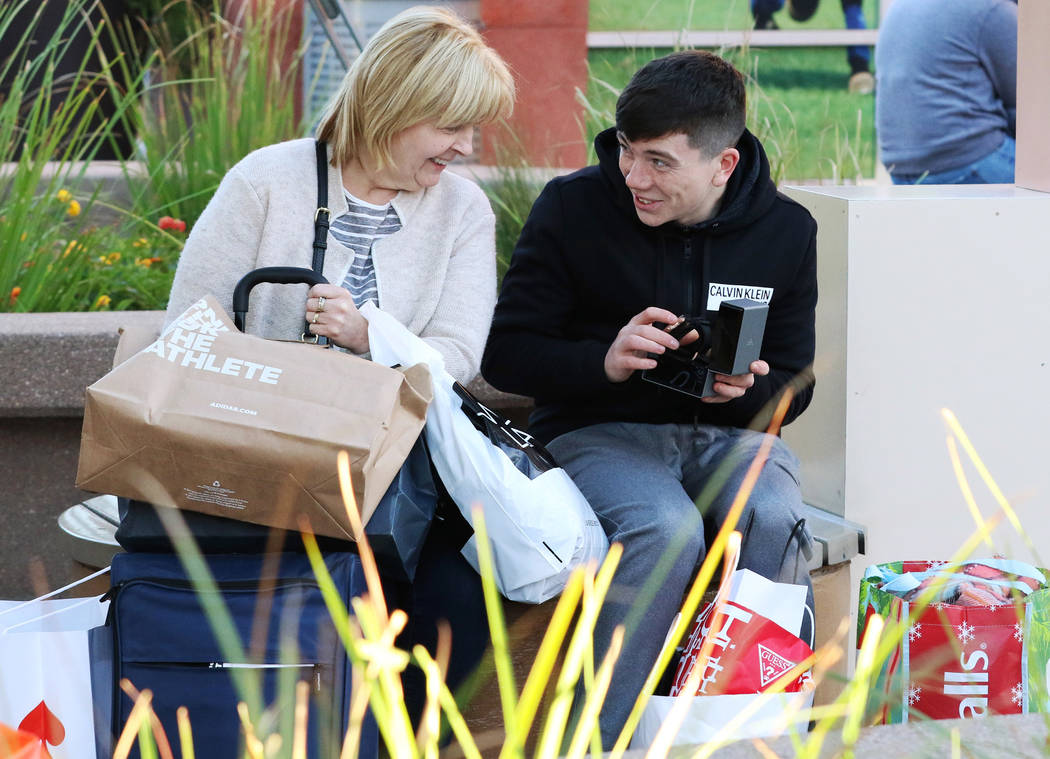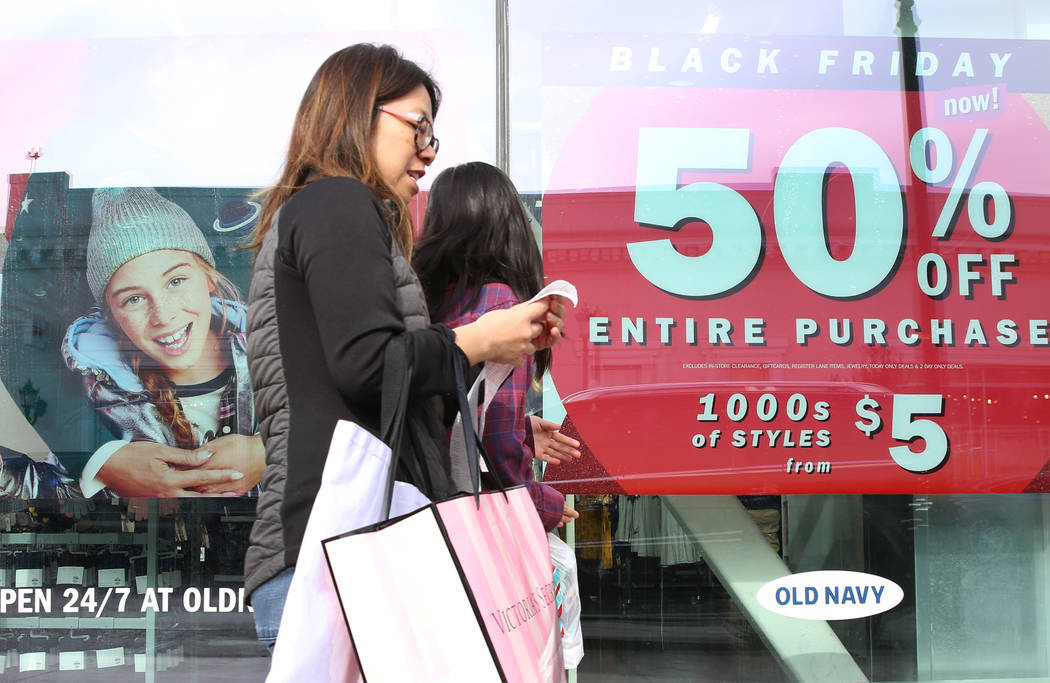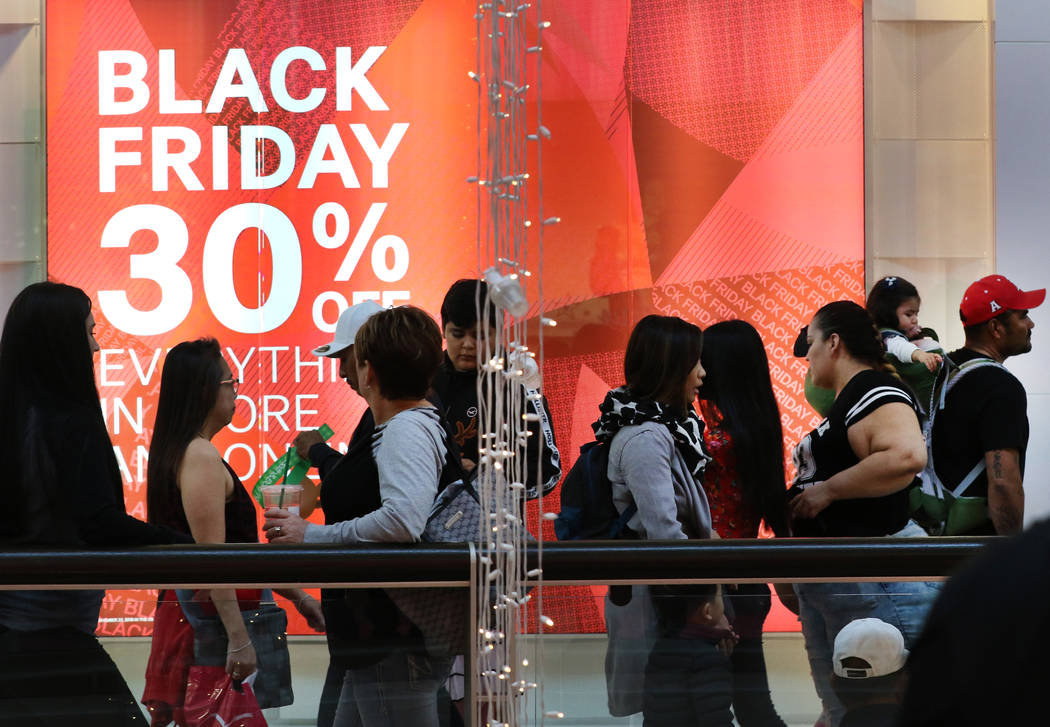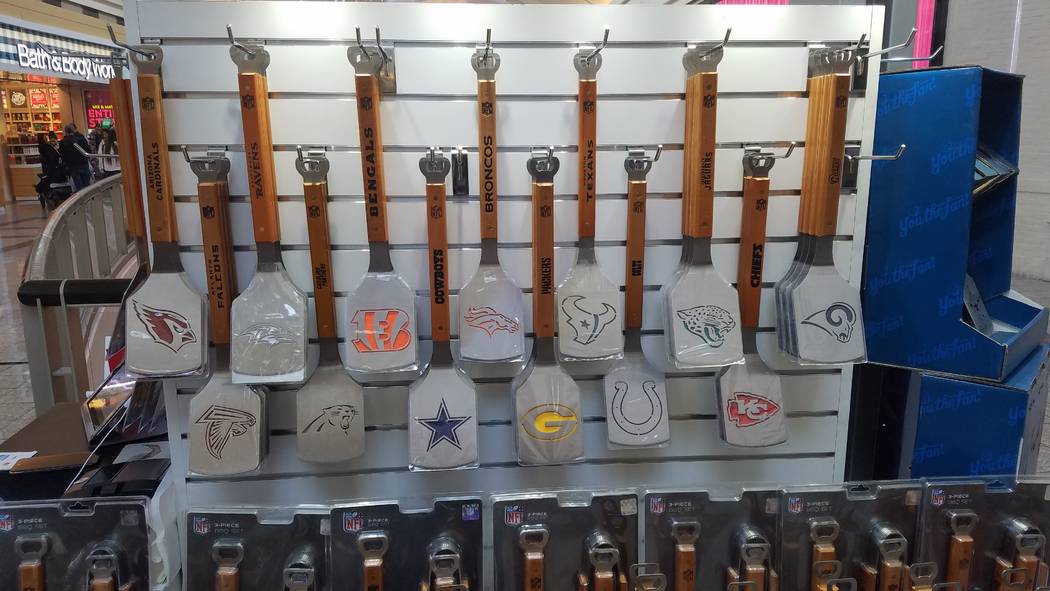 It turned out to be the perfect formula for retailers for high Black Friday traffic volume.
Blend a healthy local economy with a low unemployment rate.
Add a bagful of discounts and sales at a variety of shopping malls and retail outlets.
Mix in the wild card of thousands of international visitors joining the local throngs.
Sprinkle in a picture-perfect fall day with temperatures in the 60s.
Bam! A Black Friday bonanza.
Early start
Thousands of Southern Nevadans joined millions nationwide in the unofficial kickoff of the holiday retail season Friday. Many locations jump-started things Thursday. The Las Vegas North Premium Outlets in downtown Las Vegas opened doors at 9 a.m., Thanksgiving Day, and stayed that way for 37 straight hours.
A high percentage of Premium Outlets shoppers were from abroad, hitting the stores with suitcases in tow. As the sun was coming up Friday, Rie Takeuchi of Osaka, Japan, was filling her suitcase with clothing purchases she had just made at a bench outside one of the stores.
Myrna Mondragon of Mexico City was doing the same thing for her children and family. It was her 15th trip to Las Vegas — which always includes time for shopping — and her third Black Friday trip here.
The tourist vibe was also strong at Fashion Show, but most of the anchor stores at the mall on the Strip maintained their normal hours Friday.
Still, lines began forming early at the Apple store.
"I don't usually go out this early," said Brian Nichols, who was wrapping up a trip to Hawaii before heading home to Cedar City, Utah.
Nichols was in the market for a new laptop computer and stopped at Fashion Show's Apple store where the line outside was about 20 deep around 9 a.m.
At Downtown Summerlin, there were more local residents and, as the day progressed, more people.
The Lululemon Athletica store there opened Friday at 4 a.m., and a line formed around the block at 3:30 for shoppers seeking deeply discounted apparel.
Patterns changing
Andrew Ciarrocchi, vice president of management and operations for the Howard Hughes Corp.'s Downtown Summerlin, said the early opening of Lululemon while others opened later in the day illustrated how Black Friday strategies are changing.
"Twenty years ago, everyone opened at 4 or 5 a.m. on Black Friday, but with more and more retailers testing Thursday openings, the emphasis on being here right at the opening of Black Friday has gone away," Ciarrocchi said. "But they definitely show up during the daytime. In those first couple of hours, you can get a lot of shopping in without the huge crowds, but it's too late today (at around 11:30 a.m.) Now, you're going to have huge crowds the rest of the day — which is great for us."
Downtown Summerlin also is generating weekly shopping frenzies Fridays and Saturdays with 6 p.m. parades along Park Central Drive with six floats with characters and dancers performing themes from classic holiday movies. There's even a machine that makes it snow along the route.
One of the biggest Black Friday rushes occurred early in the day at The Arsenal, the Vegas Golden Knights' merchandise store at City National Arena — and there wasn't even a sale.
With a DJ blasting music outside the entrance, store personnel had to restrict access to keep the shopping flow going. At one point, people were waiting about 15 minutes to get in and about 25 minutes in a purchase line.
Among those ready to buy was Marco Benvenuti, co-founder and chief marketing and strategy officer at Duetto, who came to buy decorations for his office early enough so that he could catch the Golden Knights' home game against Calgary later in the day. Duetto is a team sponsor.
"We have a themed conference room where we have a jersey and today was a good day to get a more more things to decorate it," he said.
Braving the traffic
But most people braved traffic and crowds to get a good deal.
Edna Wanene of Las Vegas proudly said she had finished her Black Friday shopping by noon, getting gifts for friends and family at Town Square. She was drawn to big sales at Bath & Body Works, which offered a buy-three-get-three-free sale, for candles, perfumes and lotions.
She decided to go out on Black Friday to accompany a friend who wanted to go and she wasn't put off by the crowds.
"If you go a little later in the day, there's no traffic problem," she said. "It's only in the morning when people are trying to tackle each other."
Contact Richard N. Velotta at rvelotta@reviewjournal.com or 702-477-3893. Follow @RickVelotta on Twitter.
Sports branding
A small kiosk at the Galleria at Sunset sells the Sportula, a cooking utensil grillers can use to make the impression of a sports team's logo in a hamburger or a cut of meat.
Alex Tarin, who manned the booth at the mall, said the $29 Sportulas are available for several NFL, NBA and Major League Baseball teams. Some major colleges also are represented and there are special logos for first responders.
Tarin said, alas, there are no Vegas Golden Knights Sportulas available. A preorder was sold out weeks ago.
Sales
The National Retail Federation, the nation's largest retail trade group, is expecting holiday retail sales to increase as much as 4.8 percent over 2017 for a total of $720.89 billion. The sales growth marks a slowdown from last year's 5.3 percent, but remains healthy.
Related
Volunteers 'opt outside' for cleanup at Las Vegas geologic site
Small Business Saturday to give Las Vegas retailers a boost
Golden Knights fans go for faves, not deals, on Black Friday
Thanksgiving Day shoppers in Las Vegas endure the 'craziness'
Seasonal retail employees prepare for their big test — Black Friday
Las Vegas shoppers have strategies for Black Friday