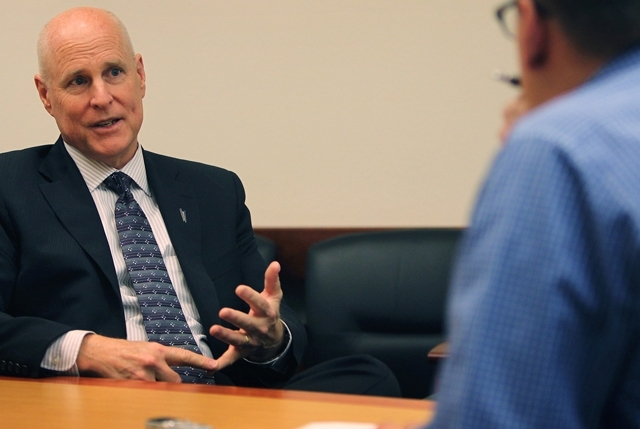 When John Wilcox speaks of Las Vegas being better off economically today than it was six months ago, he is drawing on his own experience as a City National Bank executive. After running the business bank's regional branches for four years, he was named Nevada regional executive.
Wilcox replaced longtime executive Larry Charlton, who retired in April. Now, Wilcox has two roles — regional banking manager and regional banking executive — for the bank, which made its name banking to celebrity clients and has reported profits every quarter for the last 20 years.
Wilcox puts his financial expertise and knowledge of the local business community to work every day for his bank's clients. His extensive ties to Las Vegas can only help his clients and employees trust his judgment more, especially as the region continues to emerge from a recession.
"I graduated from UNLV with a marketing degree," said Wilcox, who started his career in the early 1980s in real estate before moving into banking. Wilcox is also celebrating his 50th year in Nevada, having moved here as a child in 1963.
"I started at California Federal Savings, running their loan origination division in Nevada, before joining the original Valley Bank of Nevada," he said.
Wilcox described Valley Bank of Nevada as a large, relationship-oriented bank. Experience has taught him that serving clients is about building relationships, often by looking at how companies operate and how their management thinks.
Wilcox is positive about the local economy.
"We've hit the bottom," he said. "It's going to be a slow recovery. But we are in recovery."
He sees that recovery daily when looking at company balance sheets.
"They are recovering, but slowly," Wilcox said. "We have seen people getting debt off of their financials. We have seen some cash positions improving."
Wilcox said Nevada's economics have improved enough to attract companies in neighboring states.
"We are seeing businesses in California looking at Nevada," Wilcox said. "We are talking with three companies one of which is pretty far down the road at looking to move to Nevada. It certainly helps us when the tax laws change as dramatically as they did in California."
City National is a business bank with nine branches statewide.
"We are not retail banks; you are not going to see us on every street corner," Wilcox said. "So our job is to be a partner. We want to be a silent partner in their business."
He said his bank invests time, services and banking talent in its clients.
"(The idea is to) invest money in your business and then meet with you on a quarterly basis … to go through your financials," he said.
He said some clients may like the advice they get and some may not.
"But we are going to give them the advice they need," he said. "That is what we do in CORE banking. We work with companies with up to $20 million in revenues, which is about 85 percent of what is in the valley."
Wilcox also oversees private client services and commercial banking services.
The private client services division helps people with $5 million in investable assets; the commercial services division serves companies with annual revenues of $20 million to $250 million.
"My job is to coordinate those three lines of business," Wilcox said.
As regional banking manager, Wilcox still oversees branch operations in Nevada and seven branches in San Diego.
Within those three business lines — CORE banking, private client services and commercial services — City National focuses on three key business segments: legal, health care and technology. Wilcox said the bank was just starting its technology segment, but he expected it to be big business in Nevada.
Wilcox said City National wasn't limited to those three lines of business.
"We are interested in any business that is viable," he said.
NEWS & NOTES
Valley Bank of Nevada has launched a residential lending division.
"We are very excited to embark on this new opportunity and assist local Las Vegans with reaching their homeownership goals," said James York, president and CEO of the North Las Vegas-based community bank.
The bank is offering mortgage loans, refinancing, construction loans and home equity lines of credit. York said Valley Bank of Nevada has also launched a new line of products, including mobile banking, remote deposit capture, employee purchasing cards and mobile credit card readers.
The bank has also expanded its commercial lending business by hiring three veteran Las Vegas bankers: Reed Van Boerum as senior vice president, residential loan officer; Steven Wagner as senior vice president, commercial loan officer; and Katie Timinskas as vice president, commercial loan officer.
• • •
Clark County Credit Union reported first-quarter net income of $2.7 million, as the lender benefited from positive loan growth and an improved 60-day delinquency ratio that has dropped below 0.4 percent.
"I see a slowly improving economy already in evidence and for the longer run ahead," Clark County Credit Union President and CEO Wayne Tew said.