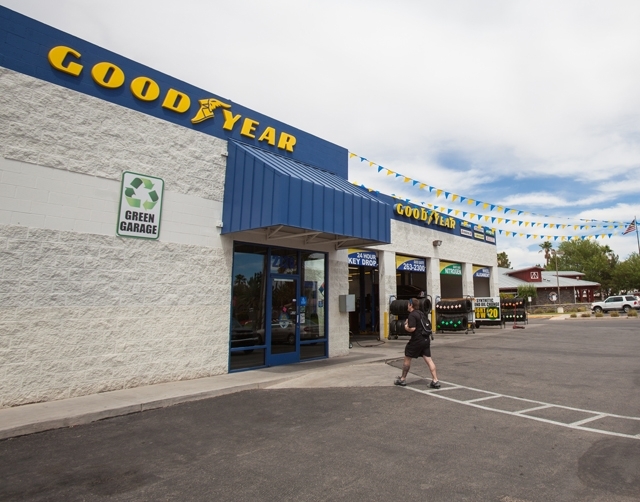 It was a difficult time in mid-December for Bruce Scher's Goodyear employees and customers when all 13 tire and repair stores bearing the Goodyear brand logo closed shop in the Las Vegas area. The death of the business' namesake earlier that month prompted the shuttering of the stores.
But in the last two months, a new company — Superior Tire & Service — has methodically reopened most of the closed stores in the valley.
Eight have been opened since March 28, with a ninth scheduled to open Wednesday at 4501 E. Sunset Road.
Two more former Bruce Scher stores are slated to open under the Superior banner in June.
Superior Tire & Service purchased the assets of the former Bruce Scher locations, rehired 35 of the 81 employees who were laid off in December and arranged new leases at the locations.
"The (new ownership) group was formed to buy the assets," said Shane Ely, district manager for Superior Tire & Service.
"We hope to rehire more with the other stores that will open in the future," Ely said last week.
He said he hoped to hire at least another 15 laid-off employees for the three stores that will be opening soon.
Superior Tire & Service has committed to reopening 11 of the 13 former Bruce Scher stores. Superior chose to not open the remaining two because they were not realistic long-term business opportunities, Ely said.
For three months after the December shop closings, Las Vegas-area customers with Goodyear warranties were advised to visit a Goodyear franchisee in Pahrump.
No more. Now, Superior is accommodating Goodyear Nationwide Warranty service and honoring service contracts from the former Bruce Scher ownership, Ely said.
Rolando Mateos, manager of the Superior Tire & Service location on Warm Springs Road near Eastern Avenue, said it was tough at first because of the closings, but the chain has rebounded.
"It was disheartening at first because we did not have control over the prior company that closed the stores. We want to reassure customers that their previous warranties will be honored and take care of the people," Mateos said.
Dozens of brokers contacted the Bruce Scher headquarters in Southern California before Superior cut the deal to take over the closed stores' assets.
Contact reporter Alan Snel at asnel@reviewjournal.com or 702-387-5273.