Survey finds few workers take meals away from work space
October 1, 2010 - 11:00 pm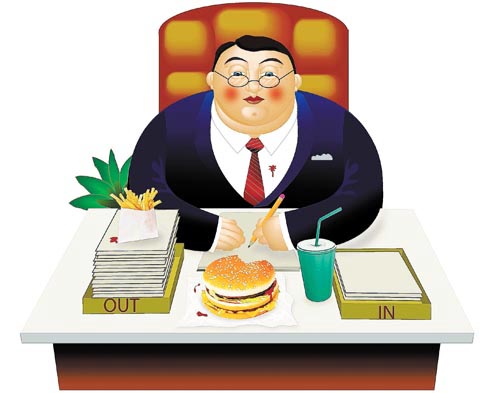 Whew, we had to work through lunch to finish this article!
There was all that research, and then the calls and e-mails to hunt down sources, plus the writing and the proofing, and, well, by the time Friday afternoon ended, yet another lunch hour had slipped by, unnoticed and ignored, the vegetable curry grown cold at our elbow. You know how it goes, right?
A new national survey says you do: More than half of Americans report rarely leaving their desk for lunch, instead working right through their midday break or, at best, eating in their work space.
Just 47 percent of workers surveyed nationwide in August by work force consulting firm Right Management and networking website LinkedIn said they almost always take time away from the cubicle for lunch.
Of the remainder, 13 percent said they seldom, if ever, stop to step away for a meal, while 19 percent said they break for lunch only occasionally. Another 20 percent said they take lunch but stay at their desk to eat.
It's just one more sad trend you can blame on the sour economy, experts said.
Douglas Matthews, president and chief operating officer of Pennsylvania-based Right Management, said vanishing bottom lines mean disappearing lunch breaks, as employees take on longer hours and bigger workloads to make up for widespread layoffs.
Karen Durkin, a business coach and principal in the Henderson accounting firm of Houldsworth, Russo & Co. who writes a regular column for our sister publication the Las Vegas Business Press, agreed that the economic downturn has forced an accompanying slump in lunch hours. She said the problem is likely worse in Las Vegas, where job insecurity is at an all-time high in lockstep with the city's record 14.7 percent unemployment rate.
"Business owners are encouraging doing more work with less staff, and some people are just compelled by their workloads to skip lunch," said Durkin, who, ahem, called us Friday at 12:15 during her lunch break from a corporate meeting at Red Rock Resort (good thing we were eating at our desk when she phoned!). "Others fear losing their jobs, so they're trying to accentuate their importance by showing managers they don't leave their desks."
For Andrea Behrens, skipping lunch isn't about impressing the higher-ups. Behrens is vice president of sales and marketing at local collection agency Nevada Association Services, and every minute she spends away from her desk represents an opportunity for a competitor to grab business. Nevada Association Services encourages its employees to take lunch hours, Behrens said, but she's not comfortable breaking at midday.
"Everything's different now. The economy is different, and I don't think you should really stop working," Behrens said. "If I stop working, someone else will step in and do something for a client that I should be doing."
And sometimes, missing lunch has little to do with workload and more to do with job-life balance. Behrens has two small children, and she often needs to work through lunch so she can leave a little early or come in later to shuttle the kids to classes and activities.
Employees aren't the only staffers giving short shrift to lunch.
Michael Beardslee, owner and president of Las Vegas information-technology consulting firm IT Strategies, has lost half of his office staff to the recession. With four office workers left to help him handle administrative tasks for the company's 20 field employees, Beardslee said he simply doesn't have the time to step away from his office to eat. On Friday, a colleague brought him a Subway sandwich, which he ate in front of his computer while he worked on Internet recruiting.
"Part of me says I should get away once in a while and break up the day," Beardslee said. "But I just don't feel like I can do that right now."
Stopping midstream and leaving the office would just be too distracting for Carole Fisher, president and chief executive officer of Nathan Adelson Hospice in Las Vegas.
Fisher said she doesn't take lunch breaks unless she has a business meeting with doctors, donors or other professional associates.
"I'm very focused and very driven. I feel like taking lunch would make me less productive, that I would lose my train of thought with what I'm working on," Fisher said. "I would feel anxious to get back to work."
Believe it or not, skipping lunch is actually a productivity drain for most people, observers said.
"We know employees are currently under a great deal of pressure, but skipping lunch or being reluctant to take a break during the work day is not a good way to deal with it," Matthews said. "On the contrary, taking time away from one's desk for lunch may go a long way toward relieving stress and boosting energy."
And taking time out in the middle of the day can clear the mind, which often shows up in better output later, Durkin said.
Durkin herself takes official lunch breaks at least three days a week. She said leaving the office altogether, rather than hanging around the break room, is most effective at prepping her for an afternoon push.
Executives at Orgill/Singer Insurance in Las Vegas agree lunch breaks are important. Orgill/Singer recommends that its employees not eat at their desks, partly to follow labor laws and partly because workers need an emotional break from the job, said Fern Netzky, the company's corporate counsel and self-described "house mother."
Netzky said she takes a formal lunch period pretty much every day.
"I think it gives you the break you need to regroup, to rethink, to let everything settle and to reboot your system," she said.
The Right Management/LinkedIn study found demographic differences in lunch habits. Top executives were most likely to break for lunch, with 53 percent saying they almost always do so. Men were more likely to enjoy downtime at lunchtime, with 49 percent stopping to eat, compared with 42 percent of women taking the lunch hour off.
And the younger the worker, the higher the odds of a lunch break. Respondents aged 18 to 24 were most likely to stop for lunch, at 57 percent. Workers 55 and older were the least likely, at 45 percent.
Contact reporter Jennifer Robison at jrobison@review journal.com or 702-380-4512.