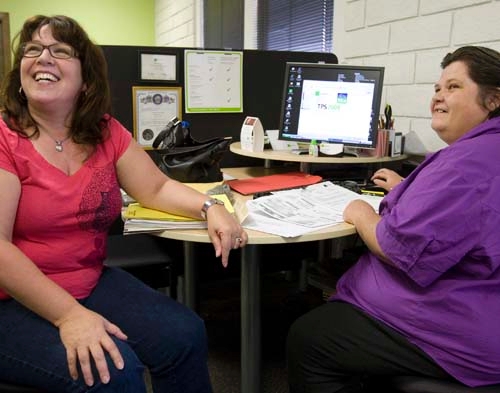 Like about half of U.S. taxpayers, Linda De Champlain will be using any refund she gets from the Internal Revenue Service to pay bills, starting with her car insurance.
De Champlain, who files taxes in the United States and Canada, said her income is limited, so she won't receive anything near the $3,000 average refund from the IRS.
She might set aside a portion for a small treat, but there'll be no more trips to Key West, Fla., where she and her husband went over Christmas to escape freezing temperatures in Las Vegas.
Most people will be using their tax refunds to pay down debt, some will save the money and those comfortable with their financial situations may buy big-ticket items, a survey from the Denver-based National Endowment for Financial Education showed.
Seventy-seven percent of taxpayers received refunds last year and the average refund was about $3,000, according to the IRS.
Are Americans using the annual windfall to their greatest advantage?
A poll of 2,469 U.S. adults conducted by Harris Interactive for the NEFE found that 49 percent of those who expect a refund this year plan to reduce their debt and 44 percent plan to save the money.
Some filers receive tax refunds unintentionally, based on their withholding decisions. For others, a large tax refund is part of their financial plan. The survey found that 30 percent of filers intentionally withhold more from their paychecks so they can receive a larger refund when they file their taxes.
Financial advisers say receiving a tax refund is like letting the IRS keep your money for a year without paying interest. However, for most people, it makes sense to take a larger refund, said Brent Neiser, senior director of strategic programs and alliances for NEFE.
Americans should base their withholding decisions on how they will behave with their money.
"If you're afraid you'll waste that extra money each pay period, electing to receive a refund could be a wise strategy — as long as you use the lump sum carefully toward financial goals," Neiser said.
Among respondents who withhold more from their paychecks to receive a larger refund, 9 percent said they are likely to spend the money without knowing for certain where it goes, while 26 percent of those who choose to have more money in their paychecks instead of a larger refund are likely to spend the money mysteriously.
The survey found that 14 percent of taxpayers withhold less so they receive higher net pay resulting in a smaller refund or no refund when they file their taxes. Among this group, 42 percent use the money to pay down debt and 37 percent put the extra money into savings. Twenty-one percent of filers try to adjust their withholdings so they don't have to pay or do not receive a refund.
Neiser said the tax refund is like a "calendar trigger" that forces people to consider different aspects of their personal finances from the year past and year ahead.
"It gives you a chance to plan and talk about it with your family and set a goal of what to do with it," Neiser said from Denver. "You can actually direct the refund to a savings account, but people are doing an assortment of things with their refund. Some will spend it, some will save it and pay down debt. We encourage people to take some of it and celebrate."
Michele Johnson, president of nonprofit Consumer Credit Counseling Service in Las Vegas, said the "new norm" has changed whatever advice she may give consumers on how best to use tax refunds, especially since every household has so many considerations.
"For the household who has reason to believe they may be facing unemployment or underemployment in the next few months, I'd advise to put any refund in savings," she said.
People should continue paying as much as possible from normal earnings to rid themselves of debt, but don't be left in a position of not having enough to cover normal monthly living expenses should income decrease. With tighter credit standards, many consumers find themselves with no available credit as credit limits were reduced to just above the balance owed, Johnson said.
"It is really a balancing act of having savings and liquidating debt while ensuring access to credit remains," she said.
Most people experience anxiety during tax season. The NEFE survey finds 74 percent of filers have some cause of worry about completing and filing their taxes.
Thirty-six percent say they are worried about owing money. But nearly 30 percent say they are worried that they won't receive the highest possible refund because they, or someone filing their taxes on their behalf, will do something wrong.
Getting the most from your refund is important, said Tom Newton, district manager for H&R Block in Las Vegas. He recommends going back three years to make sure taxpayers receive all they are due. They might want to think about investing in an individual retirement account, he said.
"A lot of people put it in savings because they're not sure about the economy, especially now," Newton said Tuesday at H&R Block's office at 1416 S. Decatur Blvd. "In the past, they used the refund to pay Christmas credit card bills or go buy a major piece of appliance."
Business is expected to pick up on Friday, the first day to file for a deadline extension, though any taxes due must be paid before April 18, Newton said.
Contact reporter Hubble Smith at hsmith@reviewjournal.com or 702-383-0491.