September 24, 2007 - 9:00 pm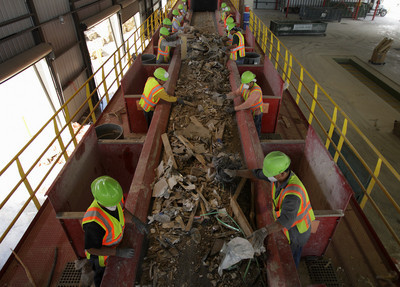 A local slowdown in residential construction hasn't held back Evergreen Recycling, a Las Vegas business that regenerates and reconditions used building materials.
Evergreen has augmented its employee base by about 90 percent, from 25 to 45 workers, in the last year. The company also spent around $15 million in capital improvements to its northeast Las Vegas recycling plant, installing new processing equipment, buying trucks and containers and building a 50,000-square-foot automated sorting center scheduled to open later this month.
"Businesses in Clark County are still under-served in the recycling market, so we're playing catch-up," said Rob Dorinson, president and chief executive officer of Evergreen Recycling. "There's a huge, untapped market for us. Whether or not the overall economy grows at a high rate, we're still going to grow."
Evergreen's story sounds themes familiar to the officials at the Nevada Commission on Economic Development.
Even as the number of new businesses the agency helped fell in fiscal 2006, companies with existing operations in Nevada thrived, according to a recent report on the commission's activity in the year that ended June 30.
The overall number of jobs formed from commission activity fell 17.5 percent in fiscal 2006 to 3,595 positions, and the number of new companies coming to the Silver State declined by 30.5 percent, to 66 businesses, when compared with fiscal 2005.
But growth of companies already in Nevada, as well as the positions that those expansions generated, both jumped when compared with 2005. Expansions increased 21.9 percent to 39 companies, and job growth from expansions rose 45.8 percent to 1,744 positions.
Joe Reel, director of research and business development for the Nevada Commission on Economic Development, said the commission's performance in fiscal 2006 shows that the macroeconomic trends buffeting Nevada's economy haven't restrained internal growth among established companies.
The national economy slowed in the middle of fiscal 2006 thanks in part to a stumbling housing market, Reel said. The country's gross domestic product grew just 0.6 percent in the first quarter of 2007, compared with 5.6 percent in the same quarter of 2006.
Plus, the commission's faltering numbers reflect sluggish job creation statewide: Statistics from the Department of Employment, Training & Rehabilitation show that job formation in Nevada dropped from 4.4 percent in July 2006 to 1.7 percent in the same month a year later. Given the broad economic slowdown nationally and in the Silver State, commission officials expected new business would drop off in 2006 and 2007, Reel said.
The state also relies on growth in tourism to propel gains in business activity, Reel noted, and development in Las Vegas, Nevada's biggest market, has lagged in recent years.
Just one major resort, Wynn Las Vegas, has opened on the Strip since 2001; compare that to the wave of openings between 1998 and 2000, when Mandalay Bay, Bellagio, The Venetian, Paris Las Vegas and the Aladdin (now Planet Hollywood Resort) launched.
Yet, the state's population is still growing — new Clark County residents are still handing over 6,000 out-of-state driver's licenses monthly, according to the Center for Business and Economic Research at the University of Nevada, Las Vegas — and, as Evergreen Recycling has found, population gains have outstripped growth in some services. That means businesses already operating here still have fresh opportunities to land new customers.
Evergreen, which received abatements in sales and property taxes through the commission, has forged a strong subspecialty in recycling construction materials from projects aiming for certification through the U.S. Green Building Council's Leadership in Energy and Environmental Design program. With several resort developers looking to cash in on tax breaks for LEED projects, recycling green construction materials is a brisk business, Dorinson said.
One of Evergreen's biggest clients is CityCenter, the $7.4 billion Strip megaresort MGM Mirage is building to LEED specifications.
Evergreen is also targeting malls, industrial parks and other commercial centers, hoping to convince landlords and tenants to embrace large-scale recycling of materials such as cardboard and packaging plastics. Dorinson said he expects to hire another 20 to 30 workers in the next year.
For Biodiesel of Las Vegas, growth in both supply and demand has driven expansion.
The company, which uses fresh soybean oil and used fryer oil to manufacture an alternative to petroleum-based diesel fuel, has increased its production capacity from 750,000 gallons a year to 5 million gallons a year in the last 12 months to 18 months, said Plant Manager Matt Gregori.
The business has also grown from three employees to 25 staff members, adding equipment technicians and managers who coordinate oil supplies and customer deliveries. Today, Biodiesel of Las Vegas fuels more than 5,000 fleet vehicles for customers including the Clark County School District, the city of Las Vegas, the University of Nevada, Las Vegas and the Air Force, among others. The company also retails its biodiesel at local Sinclair gasoline stations.
Gregori credited his company's gains partly to the rising cost of petroleum-based fuel. Biodiesel sells for 5 cents less per gallon than conventional diesel, he said.
Biodiesel of Las Vegas, which also earned abatements in sales and property taxes from the commission, is benefiting as well from escalating interest in protecting the environment.
"There's a social consciousness as far as the environment is concerned," Gregori said. "Emissions are a big concern, particularly in the school-bus system, where you're exposing kids to a lot of exhaust. Biodiesel can mitigate that to a tremendous extent.
There's a patriotic component, too, with all the trouble around the world surrounding petroleum production. People are looking for domestic sources of energy."
Plus, part of the company's supply model relies on recycled vegetable oil from restaurants, and the area's large and expanding culinary contingent means a steady source of used cooking oil.
Other big additions in Nevada during fiscal 2006 include Microsoft Licensing, which added 300 jobs in Reno; Zappos.com, which brought on 280 positions in Henderson; and PetsMart, which created 200 posts in its warehouse and distribution center near Reno. Upper Deck, a sports trading-card maker in North Las Vegas, generated 90 jobs.