Swedish meatballs, low prices tempt IKEA diners
September 15, 2016 - 3:26 pm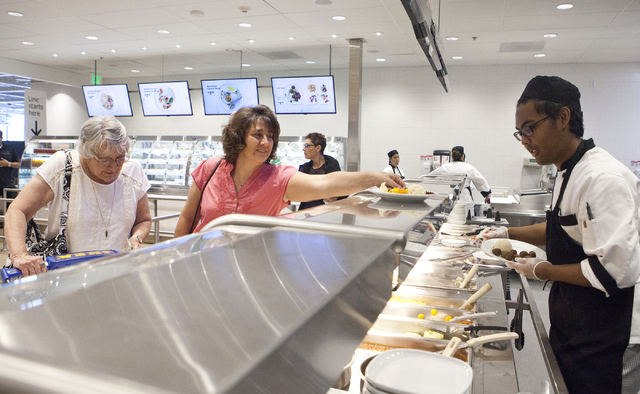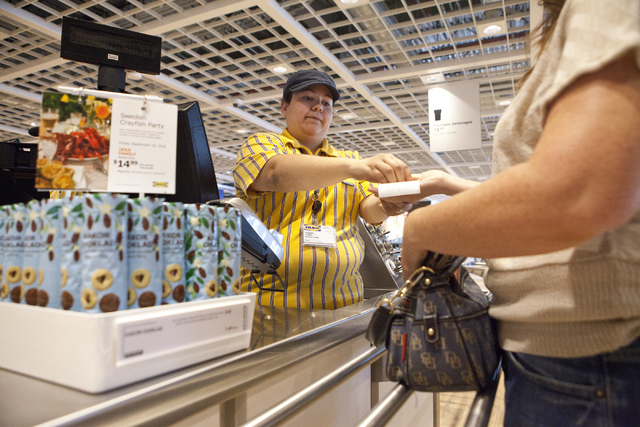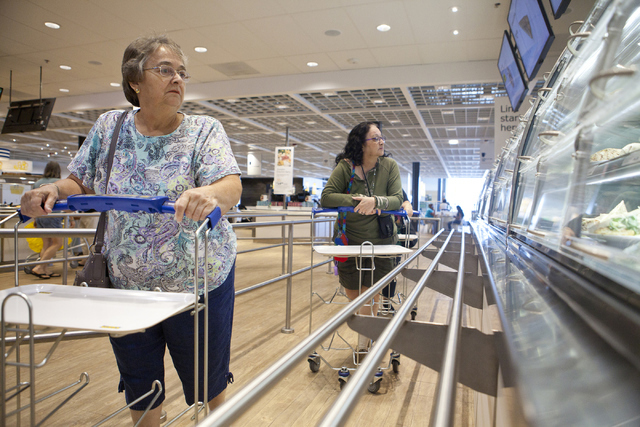 Grocery chains and other retailers advertise discounted soft drinks or other deals to lure customers into their stores.
The Swedish furniture retailer IKEA does it in part with a cafeteria-style restaurant whose prices are so low that long-time Las Vegas locals might say that's the way it used to be at casinos.
Malls have food courts and restaurants to service shoppers and even to bring in people. Discount retailers offer fast-food places where customers can grab a quick bite. People shop at IKEA, however, with meatballs in mind. Some even go there just to eat.
Food is a key part of the IKEA business model with not only a cafeteria where it serves Swedish meatballs, but a market where you can buy frozen meatballs, salmon and other items found in the cafeteria and take them home and heat them yourself. The restaurant opens 30 minutes before the store opens at 10 a.m. so customers can eat and get free coffee or tea if they're loyalty members.
Even employee handouts describe the importance of food, calling it an "emotional connection to the guest and a vital part of what IKEA stands for." It calls the 450-seat restaurant the "heart of the store" and how cafeteria workers are the ones who may connect with the customer first.
"We know that our customers love it, and it's been part of our business model for many, many years and it's proven to be successful," said store manager Amy Jensen. "It's a fun day out for the whole family, and you always feel better with a full belly. That's part of our concept."
Serving food at IKEA has been part of the tradition of founder Ingvar Kamprad since the store started in the 1940s in Sweden, Jensen said. It started with a hot dog and has now grown to serving meatballs, salmon and pasta.
Kamprad found the shopping experience took time and shoppers came in with their families and were getting hungry, Jensen said. Since some of them had a long journey home, they needed to eat before they left. That concept still works today with the average shopper spending three hours in the store, she said.
"The idea was to make sure we can offer them an experience that satisfies them throughout the journey," Jensen said. "Most people will get hungry or thirsty along the way or need a break. You may want to stop in the restaurant and sit down and review your purchases, talk about your plans and make choices."
And located on the second floor of the IKEA store that opened in May, diners have a sweeping view of the mountains that Las Vegas resident Sue Wright said creates a relaxed atmosphere where you can sit and have a conversation and of course eat meatballs. She said she comes to shop with both furniture and food in mind.
"You can't do this store in one day. It's not possible," Wright said, citing the need for a food break.
Anita Boyer of Las Vegas compared IKEA to a large mall with a food court. Food is always part of the equation in going to IKEA, she said.
"If I come here, I'm going to look around, but I'm going to have something to eat too. I like it, and I enjoy the Swedish meatballs. If they didn't have the restaurant, we wouldn't stay as long."
And it's hard to beat the prices, starting with breakfast. Customers can get scrambled eggs and waffles for 99 cents and have that and sausages for $2. A plate of eight beef meatballs, potatoes and vegetables costs $4.99. A veggie meatball plate is 50 cents less. Salmon wraps are $3.99 and a smoked salmon dinner with au gratin potatoes is $4.99. Add four meatballs for $1, and there's even a kid's menu for $2.49.
"Some of the things we hear from locals is it's the best thing in town, said Peter Brattander, the store's food manager and a Swedish native. "You can feed a family of four for under $20, and that's a good deal."
Most of the food is imported from Sweden, but some items like the salmon comes from Norway. Not everything is Scandinavian in the store. A bistro in the lower level offers such items as pizza, hot dogs, ice cream and cinnamon buns.
IKEA won't talk specifics about each store and restaurant sales figures but cites that its restaurants worldwide have 600 million visitors a year at its more than 350 stores worldwide. Out of that, 68 million come to IKEA just to eat. It sells 3 million meatballs a day and 1 billion a year.
And it doesn't stop with the daily fare at the restaurant. IKEA has four what it calls smorgasbord events a year celebrating summer, Christmas, Easter and one coming Friday for a crayfish party. Smorgasbord is the Scandinavian name for what many Las Vegas residents already know plenty about – a buffet.
"We're here to sell home furnishings but this is part of the Swedish experience," Jensen said. "We want to give them a little bit of Sweden and help them understand the concept and why we remain strong to our culture."