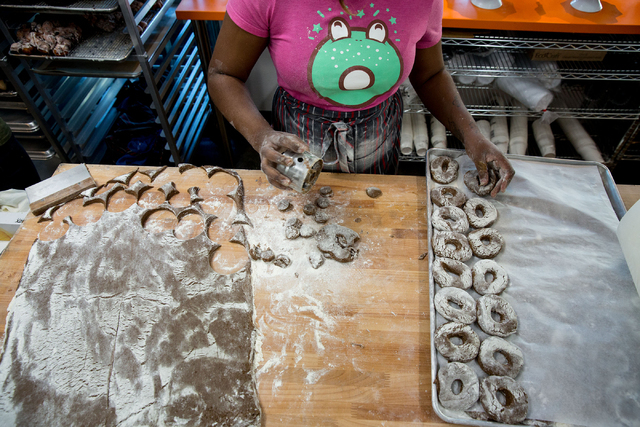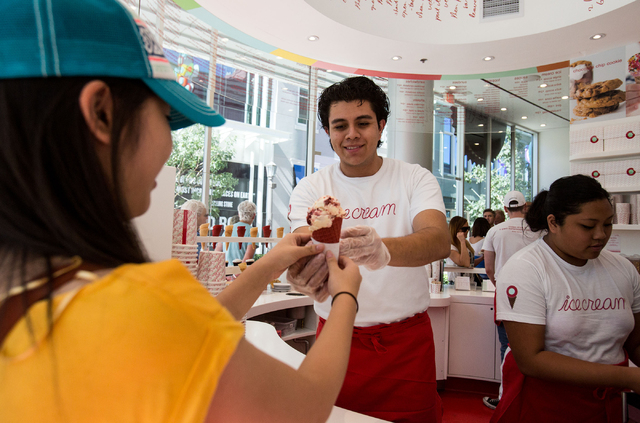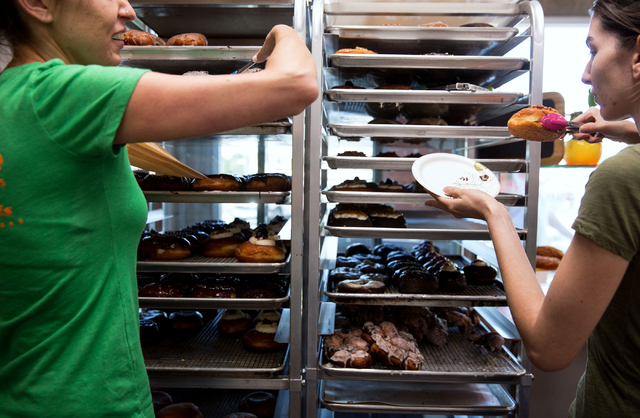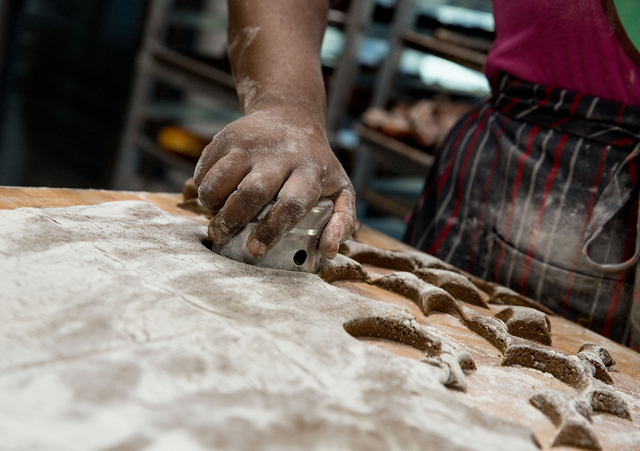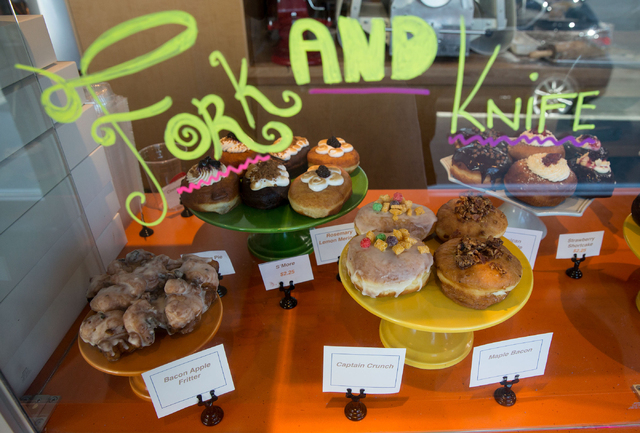 Every few weeks, Las Vegas resident Tanya Blackbourne, along with business partners Reddie and Alexis Gonzaga, drive to San Jose, Calif., in a refrigerated truck to pick up more than two dozen flavors from Treat Ice Cream Co. and bring back a taste of the Bay Area to their shop, Eis Cream Café.
"We go to great extents to get our ice cream," Blackbourne said. "We also wanted to go a step above ice cream and offer all kinds of treats so it's more of a dessert place."
The store, at 9711 S. Eastern Ave., opened May 29 and offers classics like rocky road, cookie dough and cookies 'n cream, as well as a more unusual array including green tea, taro, a root vegetable, and macapuno, the coconut palm. They also have cookies, brownies and a variety of cakes, as well as Kro-Nuts, a cross between a croissant and a doughnut, which they pick up daily from Al's Donuts on East Harmon Avenue.
Blackbourne is confident that she opened her ice cream business at an opportune moment.
"People are more focused on gourmet desserts and everyone is happy with ice cream," she said. "This is a perfect time to open with the hot summer coming."
Blackbourne said in the future she hopes to open more Eis Cream Café locations throughout the valley.
"We want this to be a social place so families can enjoy it together," she said. "And if we're unique enough, hopefully we'll survive the boom."
REASONABLE ENTRY POINT
University of Nevada, Las Vegas economics professor Bradley Wimmer said he believes dessert businesses are booming in Las Vegas because they require a low amount of capital to open.
"It's not a great amount — around $100,000, which in terms of starting a business isn't crazy," he said. "Also, around town there are a good amount of empty spaces, and we have an economy that's growing."
On March 21, Los Angeles-based Sprinkles Cupcakes opened at The Linq, an open-air promenade sandwiched between the Flamingo and The Quad, rolling out almost 20 flavors daily, from their most popular red velvet to seasonal offerings such as lemon blueberry and key lime.
General Manager Jodi Moore said the Las Vegas location is the 15th Sprinkles store, offering not only cupcakes, but ice cream and a Cupcake ATM, an interactive machine that dispenses up to four cupcakes per transaction 24 hours a day.
"There was such a huge demand for Sprinkles to come to Las Vegas," Moore said.
She added that Sprinkles, which does all of its baking and hand frosting on site, sells an average of 1,000 cupcakes daily and incorporates the baked treats into their ice cream, too.
"Our red velvet ice cream has pieces of our red velvet cupcake in it and we offer a Sprinkles sundae, which is a cupcake cut in half with ice cream in the middle," she said. "We have something for everyone."
DOUGHNUT SHOPS 'TEND TO STICK'
Exactly one month after Sprinkles made its Las Vegas debut, Sonny Ahuja opened O Face Doughnuts downtown at 124 S. Sixth St. in the former John E. Carson Hotel building, serving Boston Cream, glazed and old fashioned doughnuts as well as a selection of exclusive flavors such as Cap'n Crunch and maple bacon and made-to-order savory doughnuts such as lox and cream cheese.
"We make everything from scratch," Ahuja said. "There are no shortcuts here, and you can really tell when you taste what we do."
Ahuja, who is also part-owner of Bin 702, a wine bar in Downtown Container Park, visited other doughnut shops to get ideas before opening his business.
"Doughnuts are the new cupcake and you can have some fun with the product and it's not heavily saturated with competition," he said.
"You don't see a lot of doughnut shops closing; they tend to stick around for a while, whereas the cupcake market is more competitive."
Head Pastry Chef and General Manager Crystal Whitford is the brains behind O Face Doughnut's ever-changing array of unique flavors.
"I'm big into peanut butter and jelly, s'mores and root beer floats, stuff that you're familiar with as a kid, but I want to balance what we're doing because I don't want anyone to get a toothache after eating our doughnuts," Whitford said. "When it comes to flavor combos, if I can find a way to do it in a doughnut, I will."
Because of consumer demand, Pink Box Doughnuts is scheduled to unveil its fifth location at 10251 S. Eastern Ave. in Henderson by June 25, owner Roberto Armanino said.
"There's a lot of visibility on Eastern and we want to target a new clientele."
For the past year and a half, Pink Box has been offering typical doughnuts such as glazed, chocolate glazed and pink sprinkles, alongside more distinctive ones like the maple bacon bar, sweet potato cake and lemon pie.
Armanino said Pink Box is slowly expanding outside Las Vegas, opening its first out-of-state location in Arizona and is experimenting with other offerings such as cookies, although he doesn't want to veer too far off the doughnut track.
"When you expand into too many things, you can confuse the customer and we also don't want to dilute our local marketplace by opening too many locations," he said. "We've tripled our expectations since we opened because we're offering a high valued product and a staple for sweetness."
To stay relevant, Wimmer said, these businesses must get the market to themselves.
"They need to be in high-trafficked areas and develop clientele in order to get repeat purchases," he said. "It's easy to enter the market with these types of things, it's just a matter of seeing if the market supports them or not."
Contact reporter Ann Friedman at afriedman@reviewjournal.com or 702-383-0391. Follow @AnnFriedmanRJ on Twitter.