Switch earnings report pushes stock down almost 15 percent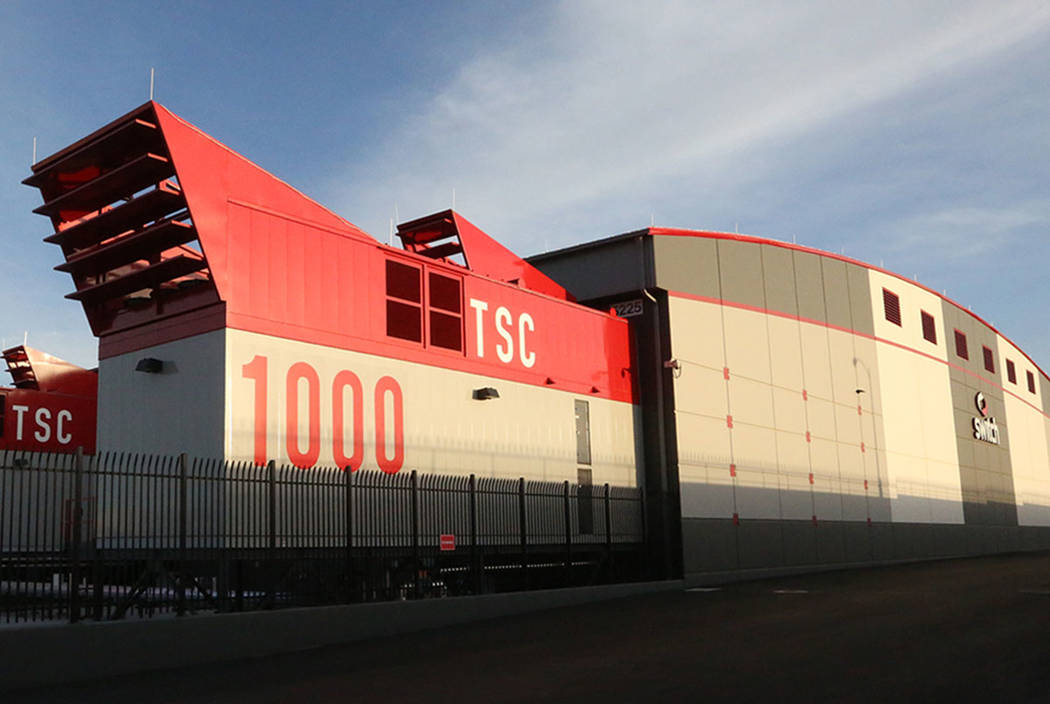 Despite a positive outlook on the future from Switch executives, their latest earnings report sent stock down almost 15 percent to $13.45 a share after the market closed Monday.
The Las Vegas-based company reported $378.3 million in total revenue for 2017, an increase of 19 percent year over year.
But costs associated with going public last year, construction for adding space to its campuses and building a new campus in Atlanta sank its operating income to $18.8 million for 2017, a 63 percent decrease year over year.
The company had rescheduled its earnings call from end of March to Monday due to the market holiday of Good Friday, according to a company statement.
Tax reform shoutout
Switch became the latest company to praise federal tax reform. New tax deduction rules on equipment will especially help the company, which reported $402.6 million spent last year on capital. The company expects to spend at least $260 million this year.
"We don't expect to be a taxpayer in 2018," Switch Chief Financial Officer Gabe Nacht said, adding that "tax reform is a benefit for us all the way around."
But less taxes wasn't the only item to give Nacht a sunny outlook for 2018.
He told analysts during the call that a new solar energy project Switch is developing will create additional revenue for the company, which sells storage space and related services for data creators like movie studios, video game companies and government agencies.
The company announced the project in February with an offer to pay the exit fee to break away from NV Energy.
"We expect that to take a bit of time to begin showing fruit," Nacht said.
Selling more services to its existing 800 customers has made up most of Switch's revenue. The share of revenue from its largest customer, online marketplace eBay, has decreased from 14.1 percent in 2015 to 10.9 percent in 2017
Switch added over 100 new customers in 2017 and 18 new customers in the fourth quarter. New customers only contributed 16 percent of the company's revenue for 2017.
For the fourth quarter of 2017, Switch reported $99.3 million in total revenue, a 21 percent increase from the same period one year earlier.
The company experienced a net loss of $60.3 million, almost triple its loss for the last quarter of 2016.
Build out
Spending related to Switch's initial public offering, called the third largest of 2017, had caught up with the company on its latest earnings report.
The company reported $71.3 million in equity-based compensation due to the IPO. As of March 12, founder Rob Roy controls 67.2 percent of the common stock voting power.
Excluding those costs, the company increased its annual operating income by 77 percent year over year, according to the earnings report.
Of the $402.6 million spent in 2017, almost 1 1/2 times the amount spent in 2016, half went to the company's Las Vegas campus to meet customer demand. The company expects to open a new building in Las Vegas by early 2019 and add 340,000 gross square feet of space.
Switch spent $126.9 million on its campus near Reno, including costs related to power and cooling.
Switch spent $44.6 million on a build out of its campus in Grand Rapids, Michigan. The company had bought the building during the fourth quarter for $23.9 million.
The company also spent $15.3 million on land in Las Vegas and Atlanta, a future home for one of Switch's campuses where it stores data for movie studios, video game companies and other businesses.
Switch bought land that housed residential properties to avoid any interference with its data center, Nacht said.
The company spent $6.7 million on site preparation for the Atlanta campus, which will bring Switch into an area that is more competitive among data centers.
Of the $260-plus million the company expects to spend this year, at least $60 million will go to the Reno campus, at least $30 million will go to the Michigan campus and the rest will go to the campuses in Las Vegas and Atlanta.
"We won't be building a significant new building in '19," Nacht said.
Contact Wade Tyler Millward at wmillward@reviewjournal.com or 702-383-4602. Follow @wademillward on Twitter.
2018 predictions
$423 million – $440 million: The amount Switch expects in total revenue in 2018
$216 million – $224 million: Expected adjusted earnings before interest, taxes, depreciation and amortization