T-Mobile opens its first ever 2-story store on the Strip
January 5, 2018 - 6:14 pm
Updated January 5, 2018 - 8:24 pm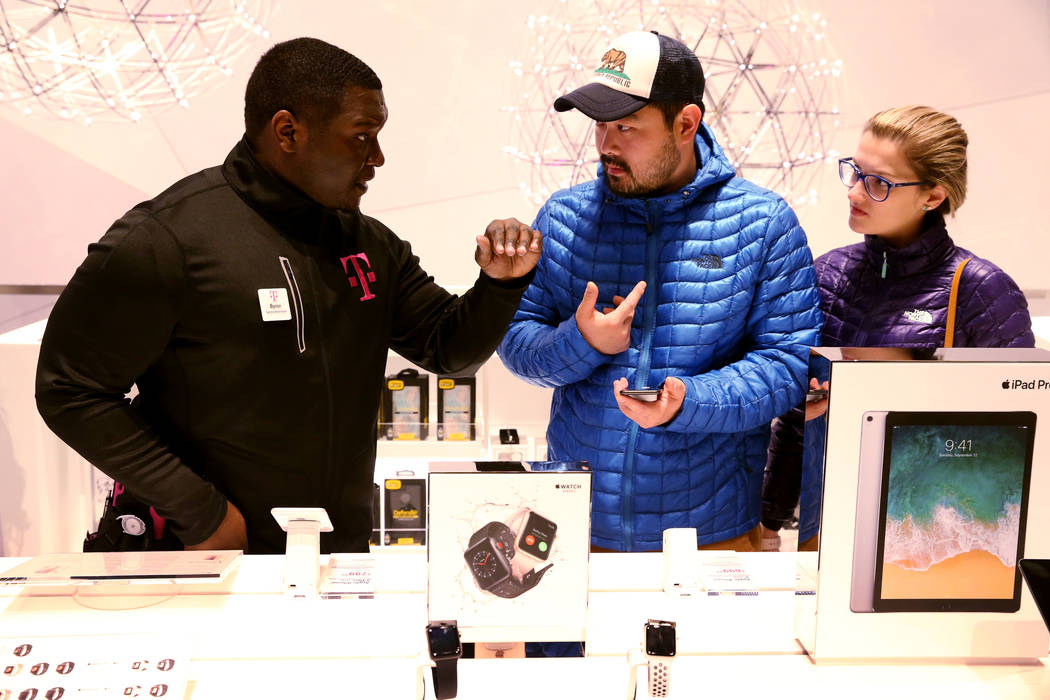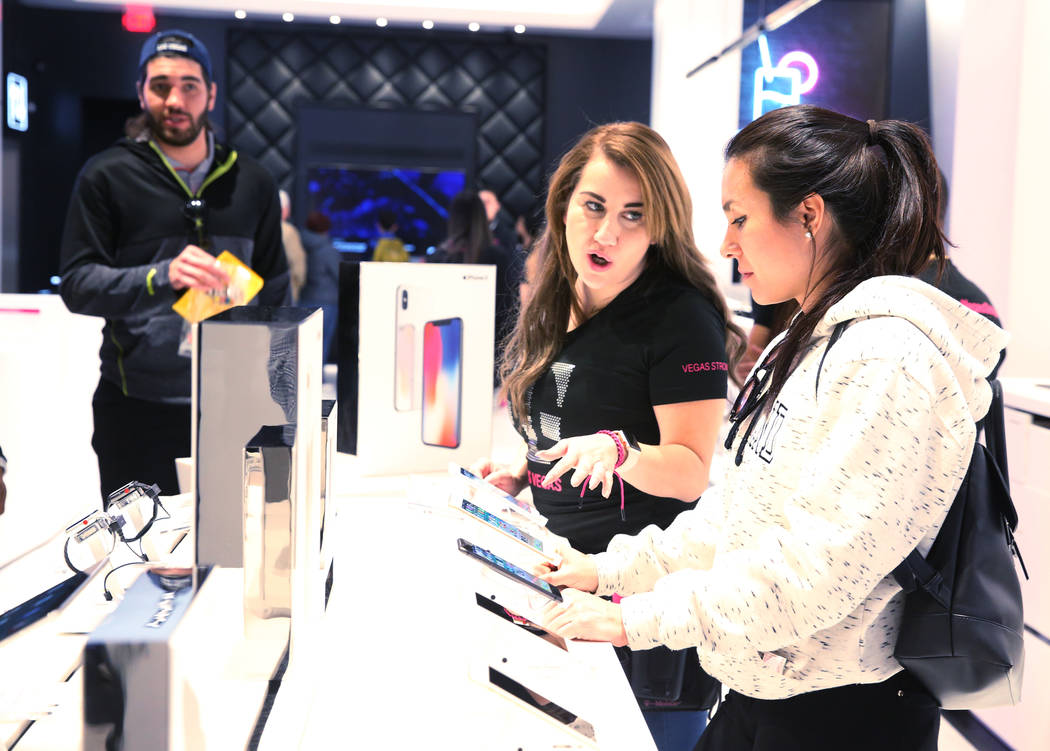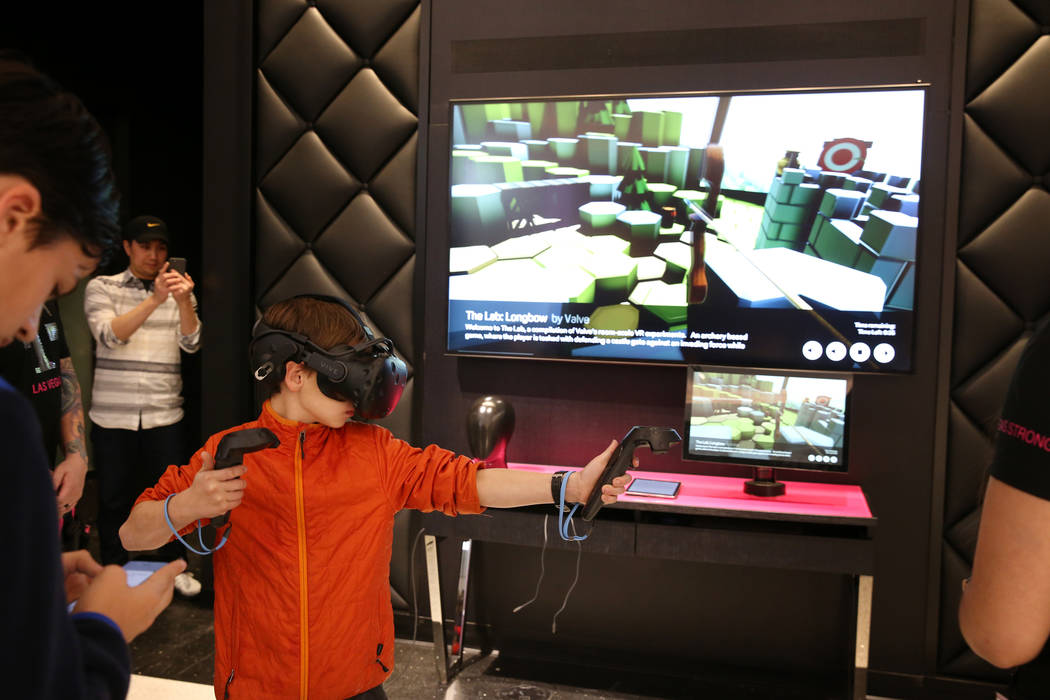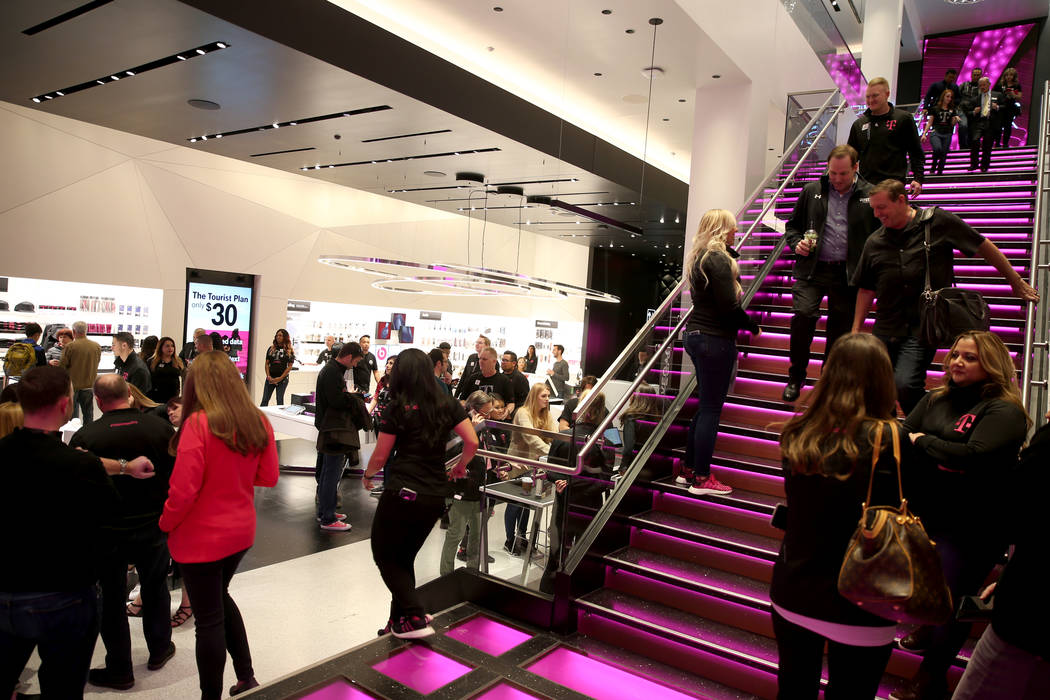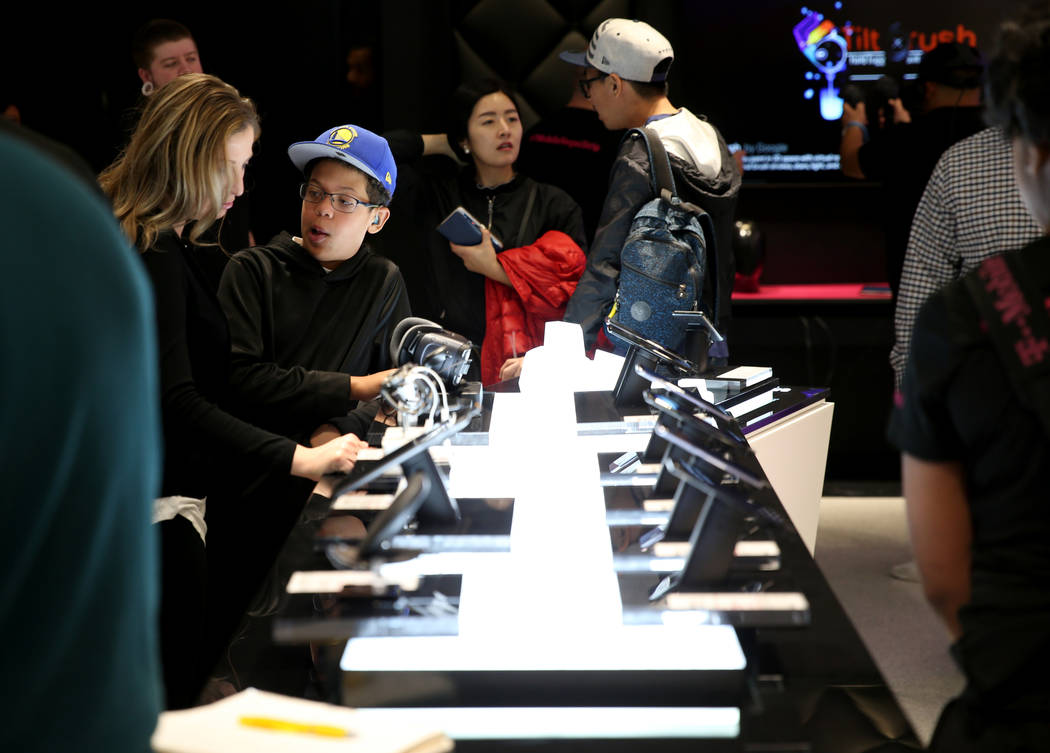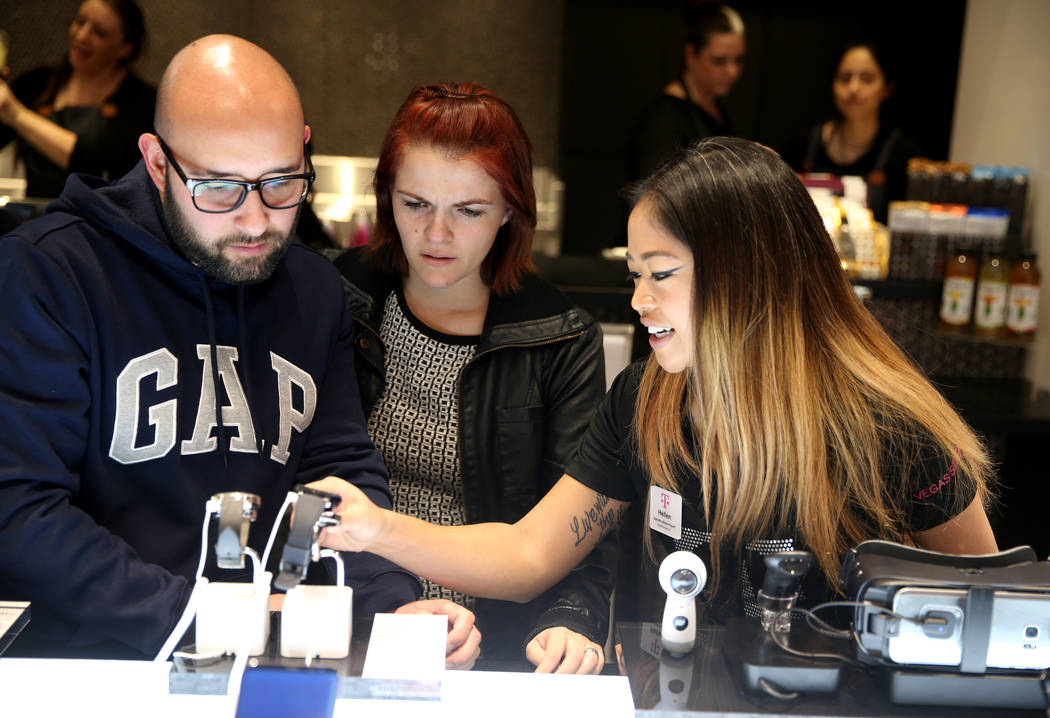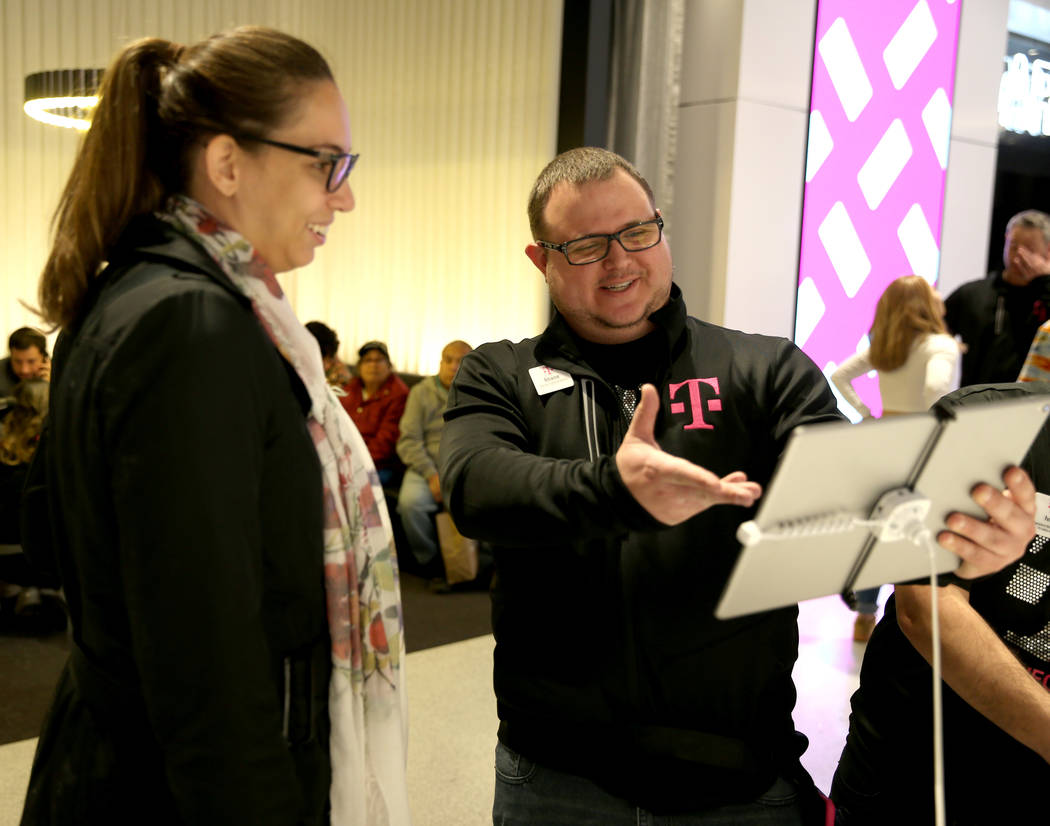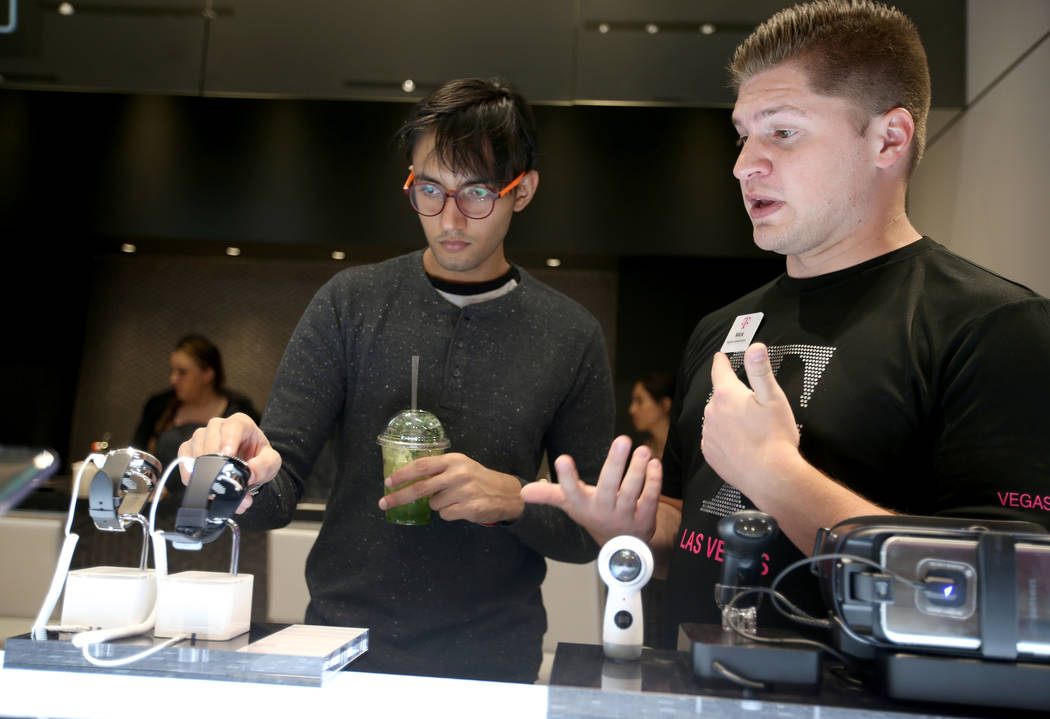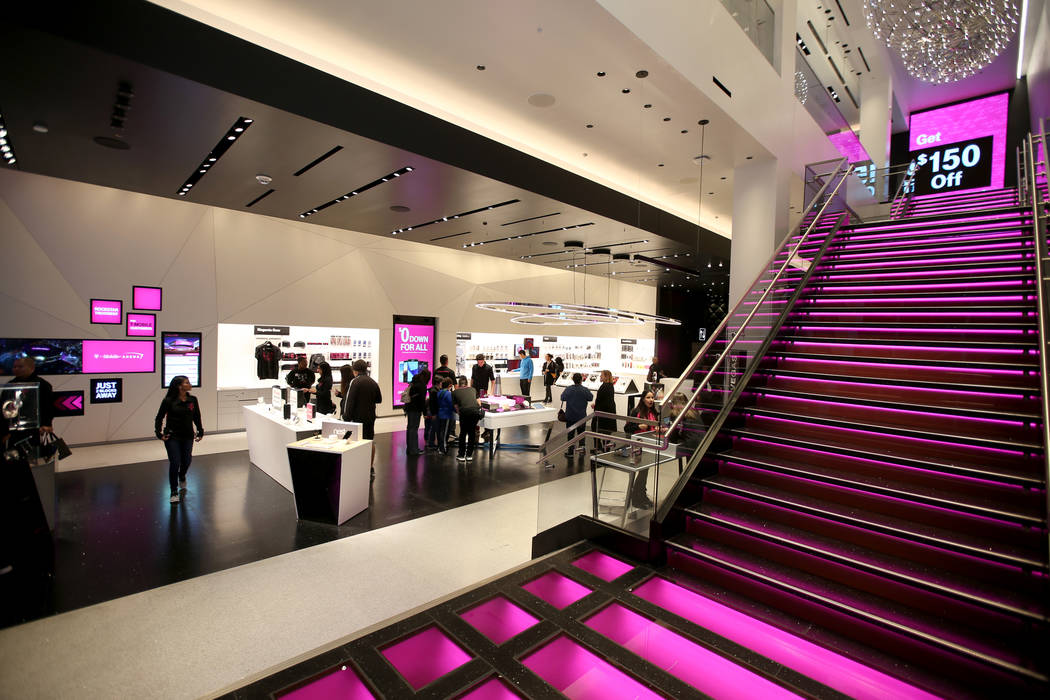 T-Mobile's new Strip store houses more than than just phones and earbuds.
Themed like a nightclub, the store offers visitors about 25 portable phone chargers for use inside, a photo booth and a concierge desk where tickets are available for T-Mobile Arena less than a mile away.
Upstairs, visitors have access to a virtual reality headset. A screen display shows onlookers what the wearer sees. While they're at it, visitors can grab nonalcoholic drinks from a bar. On the menu: $2 sodas, $3.50 juice shots and 12-ounce fruit-and-vegetable mixed drinks for $5.50.
"We wanted to take the very best of T-Mobile and the very best of Vegas and marry them," said Jon Freier, T-Mobile's executive vice president of U.S. sales and operations.
The signature-style store, which employs 79 people and opened Thursday, takes over 9,000 square feet of space inside Showcase mall, near the intersection of Las Vegas Boulevard and Tropicana Avenue.
T-Mobile's Strip store — the company's fifth signature-style store after New York, Chicago, Miami and Santa Monica, California, but its first two-story one — replaces the Grand Canyon Experience gift shop.
Freier said the company decided last year to hold annual meetings for high-performing employees at different Las Vegas resorts instead of places such as San Diego and Miami.
The new store has room for event space and will market prepaid and travel phone services to international Strip visitors.
The company has been in a growth phase, opening 1,400 stores in 2016, according to its latest annual report. The wireless company has 47 locations in the Las Vegas area, including the new store.
T-Mobile opened six locations in the Las Vegas area last year, said Sam Sindha, senior vice president of southwest area field sales.
The biggest change for T-Mobile's retail segment in the past five or so years is a growing presence of phone stores as anchors for shopping centers, Freier said.
While some shoppers can buy phone accessories online, major purchases and troubleshooting issues with phones still happen at brick-and-mortar T-Mobile stores, he said.
In 2018, the company will focus on more suburban and rural stores, more business-to-business products, more internet-connected accessories and technology investments to get to the next wireless standard, called 5G, by 2020, Freier said.
The wireless telecommunications giant is based in Bellevue, Washington, with parent company headquarters in Bonn, Germany.
Recent investment in Showcase mall, best-known for the Coca-Cola bottle and M&M characters on its facade, include a remodeled Adidas store, new Skechers store and American Eagle Outfitters.
The Nakash family — whose Jordache Enterprises conglomerate includes clothing, agriculture and aviation investments — bought the property in phases in 2014 and 2015 with Gindi Capital for about $367 million total.
The group also made the 10th-largest real estate deal of 2017 with its purchase of the Smith &Wollensky building in May for $59.5 million.
Contact Wade Tyler Millward at wmillward@reviewjournal.com or 702-383-4602. Follow @wademillward on Twitter.