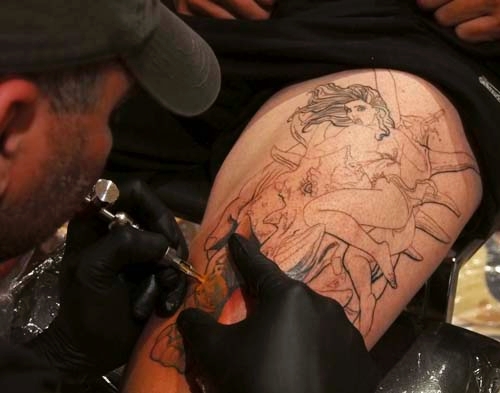 Las Vegas, plan on seeing a lot more of famed tattoo artist Mario Barth.
In February, Barth is opening a new Starlight Tattoo location inside the Excalibur, his latest Las Vegas outpost. Then by fall 2013, Barth plans to open three more Strip-based studios, but the tattoo legend wasn't yet ready to disclose the details of those locations.
Already, Barth owns two Starlight locations in New Jersey and one inside the Mandalay Bay. Barth also owns the King Ink tattoo studio inside The Mirage, and produces two tattoo conventions: The Biggest Tattoo Show on Earth and New Jersey-based Inked Out.
This weekend, 45,000 people are expected to attend The Biggest Tattoo Show on Earth, held inside The Mirage Convention Center through Sunday. About 800 tattoo artists are expected to staff 350 booths.
The show is open to the public, and based on preregistration information, most of the attendees are hailing from Los Angeles, Phoenix and Denver. Up to 10,000 Las Vegans are expected to come through the convention's doors this weekend.
"It's getting stronger every single year," Barth said.
On the show floor, the distinct buzzing of needles permeates as artists lay tattoos. At one booth, a gloved hand steadily traces the chosen design on skin before stopping to wipe away excess ink, then it's back to tracing the outline. This weekend, the ancient art form will be practiced, then practiced again.
Artist Shane O'Neil already is booked for the weekend, with plans to work on five people, hailing from Vancouver, British Columbia, Phoenix and California. Their appointments will take between five and six hours each. On Sunday, he's booked in for a nine-hour tattoo.
"It's a good show for people on the West Coast who can't normally get a hold of me," said O'Neil, who owns a shop in Delaware.
The award-winning artist has attended The Biggest Tattoo Show on Earth since its inception in 2009, and said he plans to keep coming back.
"The bottom line is, it's promotion," O'Neil explained. "This show's a blast. There's a lot of great artists from around the world. Even if you're not getting tattooed, there's just good people here."
THE PRICE OF ARTISTRY
For those interested in getting a tattoo at the show this weekend, Barth recommended arriving sooner rather than later – the artists book up fast. For Barth's work, there's a two-year wait list, so don't even think about that one.
And the artists aren't charging chump change. The average hourly rate for a tattoo ranges from $75 to $250, depending on the artist's skill level and popularity.
"When the tattoo artist really becomes sought after, the only thing they have to sell is time," Barth said.
Outside the booths on the show floor, people are flipping through artists' portfolios and commenting on what might be their next tattoo. Artwork celebrating tattoo style is for sale, and if you're thirsty you can grab a Jack and Coke or other libation to sip while strolling through.
"There's a lot more tattoo artists here, more young talent," Barth said of the expo floor. "There's a lot of talent here. Take your time and check it out."
He also suggested bringing a "fun attitude" when walking through the doors. And, expect to see some celebrities, as they always come out to see the latest and greatest. Specific names slated to attend include porn star Joanna Angel and rapper Vanilla Ice, who will be performing at King Ink on Saturday night.
MORE WOMEN GETTING INKED
Barth said 36 percent of Americans ages 18 to 55 have tattoos and are planning to get more. Based on those numbers, he estimated that there's between 20,000 to 25,000 studios in the United States. And there's probably double that amount of illegitimate shops operating underground.
Within the past two years, Barth said the industry trend has shifted toward more women getting tattoos – they now make up 55 percent of the clientele.
"I think it's more accepted in public and it's used as a body adornment," Barth said.
O'Neil has noticed increased requests for bright, realistic color work and tattoos centered around a Day of the Dead theme.
If you're seriously thinking about a tattoo, Barth has this advice: "Do your research. This is something you're going to wear for the rest of your life."
He also said when walking into a tattoo studio, listen to your body and be patient.
"Open the door and listen to your stomach. Your stomach is going to tell you instantly," Barth said. "If you feel 1 percent off, don't do it. Even if it's me."
WARNINGS OF RISKS
Although tattoos are increasing in popularity and many artists are out of the underground, infections still do happen.
In August, the U.S. Food and Drug Administration issued a warning after receiving reports of about two dozen people who developed skin infections after getting tattooed. An additional 30 people had suspected cases. The outbreak spread to several states, including New York, Colorado and Iowa.
The problem, though, wasn't that the artists were using contaminated gloves or not following sterilization procedures. The ink was tainted with harmful bacteria after the manufacturer used water to dilute dark ink. The contaminated products were sent to tattoo studio that used it on customers without knowing. The products have since been removed from the market.
In Clark County, the Southern Nevada Health District regulates tattoo studios. Failure to comply may result in health card suspensions or administrative hearings.
The Centers for Disease Control and Prevention's website, cdc.gov, provides free downloads of postcards providing ways to reduce blood-borne pathogen exposures in the body art industry.
No schooling or special licensing is required to become a tattoo artist, only a health card. O'Neil said he wouldn't mind regulations, because he thinks it would help weed out the more serious artists from those with a passing fancy.
Contact reporter Laura Carroll at lcarroll@reviewjournal.com or 702-380-4588.