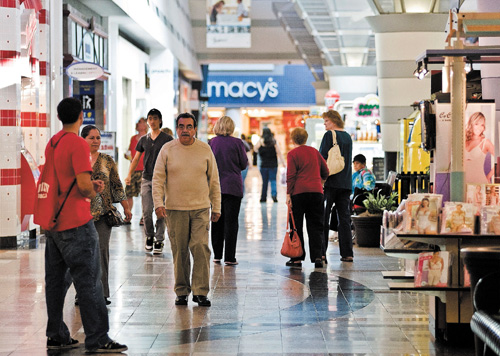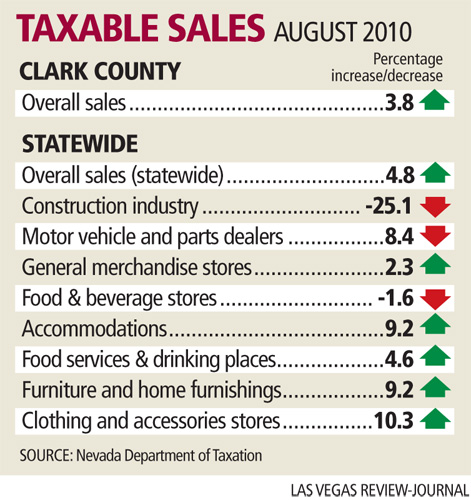 Nevada merchants saw a 4.8 percent year-over-year increase in taxable sales in August, though nearly $150 million of the gain came from an amnesty program that encouraged companies to hand over unpaid taxes.
Statewide taxable sales totaled $3.23 billion with the amnesty and $3.08 billion without it, the Nevada Department of Taxation reported Tuesday.
Fourteen of Nevada's 17 counties saw an increase in taxable sales from the same month a year ago. Clark County taxable sales rose 3.8 percent to $2.32 billion.
The largest increase statewide came in sales by machinery manufacturers, which jumped 360 percent. Sales at food and drinking places increased 4.6 percent; clothing and accessories were up 10.3 percent; telecommunications up 55.3 percent; and rental and leasing up 17 percent.
The construction sector and dealers of cars and car parts experienced declining sales for the month.
"It does seem like the worst is over," said Rick Phillips, president and chief investment officer of Main Street Capital Advisors in Las Vegas. "We look at discretionary spending like clothing that was up 10 percent in August. That's a good trend. The other big one is food and beverage up 4.6 percent, so those are signs that things are turning positive."
It's the second straight month of higher taxable sales in both the state and county, which is good news, said Bob Potts, assistant director of the Center for Business and Economic Research at University of Nevada, Las Vegas. July's taxable sales of $3.24 billion was up 5.2 percent year over year.
Taxable sales is one of the bigger revenue streams, along with gaming tax revenue, so two months of positive growth is encouraging, he said.
"Granted, we're at lower levels than we were. You'd have to go back to 2003 to see numbers this low. Even though we see positive signs, we've lost six or seven years," Potts said.
Gross revenue collections from sales and use taxes, which fund prisons and schools, came to $257.2 million in August, a 6.1 percent increase from a year ago and 5.2 percent increase for the first two months of the fiscal year. Nearly $12 million of that amount was collected under the amnesty program.
The general fund share of sales and use taxes amounted to $65.3 million, up 5 percent from August 2009. The fund is $10.8 million, or 9.1 percent, above the Economic Forum budget projections for the second month of the fiscal year.
The Department of Taxation reported excise tax collections of $24.5 million for August, an increase of 12.5 percent from the same month a year ago.
Economic consultant John Restrepo noted that August's taxable sales would have shown zero growth without payment of back taxes.
"You can't include the amnesty because that's not an indication of economic health … of people shopping," he said. "So let's be careful from that standpoint. Retail sales appear to be stabilizing. They're not continuing to decline, but stabilizing is a far cry from recovery."
Contact reporter Jennifer Robison at jrobison@reviewjournal.com or 702-380-4512. Contact reporter Hubble Smith at hsmith@reviewjournal.com or 702-383-0491.