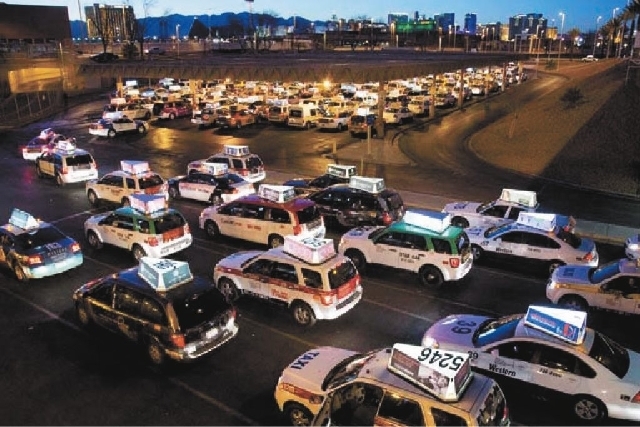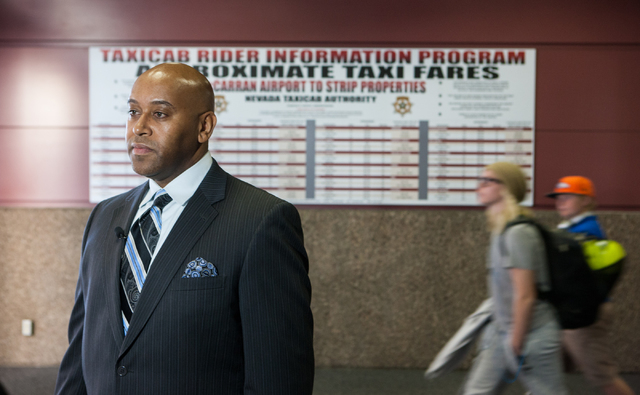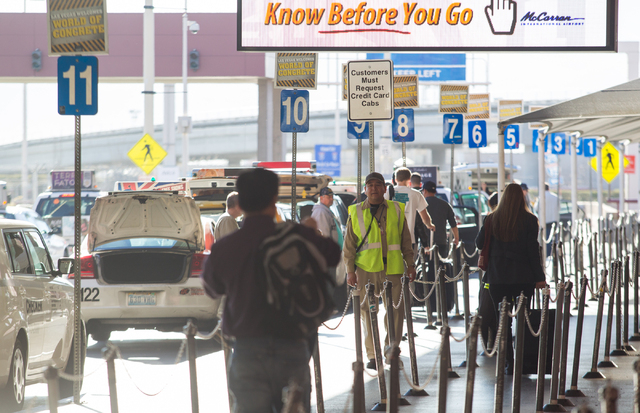 Members of the Nevada Taxicab Authority and executives of Southern Nevada cab companies on Tuesday defended the agency's administrator and chief investigator from critics who say they're hindering the agency's police force from citing cab drivers who illegally long-haul customers.
Board member Dean Collins praised Administrator Charles Harvey and Chief Ruben Aquino but ripped media reports that administrators were discouraging officers from writing citations to cabbies who take their passengers on long routes without their permission to collect higher fares.
Earlier this week, the Review-Journal reported that Ron Cuzze, president of the Nevada State Law Enforcement Officers Association, which represents Taxicab Authority officers, was frustrated that officers were burdened with a high level of paperwork that prevented them from more aggressively enforcing long-hauling laws. Cuzze blamed Harvey for failing to understand the police force's responsibilies.
Cuzze's remarks came after two authority police officers, speaking on condition of anonymity, told the Review-Journal they were required to fill out burdensome and unnecessary paperwork to keep them from spending more time in the field.
Collins and other board members vented against the media.
"It pains me to read that kind of press," Collins said. "We're talking about two highly educated individuals that have taken this agency to the next level."
Authority Board Chairwoman Ileana Drobkin said she and other board members haven't spoken directly to members of the force about enforcement issues.
Harvey has said that his police force, which has 26 officers tasked with around-the-clock regulatory enforcement, is undermanned and that long-hauling isn't the only infraction it monitors. Harvey said the matters involving the force are internal and confidential.
Board members said while long-hauling continues to be a problem. A recent audit conducted by the state concluded that one in four passengers riding to the Strip or downtown Las Vegas from McCarran International Airport were long-hauled. Board members contend that since Harvey took the job in 2011, the long-hauling problem has been better controlled with the force stepping up enforcement, initiating more undercover sting operations to catch long-haulers and educating unsuspecting tourists of the problem by posting signs at the airport listing the approximate fare they should pay for trips to resort properties.
But board member Joshua Miller and cab driver Stephen Lenett said enforcement of long-hauling regulations is still lacking.
In another matter, the board approved additional cabs on the streets during two upcoming sporting events and two major conventions despite the objections of the union that represents cab drivers.
During the first two days of the NCAA basketball tournament March 20-21, the county's 16 cab companies will each be allowed five additional operating permits, called "medallions." The board also approved up to 15 additional cabs per company during next week's ConExpo-Con/Agg construction equipment convention, expected to draw 130,000 people to the city, and the time trials and races during the NASCAR Kobalt Tools 400 event at the Las Vegas Motor Speedway.
The board also authorized an additional five cabs per company during the National Association of Broadcasters convention, expected to attract 96,000 people to the city April 7-10.
Contact reporter Richard N. Velotta at rvelotta@reviewjournal.com or 702-477-3893. Follow him on Twitter at @RickVelotta.