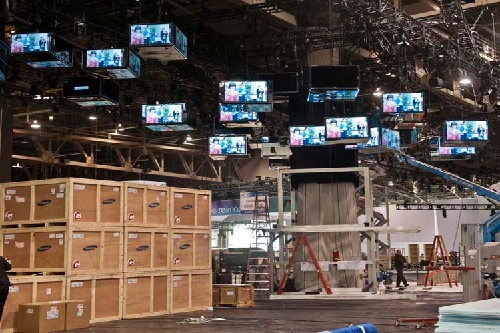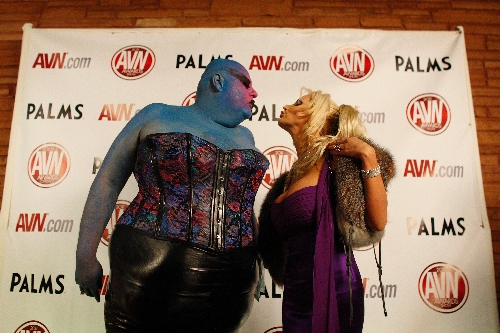 Longtime attendees of the International Consumer Electronics Show in Las Vegas may seem a little adrift and maybe even depressed next week.
Techies accustomed to spicing up their week in Sin City with a visit to the concurrent Adult Entertainment Expo won't be greeted by lingerie-clad, autograph-signing porn stars. This year, the Sands Expo and Convention Center is housing the annual conference of the Photo Marketing Association, whose panels deal with much less risqué topics such as ways to frame pictures or techniques for preserving prints.
In May, the Consumer Electronics Association officially partnered with the Photo Marketing Association as a way to bring digital imaging to the forefront of consumer electronics.
Thus, the AVN Media Network had to schedule its trade shows to the week of Jan. 15, when there will be more room in town. They also will move the whole adult extravaganza over to the Hard Rock Hotel.
The changes work out well for AVN, said Steve Javors, managing editor of AVN Media Network.
"We're taking everything out of a sterile, trade show environment and moving to a Vegas venue. It's creating a different type of atmosphere," Javors said.
You see, the Adult Entertainment Expo sort of grew up with CES. Now, the little one is ready to fly on its own. AVN has created a multievent, all-adult party out of the change in schedule. Starting Jan. 15, AVN's online sector will present its trade show, Internext. The Adult Entertainment Expo and Adult Novelty Expo will hit the Hard Rock starting Jan. 18, while the industry's version of the Oscars, the 2012 AVN Awards, will be the grand finale Jan. 21.
"It's a pretty exciting time for us," Javors said.
And it should be.
Although attendance forecasts are down this year — it's projected at 20,000 — from 2011's 23,000, Javors said the events are big enough to sustain themselves for the first time. And AVN won't have to rely on CES' media coverage to get a little attention.
"Media coverage is just as big as it was last year and in previous years. The numbers reflect that they'll be there," Javors said, though he didn't have attendance numbers last week.
And don't necessarily cry for CES over the breakup either.
CES drew slightly fewer than 150,000 attendees in 2011 and is expected to bring in about 140,000 this year. Karen Chupka, senior vice president of events and conferences for CEA, attributed the falloff to the show falling entirely on weekdays this year, not a dearth of adult film stars.
"Traditionally, we've been over a weekend," Chupka said.
Although general attendance is projected to be down, CES international registrations are up 15 percent. Also, 78 official delegations attended in 2011. This year, more than 100 are registered.
The last Photo Marketing Association drew 13,000 people to Anaheim, Calif., in February 2010.
Chupka said the adult convention only made it more difficult for CES attendees to get hotel rooms. It's easier this year, but still expensive.
An Internet search Thursday evening turned up rooms at The Venetian starting at $409 per night for a king suite. LVH's rooms ranged from $324 to $374 per night. The Hard Rock was charging from $209 to $399, and Bally's Las Vegas' rooms ranged from $179 to $724 per night during CES.
Javors agreed that AVN and CES competed for available rooms, and said he hopes rates will be cheaper during his conference.
Thus far, they are.
Rooms at the Hard Rock during AVN's events ranged from $55 to $339 per night while The Venetian's rates ranged from $229 to $419. Javors said he's hoping the scheduling change will appeal to exhibitors still counting their pennies.
"Certainly the economy has hit the adult entertainment business. I think across the board, companies are tightening their belts," Javors said.
CES is divided among LVH-Las Vegas, the convention center, The Venetian and the Renaissance this year.
"We have a pretty good footprint," Chupka said.
During peak CES move-in or move-out days, the conference and exhibitors will employ as many as 1,700 workers. On average, it takes about 17 days to setup the larger-than-life CES, and more than three days to take it apart afterward.
Contact reporter Laura Carroll at lcarroll@reviewjournal.com or 702-380-4588.
Follow Las Vegas Review-Journal reporters covering the International Consumer Electronics Show live on Twitter:
Laura Carroll: @lscvegas
Caitlin McGarry:
@Caitlin_McGarry
Chris Sieroty: @sierotyfeatures