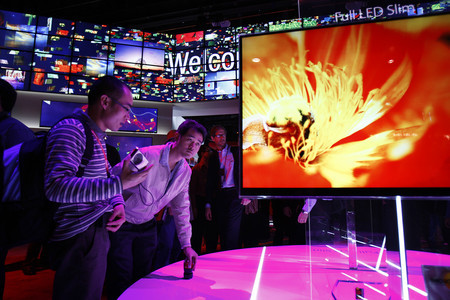 We went in expecting to hear about the health of the consumer-electronics industry, but Thursday morning's opening keynote at the International Consumer Electronics Show gave us a blistering civics lesson as well.
Along with industry-sales forecasts and an appearance by Ford Motor Co. President and Chief Executive Officer Alan Mulally, the keynote featured some frank talk about federal policies.
Gary Shapiro, president and chief executive officer of the Consumer Electronics Association, wasn't shy: He pointed to glimmers of recovery in his sector, but blasted Congress for the trade practices and deficit spending that he said would curb the industry's long-term success.
For many consumer-electronics businesses, 2009 proved the most challenging year ever, with revenue dropping 7.8 percent overall. An economy that spent the year teetering on the brink "is only now edging away from the cliff," he said during the speech at the Las Vegas Hilton.
But consumers still want to spend, Shapiro said, and he predicted slight sales growth in 2010. Though CES attendance is flat year-over-year at around 110,000, the number of vendors jumped significantly, with roughly 330 of this year's 2,500 exhibitors new to the show. 2010's CES has also brought a dizzying pace of announcements concerning new technologies, Shapiro said.
"Companies realize the harsh recession creates winners and losers, and it also creates not only the opportunity but the necessity to break out and do something different," he said. "Put simply, the mantra of many companies in 2009 was, 'Innovate or die.' "
But federal policies on trade, immigration, stimulus spending and the national debt could hamper further innovation, Shapiro said.
"Members of the innovation movement don't want money from the government. Rather, the innovation movement wants a good government that simply does not hinder the nation," he said.
Free trade is key.
"We are absolutely perplexed at how the United States Congress can fail to pass good trade agreements with friendly countries like Colombia, Panama and Korea," he said. "The United States is being passed by as other developed countries embrace free-trade agreements with each other while we sit isolated, and our export products become much more expensive because of tariffs."
Nor should technology titans such as Microsoft, Intel, Google and Apple have to "apply to the government" to bring in the best engineering talent from around the world, Shapiro said.
Most importantly, he said, innovation requires a government that can balance a budget and avoid subsidizing failing businesses.
"Who's going to pay that record $2 trillion of debt the United States government created in 2009? Our children will," he said. "Record deficits mean higher taxes, and higher taxes discourage the type of investment which fuels innovation."
Shapiro, who rode onto the stage in a 2010 Ford Taurus, yielded the vast majority of the keynote's allotted time to Ford, and Mulally led a parade of company executives and designers discussing the latest gee-whiz gadgetry set to appear in the carmaker's upcoming models.
Through Ford's Sync technology, drivers can do everything from listening to text messages to staying connected to family and friends through their cell phones, all with voice commands, which means hands stay on the wheel and eyes stay on the road. Ford had 1 million Sync-equipped cars on the road as of May.
Mulally called 2009 a historic year for the car industry, and he said Ford is in a "different place" today.
"Our products are being recognized, and we have made great products as a business even though the world around us is continuing to change dramatically," he said. "We remain laser-focused on our plan, which is about delivering great products that feature the technologies that people really do want and value."
Like Shapiro and Mulally, exhibitors lining CES' trade show floor expressed optimism for the year ahead.
Take The Sharper Image.
If you thought the quirky former retailer had disappeared forever into bankruptcy oblivion, think again. Personal-therapeutics and wellness company HoMedics snapped up the iconic Sharper Image name in 2009 and relaunched it with about 45 products in September. Since then, The Sharper Image has moved $130 million in goods through chains such as Best Buy, Kohl's and Bed Bath & Beyond, said Vice President of Sales Doug Petty. Best-sellers include a $99 portable projector that plays photos, home movies and games, and a $79 clock-dock combination for iPods and iPhones. Fifteen new products are on the way in 2010.
"We came out of 2009 just feeling awesome," Petty said. "Our expectations for 2010 are at a tremendous high because of the success we've had in the last four months. We expect this to be a huge year for us."
Growing interest in prevention of identity theft and other computer-security matters also spurred decent 2009 sales gains for Computrace LoJack for Laptops. The software, which sells for $30 to $100 depending on subscription length, tracks a stolen or lost laptop so that police can retrieve the computer.
Stephen Broscoe, a program manager with LoJack developer Absolute Software, said the company inked numerous deals in 2009 with new manufacturing clients to install LoJack directly on the computers they make. Thanks to a marketing strategy centered on deals with manufacturers, LoJack's sales have improved throughout the recession, Broscoe said. Even direct sales to consumers held up in 2009, he said.
Absolute recently debuted LoJack in Europe and is planning a possible unveiling in Asia in 2010.
"We're pretty bullish here at Absolute. We feel we have a bright future, and we're hoping for a very good 2010," he said.
Contact reporter Jennifer Robison at jrobison@reviewjournal.com or 702-380-4512.