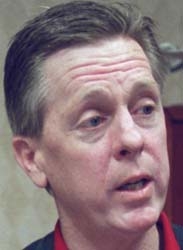 Four local telecommunications companies filed for bankruptcy protection on Sunday but expect to continue in business , an attorney for the debtors said Tuesday.
CommPartners Holding Corp. and three affiliated companies petitioned for Chapter 11 bankruptcy, reporting $8.5 million in assets and $6.3 million in liabilities.
Asked about prospects for CommPartners continuing operations after bankruptcy proceedings, attorney Gerald Gordon of Gordon Silver, said: "That's our intention."
CommPartners provides wholesale telecommunications services to other carriers around the United States. It also sells telecommunications services to small- and medium-size businesses, according to court papers.
The companies offer Voice over Internet Protocol, or VoIP, services that use the Internet to carry voice communications.
Steven Tackes, a telecommunications lawyer and partner at Kaempfer Crowell Renshaw, said he was not familiar with the company but suggested it could be caught in the grey area between regulated and unregulated telecommunication services.
Vonage, a pure VoIP company, is mostly unregulated, but CommPartners appears to be using VoIP only for some of its businesses, which may subject it to state and federal regulatory oversight, Tackes said.
CommPartners leased equipment, which limits its ability to quickly adjust costs to match changes in revenues, Tackes said in an e-mail.
"When the recession hit and the growth went negative, those fixed costs remained. Even worse, as technology changes, many cannot keep up," Tackes said.
Tackes said he was unsure whether CommPartners will survive or close its doors and be liquidated.
CommPartners counts 58 employees in its Las Vegas office at 8350 S. Durango Drive, Suite 200, plus 13 in 10 other states.
Maurice Gallagher, chairman and chief executive officer of Allegiant Travel Co., stepped down as chairman of the telecommunications holding company on June 11.
Allegiant is a separate company and is not affected by the bankruptcy filing.
Gallagher was a major investor in MGC Communications, which also did business as Mpower Communications in Las Vegas before it was sold a few years ago. Gallagher held key positions at WestAir and ValuJet, which now is called AirTran Holdings.
David Clark, chief executive officer and now chairman of CommPartners, worked as senior vice president at MGC and is a principal with Gallagher Equity Management.
CommPartners was founded in 2003 and was getting closer to profitability in recent years. It trimmed losses last year to $4.8 million from $7.6 million in the previous year.
However, CommPartners' telecommunications traffic dropped sharply starting in March as large telecommunications carriers found a way to connect directly with each other and eliminate CommPartners as the middle man, the company said in court papers.
The companies face an array of legal and regulatory proceedings with other telecommunications companies, including AT&T, in state and federal courts as well as state regulatory bodies.
Contact reporter John G. Edwards at
jedwards@reviewjournal.com or 702-383-0420.