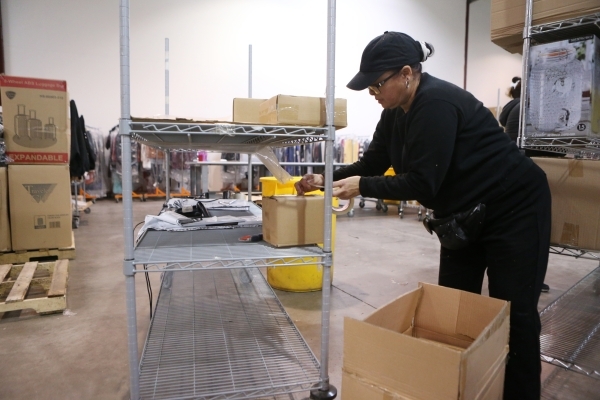 Cathy Williams worked her first day Monday as a warehouse order processor at Beyond the Rack, a flash-sale online retailer. She got her job through Manpower Las Vegas, for which she's worked many jobs, including convention worker, truck driver and hostess.
She's a temp by choice, spending most of her time at home minding her grandchildren.
"Working during the holidays, you meet all kinds of different workers," said Williams, 55. "Most everyone else where I'm working is a temp, too."
Jeff Parker, vice president of Manpower Las Vegas, said local companies started searching in August and September for the seasonal temps now at work. Robert Half International Las Vegas branch manager Joseph Franco, citing Bureau of Labor Statistics data, said 24,500 temps were hired nationally in October, a 15,000-worker increase from a year earlier.
Parker said his agency has already placed 150 to 200 workers in customer service and call center jobs and 300 people in warehouse and shipping company distribution jobs. He said he'll likely place up to 200 more in both categories in coming weeks.
The jobs will last into January, partly to manage the deluge of returns that follow all the holiday sales. He said call center customer service workers average $11 to $15 per hour; warehouse distribution jobs $9.50 to $14; and some parcel delivery jobs $17. All exceed Nevada's $8.50-an-hour minimum wage.
The Nevada Department of Employment, Training and Rehabilitation forecast strong holiday hiring. In October the department said holiday season-related hiring added 10,000 jobs to state payrolls in recent years.
"It is our expectation that this year's seasonal hiring will be similar, if not slightly more robust, due to the strengthening economy," the department said.
Strong forecasts proving correct
"This has probably been one of the best holiday seasons in memory," Parker said. "Placements will probably end up 20 (percent) to 30 percent higher than last year. And last year our placements were 15 (percent) to 20 percent higher than in 2013."
Franco declined to say how many local temps Robert Half, which specializes in accounting, finance, office administration and technology jobs, will place locally this holiday season. But he suggested the pay is generally good. Receptionists could earn $12 to $15 an hour, office managers could earn $20 to $23 an hour, IT help desk techs can earn $18 to $25 an hour and some software developers could earn $16 to $90 an hour.
Franco said talented workers with in-demand skills are tough to find and tougher to hire, given high demand and relative scarcity.
"We're beginning to enter a situation in which there's much more labor demand than there are employees available," Parker said. "We're seeing people who were able only to find part-time work before moving into full-time work and hoping to continue it into the new year."
About half of Manpower's Las Vegas seasonal temps for 2015 stand a chance of staying employed into 2016, Parker said, a marked contrast from prior years when post-holiday prospects were slim, he said.
Parker said online shopping has heightened demand for all temps.
The National Retail Federation forecasts 46 percent of consumers will holiday-shop online. Amazon, which has a 624,000-square-foot warehouse-distribution center in Reno, is expected to hire 100,000 people for its fulfillment and sorting centers.
Employment agency Challenger Gray & Christmas expects retailers to add around 755,000 temporary workers this holiday season,even with last year.
Improving economic conditions
Like Parker, Franco said the Las Vegas economy has improved all year, and he expects that to continue in 2016.
"We're riding this wave, and a lot of businesses are riding it not knowing where it will go," he said. "I don't see the wave coming down anytime soon and I don't see anything in the data that tells me otherwise."
Bob Daniel, owner of Las Vegas-based PrideStaff, said he expects a slight uptick in temp hiring over 2014. He said he could place between 40 and 100 people for stints running through Jan. 1.
"How many people we will place will really depend on the uptick that businesses get as they look at sales," said Daniel, whose company includes MGM Resorts International and Southwest Gas Corp. among its clients.
CanvasPop, which prints digital pictures on canvas, added 45 temps, almost all from agencies, for its North Las Vegas operation, Senior Marketing Coordinator Alyssa Hanson said. She said she expected most of them to stay through Dec. 22, although some will continue through February.
"We typically keep temporary employees that perform at a high level and have shown promise; we offer them the opportunity to apply for any open positions," Hanson said by email. "Last year, we hired on three of our seasonal temps as full-time employees."
Many temps jobs are linked to the holiday season rush, but Nami Kinose is involved in another rush — open enrollment season for health insurance. She works for InsureMonkey, a health care exchange technology provider.
Open enrollment season for health insurance started Nov. 1, and Kinose said she's been busy fielding phone calls to help Nevada Health Co-Op customers pay for their coverage. The co-op is in receivership and will close at year's end.
Kinose said she has long worked temp jobs for Robert Half and Office Team, both in Tampa, Fla., and in Las Vegas, in jobs including receptionist, administrative assistant and warehouse worker. She said temp work offers her camaraderie.
"Temping has helped me meet people and get a sense of places after I've moved to them," said Kinose, 55, whose stint may get extended beyond Dec. 31. "And with all the call volume, this job keeps me busy."
Laura Nowlan, whose year-old See Us Now Staffing focuses on temp-to-hire placements, said it's hard to forecast how many holiday season hires she'll place.
But, she said, the phone keeps ringing and demand stays high.
"I was out handing out goodies at one of our client's warehouses and people kept coming up to me and asking, 'Laura, do you have any weekend work? Do you have any evening work?'" she said. "I'd say, 'Don't you work full time?' and they'd say, 'Yes, but I'd like to bring a little extra money home for the holiday.'"
Find Matthew Crowley on Twitter @copyjockey