Tesla is on track for its hiring and tax incentive goals in Nevada despite lagging in meeting production goals.
Nevada awarded Tesla a tax incentive package in 2014 amounting to $1.2 billion in tax breaks to make a $3.5 billion capital investment in Nevada by 2024.
Nearly three years in, the company has made an almost $2.7 billion capital investment.
"Tesla has met all of its benchmarks and exceeded the state's goals," said Mari St. Martin, spokeswoman for Gov. Brian Sandoval. "The company is a strong community partner and is a cornerstone of the new Nevada economy. Tesla's incentives are performance-based, and the governor is confident in its ability to deliver."
The electric car manufacturer's $5 billion Gigafactory in Storey County east of Reno is a joint project of Tesla and Panasonic Energy Corp.
Tesla plans to expand the Gigafactory in modular units as demand grows for the lithium-ion batteries produced at the plant. Upon completion, the Gigafactory will be 10 million square feet.
About 1,400 full-time employees are working in the Gigafactory now, including 431 Panasonic Energy employees and 44 H&T Nevada LLC employees. H&T Battery Components is the world's largest manufacturer of battery components and formed H&T Nevada LLC in 2015.
In its tax incentive agreement with Nevada, Tesla estimated it would need 6,500 employees in the Gigafactory by 2024.
So far, the state has awarded Tesla $114 million worth of tax credits. However, if the company does not meet its $3.5 billion capital investment by 2024, Tesla will have to reimburse the state.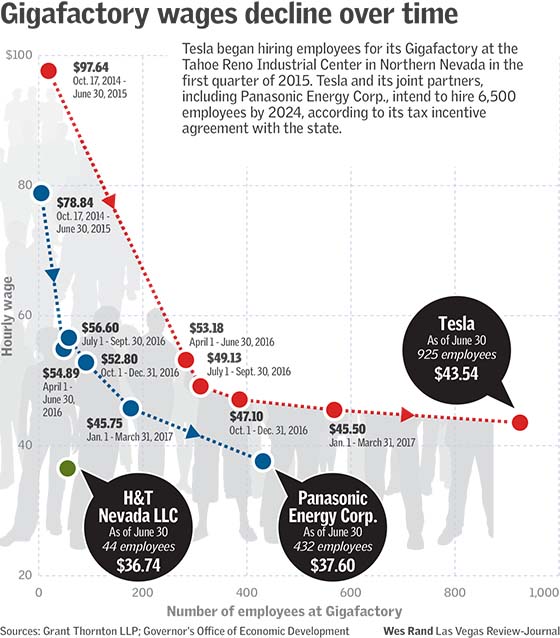 Unmet expectations
On the whole, Tesla is behind in its production goals.
Citing production hiccups at the Gigafactory at the Tahoe Reno Industrial Center, company founder Elon Musk reported Oct. 2 that it produced just 220 Model 3s in the third quarter.
During a May financial call, Musk said he hoped for "5,000 vehicles per week at some point in 2017 and … 10,000 vehicles per week at some point in 2018."
"There is nothing stopping Model 3 production except a production process that apparently doesn't work," said Sam Abuelsamid, senior research analyst at Navigant.
Tesla is working to produce lithium-ion batteries in the Gigafactory using a battery module assembly line. Cells are packaged into modules, and then four modules are packaged into an aluminum case to form a Model 3 battery pack.
"The biggest challenge is that the first two zones of a four-zone process, key elements of which were done by manufacturing systems suppliers, had to be taken over and significantly redesigned by Tesla," Musk said in the company's third-quarter shareholder letter.
Musk said in an earnings call Nov. 1 that software had to be rewritten from scratch and that mechanical and electrical elements of one area of the plant had to be redone.
Raising cash
Tesla's third quarter balance sheet shows the company lost $671 million in the past year and added more than $5.2 billion in liabilities.
"Using liabilities to fund research and development is fine," Abuelsamid said. "The problem is that Tesla has consistently had to go back and raise cash to boost the bottom line of their balance sheet because they're not generating enough cash from incoming revenues."
At some point, selling more shares to raise money won't be an option, he said.
Abuelsamid said he is pessimistic about Tesla's prospects "unless they can fairly quickly sort out production issues with Model 3 and start churning out high volumes of those cars with excellent quality."
If the company doesn't start to generate some positive cash flow soon, it will be in real trouble, Abuelsamid said.
If that happened, Abuelsamid said, Tesla has enough brand value and physical assets between its assembly plant in Fremont, Calif., and its Gigafactory at the Tahoe Reno Industrial Center in Northern Nevada to reassure Nevada officials.
Even if Tesla were to hit hard financial times, "somebody will come along to rescue them," Abuelsamid said.
Contact Nicole Raz at nraz@reviewjournal.com or 702-380-4512. Follow @JournalistNikki on Twitter.