Tesla's Nevada Gigafactory ahead of economic impact expectations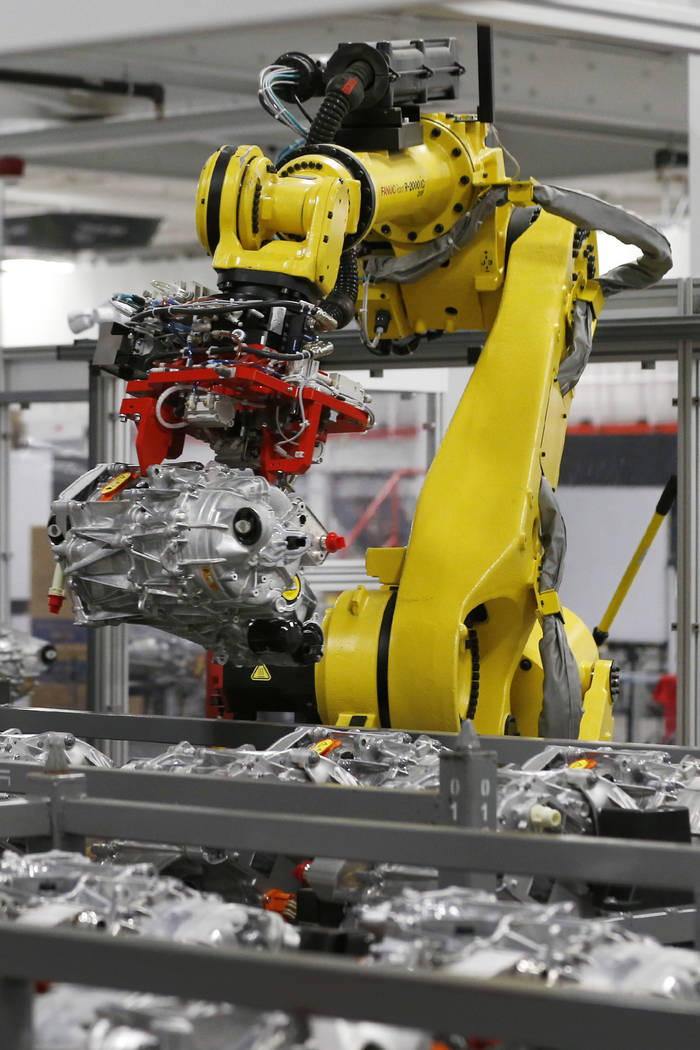 The Tesla Gigafactory's economic impact on Nevada has exceeded projections, bringing in more than 7,000 jobs and $6 billion in capital investment, according to a new economic impact summary.
In 2014, Nevada agreed to give the automotive and energy company $1.3 billion in tax abatements to incite the company to build a new battery factory in Northern Nevada. In return, Tesla promised to meet certain requirements in areas like employment and capital investment.
"The promises made have been promises kept," said Derek Armstrong, deputy director of the Governor's Office of Economic Development, which released the report Wednesday morning. "We're extremely happy to see what they've done so far."
Surpassing expectations
The Gigafactory, located east of Reno in Storey County, was originally projected to bring in 6,500 employees by 2018 who would work under the Gigafactory's partners: Tesla, Panasonic and H&T Battery Components.
According to the impact summary, the factory had 7,059 employees as of June 30. Ninety-three percent of those are held by Nevadans, and 4,247 are qualified employees, or those who have been employed for at least three consecutive months and work full-time for an average minimum of 30 hours per week.
"This is an example of how incentive programs have been put to work and work really well," Armstrong said.
The average wages for the employees are $25.78 per hour, compared to the projected $27.35.
Michael Schaus, communications director for the Nevada Policy Research Institute, said the report's findings show lower taxes are a positive move for economic development. He said expanding similar tax breaks to small businesses would bring in more jobs and wealth to the state.
The economic development office gives tax breaks to existing and small businesses that export at least half of their goods or services outside of Nevada.
According to the U.S. Small Business Administration, 95.6 percent of businesses in Nevada were categorized as small businesses and employed 40.9 percent of the state's workforce in 2013.
"If you're looking for economic drivers, it's the smaller businesses that will hire the most Nevadans and create the most wealth for Nevada," Schaus said. "That's where the economic policy should be focused. … (lower taxes) should expand to as many people as possible."
Construction jobs also beat out projections: about 17,000 direct construction jobs and 7,900 indirect jobs have been created in Washoe and Storey Counties between 2015 and 2018, both of which surpassed projections. The total economic impact of construction to date is estimated to be $3.23 billion, $843 million higher than projected.
Impact on Nevada
As of June, Tesla has brought in $6.05 billion in capital investment, surpassing the $4.95 billion projection.
The original contract gave the company until 2024 to make $3.5 billion in capital investments in Nevada.
The report says this investment has "permanently changed the economic landscape of the area," serving as a catalyst for additional development and increasing the demand for housing, retail and other services by bringing in new workers.
For example, the population in Storey, Washoe and Lyon counties grew by about 25,500 people combined between 2014 and 2017. Other tech companies such as Switch, jet.com and Blockchains chose to locate in the region in part due to the "increased visibility that Tesla created, and the infrastructure investment the company has brought about," according to the report.
"This really shows the economic diversification for Northern Nevada in that it's moved from just being a service-based economy with a lot of reliance on the hotel and casino industry," Armstrong said. "Now, we have an emerging advanced manufacturing component."
Overall employment in Washoe and Storey counties has grown by 34,500 jobs in four years, and the Gigafactory is estimated to have brought in about 44 percent of those jobs.
According to the report, Tesla is expected to create an annual economic impact of $3.56 billion in the Washoe and Storey region in 2018.
Tax revenue
Tesla was originally projected to generate up to $1.95 billion in direct and indirect revenue in Nevada over the next 20 years, but is likely to beat that estimate given its higher-than-anticipated job creation, according to the report.
"We'll continue to do our part to invest in the state as we grow," a Tesla spokesperson said via email.
While Tesla will not generate personal property, real property and modified business taxes until 2024 and sales and use taxes until 2034, the Gigafactory project has brought in new transportation and utility infrastructure, as well as employee spending that has generated sales and property taxes.
Total tax revenue from employees at the Gigafactory was $57.7 million for 2018. Projections expected employee tax revenues to fall between $42.9 million and $81.8 million.
Armstrong said he expects Tesla's momentum to continue throughout the tax abatement process.
"We're a third of the way through the process," Armstrong said. "What they're doing now is just going to greater later."
Contact Bailey Schulz at bschulz@reviewjournal.com or 702-383-0233. Follow @bailey_schulz on Twitter.