November 8, 2008 - 10:00 pm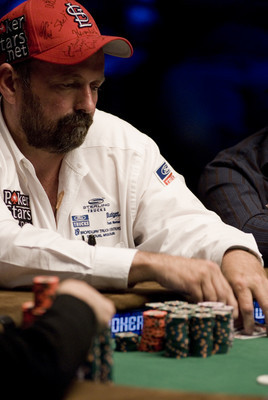 DENNIS PHILLIPS, 53 ST. LOUIS position 1: $26,295,000
BACKGROUND
• Phillips, an account manager for a commercial trucking company, won his seat in the World Series of Poker through a satellite tournament at Harrah's St. Louis. He has parlayed that opportunity into a shot at $9.1 million.
• Phillips has been playing live poker for almost three years and has won less than $5,000.
HOW HIS LIFE HAS CHANGED
Phillips has become a celebrity in St. Louis, thanks to wearing a St. Louis Cardinals baseball cap while playing in the main event. He threw out a pitch at a Cardinals game in September with his family on the field. "Other than absolutely no free time, everything is positive."
PREPARING FOR FINAL TABLE
Phillips played in tournaments in Atlantic City and London during the break. He hired a couple of coaches and has been playing poker with friends in St. Louis to evaluate his game.
KEY HAND THAT LANDED YOU AT THE FINAL TABLE
On the fourth day, he doubled up on poker professional Mike Vos' to move into the top 10 chip leaders. Phillips remained in the top 10 from that point. "Twice earlier in the tournament I had to lay down aces. That was hard, and in one case, the wrong move. My concern was advancing day to day with an above average chip count and I did that. If I threw away the best hand a few times, so be it. I think the end result was worth it."
SPONSOR
PokerStars.net
ESPN POKER ANALYST NORM CHAD:
"Perhaps no player could be more negatively affected by the 117-day final-table delay. When play was halted in July, Phillips was in a zone. He was running hot and reading well, getting all the right cards and pushing all the right buttons. Poker is a streaky game, and he was on a weeklong streak. Heck, 31/2 months later, he might not even be able to find his St. Louis Cardinals baseball cap."