The Ladder: Sunrise Children's Hospital hires new COO
August 30, 2018 - 11:21 am
Mark J. Amox has joined Sunrise Children's Hospital as its new chief operating officer.
Amox was previously president and CEO of El Paso Children's Hospital in El Paso, Texas, and was the administrator of University of Florida Health Shands Children's Hospital in Gainesville, Florida before that.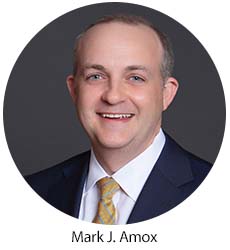 The Sunrise Children's Hospital is undergoing a more than $130 million campus-wide, multiphase campus expansion.
The previous COO at Sunrise Children's Hospital, Kathy Donovan, returned to health care in St. Louis, Missouri, last March.
Mike McLean joined the Las Vegas Penta Building Group team as project executive. He has worked on the Cosmopolitan in Las Vegas and Hudson Yards in New York City.
Maggie Allred, Brenda Griego and Rita McCusker joined the board of Impact Las Vegas, a Nevada nonprofit women's collective giving organization in its fifth grant year.
Paul Padda Law PLLC, added Swadeep Nigam as its director of business development and strategic initiatives.
Joe Wallace has been promoted to president of the Mountain-Northwest Division of real estate group CBRE. Wallace has executive oversight for the Bay Area, Sacramento/Reno, Seattle, Portland, Denver, Salt Lake City, Las Vegas, and Albuquerque.
Rachel's Kitchen — a fresh casual restaurant — hired Pat Hiller as vice president of franchise development. The brand has eight locations across Las Vegas. Hiller said he expects to open five locations within the next 24 months.
The Henderson Development Association has named Windom Kimsey as the new chairman of its 2018-2019 executive board of trustees. The Henderson Development Association, which is the economic branch of the Henderson Chamber of Commerce, assigned Kimsey to the position July 1.
Denny Peters is the the Nevada operations manager of the first Southern Nevada office of Peloton Land Solutions Inc. Pelton has three other offices in Texas and now an office in Henderson. The company provides land development services for residential, commercial, industrial, municipal and energy sector clients.