The Ladder: Thomas Reeg to become CEO of Eldorado Resorts
Eldorado Resorts is shuffling its management. Thomas Reeg, currently president and chief financial officer, will become CEO effective Jan 1.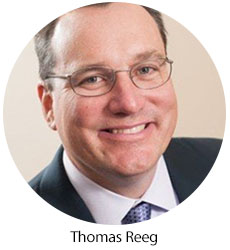 Gary Carano, the company's current CEO and chairman of the board of directors, will become executive chairman of the board. Anthony L. Carano will remain chief operating officer and assume the role of president.
The company has began searching for a new chief financial officer.
Reeg has been president of Eldorado Resorts and a board member since September 2014. Gary Carano has held senior management positions at the company since 1980. Anthony Carano joined EldoradoResorts as executive vice president, general counsel and secretary in September 2014 and was named COO in 2017.
Monica Digilio joined Caesars Entertainment Corp. as its executive vice president and chief human resources officer. Digilio joins Caesars from Montage Hotels and Resorts where she has served in the same capacity since 2012. Her appointment at Caesars is effective immediately and is subject to normal regulatory approvals.
Richard N. Velotta has been promoted to assistant business editor at the Las Vegas Review-Journal. He will continue his gaming and tourism coverage.
Adam R. Ellis has joined Howard & Howard Attorneys PLLC. Ellis will practice out of the firm's Las Vegas office.
Karl Schauerhamer is the new chief financial officer at Hirschi Masonry, a masonry contractor in southern Nevada.
The Ladder appears Sundays. Submit announcements and photos to theladder@reviewjournal.com for consideration.