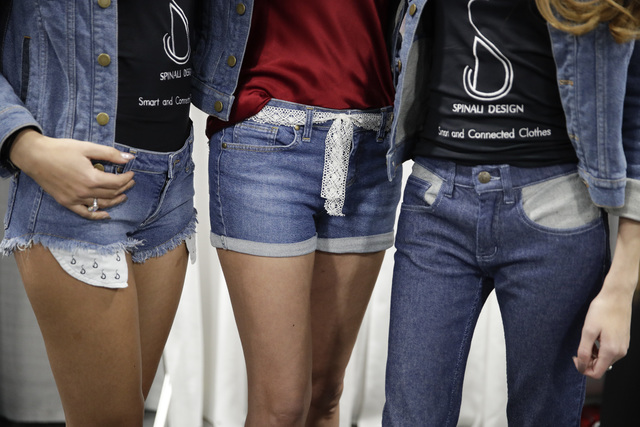 Tired of having to constantly check your cellphone for directions?
French startup Spinali Design has created jeans that will vibrate on your right or left hip to let you know which direction you should head. A chip embedded into the waist is connected to an app. Just enter your destination ahead of time.
Of course, a smartwatch can do that, too, but why get something that can do more? The technological capabilities of the jeans are limited to directions.
However, the company also has bikinis that will buzz when you're out in the sun too long and need to apply more sunscreen lotion. You enter information on your skin type and SPF level of your sunscreen into an app. The chip then monitors the sun rays.
Spinali says the chip should last four years even with constant use and will turn off automatically when wet to avoid damage.
The jeans cost about $100, and the bikinis about $140.
———
Amazon's smart speaker, the Echo, is getting a lot of attention at the CES tech show in Las Vegas this week. But it can't acknowledge your presence or tell one member of your household from another.
That's where Olly, billed by its makers as the first robot with personality, wants to come in. The gadget resembles a radial tire on a stand that tilts in your direction when it detects you. It can run your household via voice command, looking up information or controlling the temperature (assuming you also have a smart thermostat).
But Emotech, the company behind Olly, says it can do much more. For instance, it can supposedly adapt to the personalities of different people in your home, allowing it to pull off tricks like setting the perfect temperature when you come home from work or go to bed. And Emotech claims it can predict the type of music you like playing at night.
Olly hasn't been released or priced yet, although Emotech co-founder Chelsea Chen estimates it will eventually cost in the range of $600 to $700.
———
How about getting a smartphone alert when you might have a concussion?
Neurosurgeons and engineers at the Cleveland Clinic hospital group have developed a mouth guard that's basically a small computer. Wear it next time you play football, ice hockey or any other sports with the potential for head injuries.
The mouth guard measures the force, location and direction of the impact of each head injury. It sends data to a smartphone wirelessly and alerts coaches and medical personnel when a threshold has been exceeded. A red light on the mouth guard also comes on.
Adam Bartsch, who was one of the designers of the technology, says that "in near real time, what we're doing is computing the risk of concussion for any single head event."
The phone needs to be within about 75 feet of the player, though. That means having it with a trainer on the sidelines, not in the locker room.
The mouth guard costs $199 and comes from a Cleveland Clinic spinoff called Prevent Biometrics.
———
Suffering from stress or low self-esteem? You may not have to pour big bucks on a shrink or hypnotist.
A Danish company called HelloMind has a hypnotherapy app that claims to offer the perfect fix just a click away.
Just download the HelloMind app and choose the area to work on, whether that's to get rid of a phobia or strengthen a certain aspect of your personality.
If you need immediate relief, you can get five minutes of complete relaxation. Press play for the soothing sounds of a hypnotherapist.
Of course, plenty of people don't take hypnosis seriously to begin with, so why not do it on an app?
The treatment consists of 10 half-hour sessions. Each session is about $9, or just pay $13 per month.
Henrik Hancke Nielsen, a partner at HelloMind, says many users have gone back for more treatment sessions.
The app launched in Denmark last August and is arriving in the U.S.
It's one of the products being showcased at the CES tech show in Las Vegas.
———
Retailers and brands are collecting a lot of data on their shoppers. But how should they use that knowledge to sell more stuff?
Jamie Gutfreund, global chief marketing officer at ad agency Wunderman, says retailers need to look beyond making a hard sell and find ways to make shoppers feel special.
Gutfreund spoke at a panel Thursday on how retailers and brands should navigate a changing landscape. It's part of the CES gadget show in Las Vegas, which runs through Sunday.
Diaz Nesamoney is CEO of Jivox, which provides brands with personalized advertising and marketing. He says one of the biggest mistakes that companies make is pushing a product that an online shopper already bought instead of recommending something that is related.
The landscape is expected to get more difficult for brands to break through as voice-activated devices like Amazon Echo and Google Home give shoppers the convenience of reordering products they already know and use. Add to that smart refrigerators that send alerts to replenish items already in the fridge. Panelists say these gadgets will put more pressure on brands to further stand out.