There's gold — bars and coins — in them thar vending machines
September 29, 2010 - 11:00 pm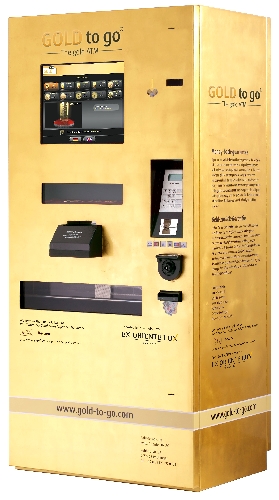 Hungry office workers have always been able to get Rold Gold, as in pretzels from Frito Lay, in vending machines. But now people hungry to invest in real gold may also be in luck.
Reuters reported Wednesday that Gold to Go, a Germany-based installer and manager of gold vending machines, aims to introduce the gadgets in the United States. The Miami New Times blog reported that sites in Las Vegas and Florida, perhaps South Beach in Miami, will get the first machines.
Gold to Go brand creator Thomas Geissler told Reuters that he will issue about 35 machines this year and will aim for a "couple of hundred" machines next year.
Gold to Go launched its first gold machine in Abu Dhabi's Emirates Palace hotel in May, Reuters said. The machines now operate in luxury hotels in Abu Dhabi, Bergamo, Italy, Madrid and around Germany.
Reuters said the machines update the gold price every 10 minutes to match international markets. They take cash or credit cards and dispense small bars — including 1-gram, 5-gram, 10-gram and 1-ounce units — and coins such as South African Krugerrands, Australian Kangaroos and the Canadian Maple Leaf.
The machines come as gold prices are rising. Gold rose $1.90 Wednesday to close at $1,308.50 an ounce on the New York Mercantile Exchange. Gold prices have risen more than 18 percent this year and more than 80 percent since the start of the credit crisis in late 2008, Reuters noted.
Gold to Go didn't return a Wednesday e-mail message seeking comment.