Three homebuilders buy 630 acres in northwest Las Vegas Valley
Updated June 1, 2018 - 6:12 pm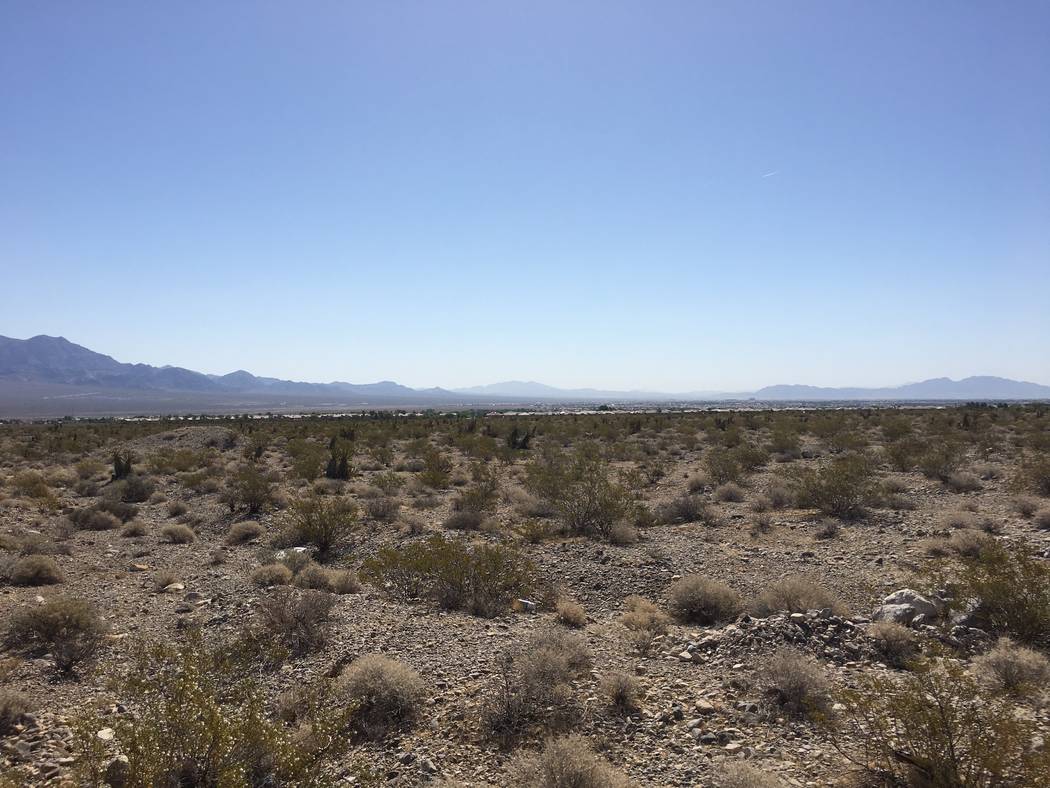 Las Vegas' homebuilding market has been heating up with fast-rising sales and record prices.
In another sign that things aren't cooling anytime soon, three builders have teamed up to buy more than 600 acres – and by all accounts, it's the largest single purchase of a housing site in years.
Lennar Corp., Shea Homes and Woodside Homes formed a joint venture to acquire 630 acres in the upper northwest valley, the builders said. Their Nevada-shaped spread, bought out of the Skye Canyon master-planned community, is east of U.S. Highway 95 and west of Skye Canyon Park Drive.
They plan to build around 3,000 homes and launch sales in summer 2021. The community's name has not been determined.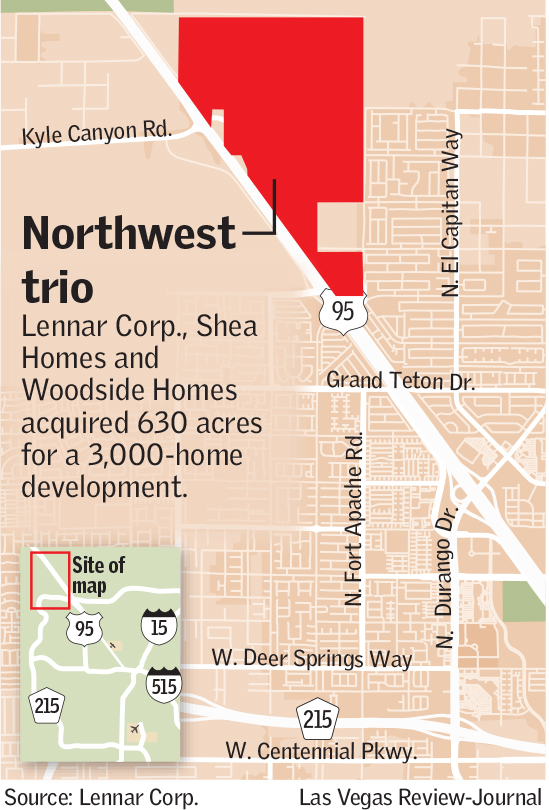 Lennar, the managing partner, declined to disclose the land's purchase price, but a Woodside representative said it was about $89 million.
During the bubble years last decade, housing developers bought more than 1,000 acres at a time through federal auctions. Today, land sales are rising, but deals involving massive parcels have largely vanished.
Still, the sale shows that some builders aren't nervous about loading up on land amid an expanding market.
Joy Broddle, Lennar's Las Vegas division president, said the sale, by Skye Canyon's developers, closed about a week ago. Efforts to find the transaction in Clark County records and independently confirm the price were unsuccessful this week.
She said Lennar has developed master-planned communities around the country, but this will be its first in Las Vegas.
"That's what makes this so exciting," she said.
Plans call for 1,300 to 1,400 homes from Miami-based Lennar; 900 from Walnut, California-based Shea; and 700 from Salt Lake City's Woodside.
Shea's project would be a 55-and-older community with such amenities as a fitness center, wine club and bocce ball, said Jeff McQueen, president of Shea's Active Lifestyle division.
Woodside, meanwhile, was already active at Skye Canyon, having sold 275 to 300 homes there, said Guy Melton, Woodside's vice president of sales and marketing.
"It's a phenomenal area," he said.
Efforts to speak with Skye Canyon developer Olympia Cos. were unsuccessful.
In recent years, Las Vegas homebuilders have bought 5 to 20 acres at a time, and it's "just very rare" to be able to get a spread as big as this one, Land Advisors Organization broker Rick Hildreth said.
There is plenty of vacant desert in the valley, but Hildreth said the parcels might be government-owned or chopped up among several investors, making big purchases unlikely or at least more difficult to pull off.
And though the construction market is growing, builders sold a lot more houses in Las Vegas in the mid-2000s and 1990s than they do now, crimping demand for massive parcels.
Also, if landowners control a lot of property, they can fetch higher prices by selling in smaller pieces, Home Builders Research founder Dennis Smith said.
Until now, perhaps the biggest land purchase locally by a homebuilder this year was D.R. Horton's acquisition of 200 acres in North Las Vegas. And overall in recent years, perhaps the biggest land sale in the broader metro area was electric-car startup Faraday Future's purchase of 930 acres at Apex Industrial Park in 2016.
Faraday, backed by a $335 million Nevada Legislature-approved incentive package, planned to build a car plant at Apex but bailed on the project last year.
Skye Canyon, like other big projects in town, boasts a rocky history. Focus Property Group and partners initially bought the 1,700-acre site at a Bureau of Land Management auction in 2005 for $510 million, but lenders foreclosed in 2008 before anything was built.
Olympia and two investment firms — Stonehill Capital Management and Spectrum Group Management — acquired the property and started selling land to homebuilders around 2015.
Contact Eli Segall at esegall@reviewjournal.com or 702-383-0342. Follow @eli_segall on Twitter.