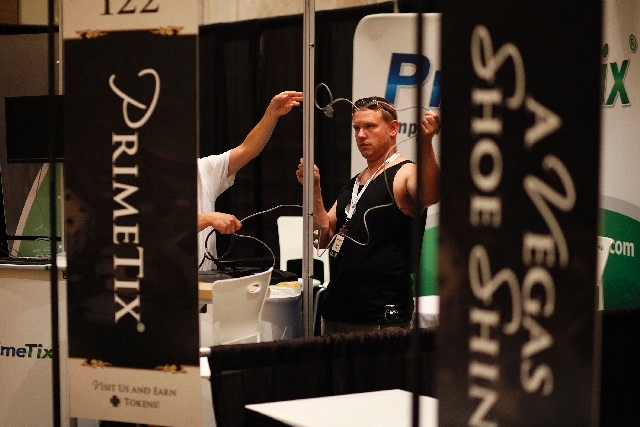 If you are looking for hard-to-find tickets to a big concert or event, there are an extra 1,000 or so people in Las Vegas this week who could probably help you.
Unfortunately, they'll be too busy.
Two industry-only shows that focus on tickets are in town, attracting a mix of producers, brokers and vendors.
Ticket Summit started Wednesday and will run through Friday at Bellagio. More than 600 people are expected again this year, bringing an estimated nongaming economic impact of more than $750,000.
The summit has been held here since 2006, with its first five years at The Venetian. Since 2012, it's been at Bellagio and in 2014 the show is moving to Aria.
"It's really about keeping the attendees happy," says Molly Mérez, Ticket Summit's executive director. "Our attendees love Vegas. It's a city about entertainment."
Ticket Summit is large by industry standards, almost double the size of competing shows. Among the Las Vegas attendees are representatives from Base Entertainment and Mandalay Bay.
Also in town, Thursday through Saturday at the Hard Rock Hotel, is the National Association of Ticket Brokers. The group's World Ticket Conference annually attracts about 400 brokers, wholesalers and inventory providers.
Scheduled speakers from Ticketmaster Resale and StubHub will discuss business growth, interactive ticket resale initiatives and partnership opportunities in the secondary ticket market.
Gary Adler, general counsel and executive director, says the world-class lineup of speakers for the association's 20th annual event is impressive, if not unparalleled: "The depth of ticketing knowledge these speakers will provide cannot be found at any other industry conference."
Adler says that while people may sometimes view the ticket brokering industry with disdain, it has become legitimized over the years, in part due to shows such as the World Ticket Conference.
"We've always understood we're easy targets for people not to like so we have to keep this side of the street clean," he says.
Adler says the secondary market is vibrant but difficult since the face value of tickets can climb so high.
"Some sellers are having a hard time selling tickets," he says.
Even so, the ticket industry is booming in 2013.
Pollstar's mid-year report on concert sales found that the top 50 worldwide tours sold nearly $1.85 billion in tickets, a 23 percent rise from the same period in 2012.
While the average ticket price increased $9.09 to $88.03, total tickets sold through June 2013 still rose 10.5 percent to 21 million.
Ticket Summit will focus on key industry issues involving technology, such as social networking, search engine optimization and preventing online fraud. Other emerging issues include faster transactions, tapping into different demographics online, selling tickets via new technology and electronic ticket-taking at venues. Executive director Mérez says the industry is giving increased attention to growing markets in Latin America, Eastern Europe and Asia: "Going global is something everyone should be doing right now."
Contact reporter Laura Carroll at lcarroll@reviewjournal.com or 702-380-4588. Follow @lscvegas on Twitter.