Tight margins, FDA challenge vaping companies in Nevada, US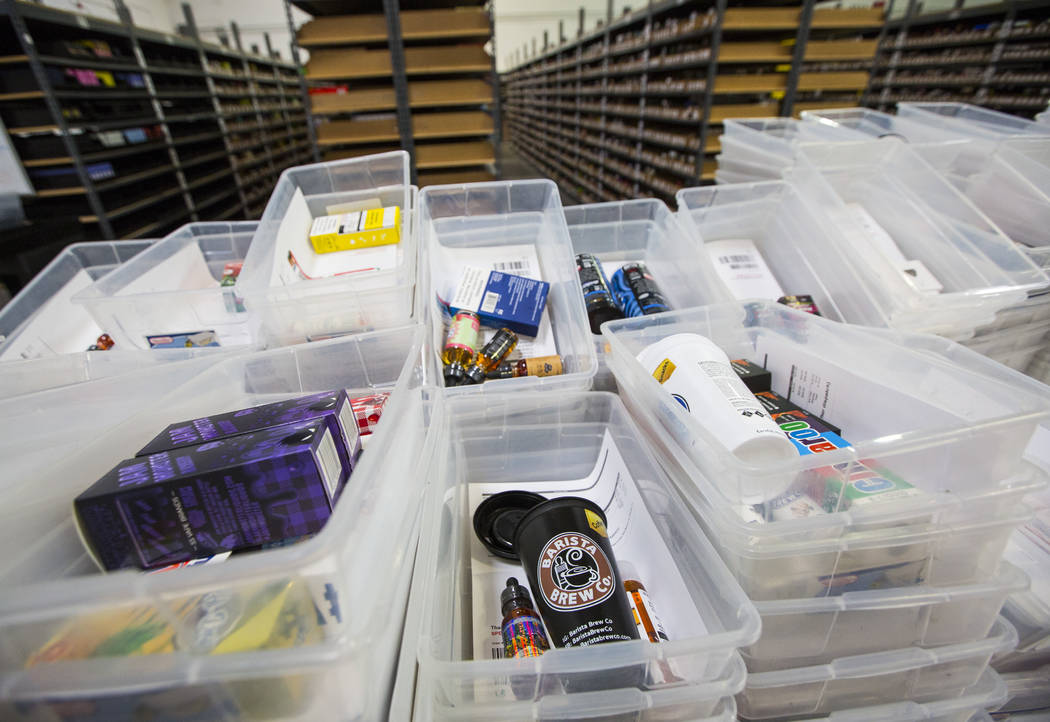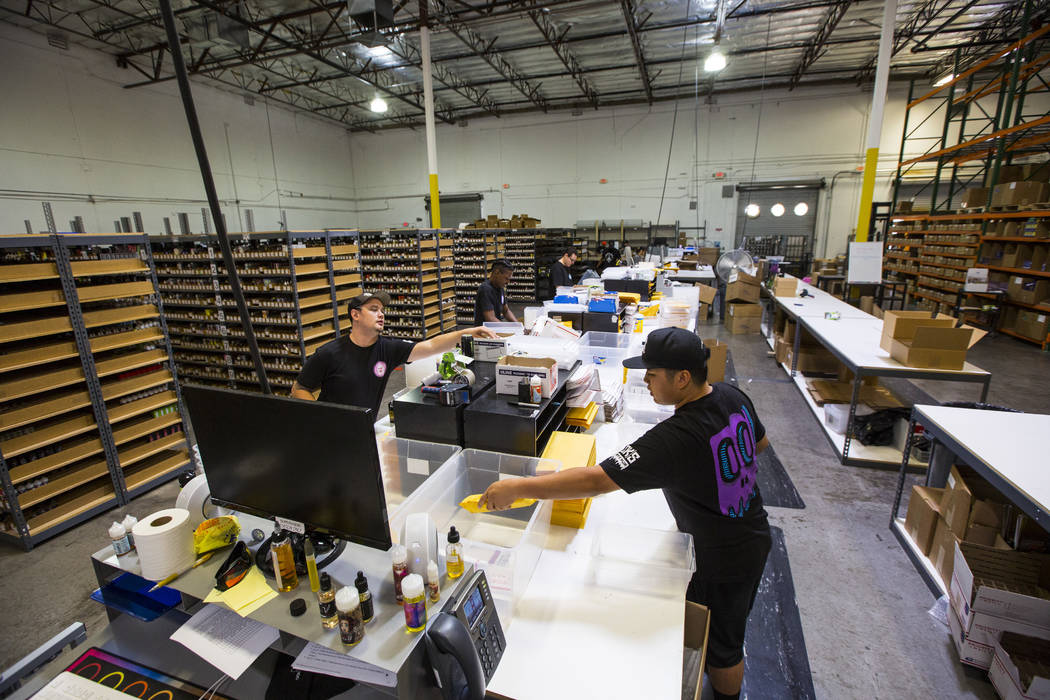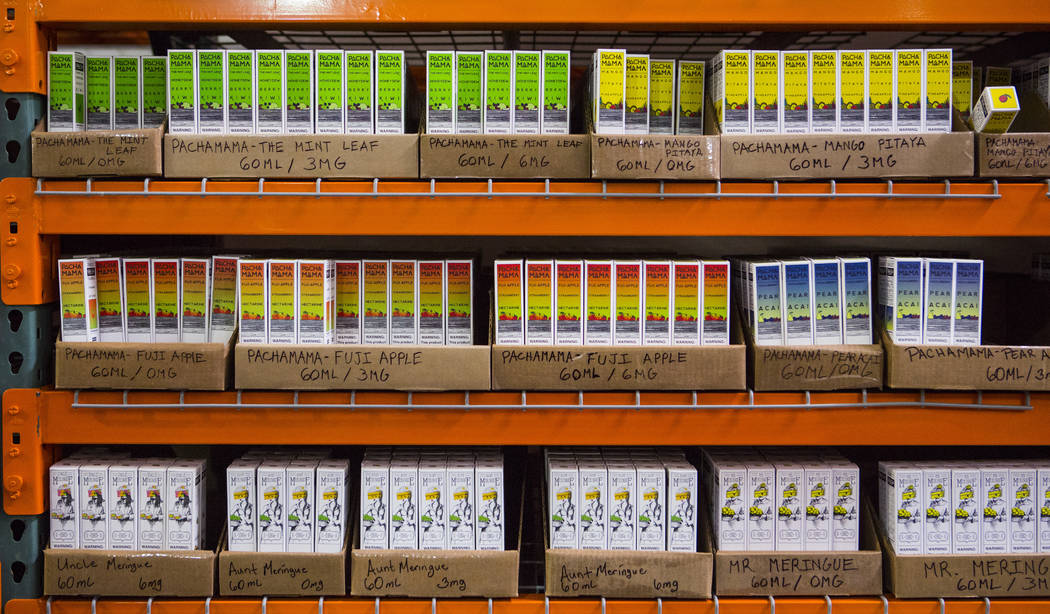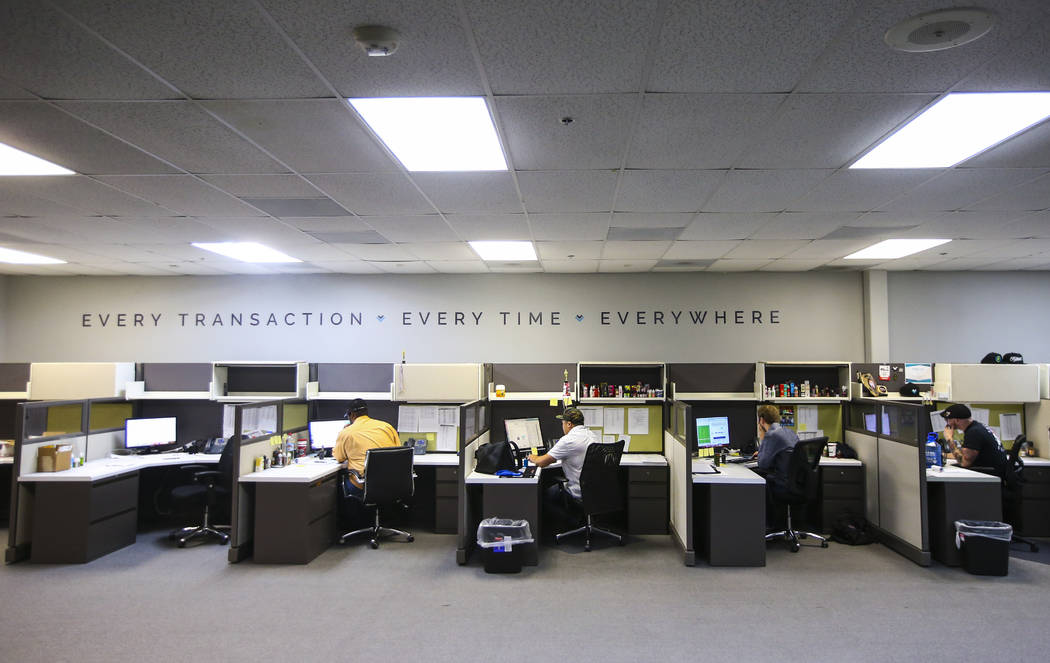 Shelf after shelf of liquid nicotine containers in Billy Wilson's warehouse would make his job a dream for any of the people who buy the products he ships from the Las Vegas Valley.
But despite an inventory of thousands of brands, Wilson has stayed loyal to the same strawberry-flavored, out-of-production liquid nicotine he's inhaled for over a year.
"I just love this stuff," he said. "People think it's weird. I could have whatever I want."
Wilson's company, eCig Distributors, has called Southern Nevada home for about a year.
Lured from Southern California by public assistance and fewer taxes, the electronic cigarette distributor and online retailer has grown along with its industry.
But tight margins and an uncertain regulatory environment challenge those who sell and distribute vaping products.
Growing industry
A February report by Wells Fargo predicted the U.S. e-cigarette market will hit $5.5 billion this year, a 25 percent growth rate from last year.
About 70 percent of sales have come from rechargeable liquid nicotine refills.
The researchers credited industry growth to advances in the technology customers use to vape.
Wells Fargo predicts consumers will eventually shift to other products that the industry markets as less harmful than tobacco cigarettes, including cigarettes that heat tobacco instead of burning it. These so-called heat-not-burn products may expose smokers to fewer harmful chemicals, according to the Wells Fargo report.
A crowded industry has meant increased competition and interest from the industry e-cigarettes aim to replace.
Blu, an e-cigarette company owned by tobacco company Imperial Brands, was once a category leader with a U.S. market share of almost 50 percent, according to financial services firm Cowen. Now its share is just 7.2 percent, and Juul is considered the market leader.
Companies like Imperial have responded to increased e-cigarette competition with products that have different strengths of nicotine and more flavors.
Imperial has also invested in selling e-cigarettes in more markets, and it is expected to introduce products with nicotine salt, yet another smoking alternative, with two different nicotine strengths.
Tight margins
As the industry has grown, margins have tightened. The standard bottle size for liquid nicotine has grown from 15 milliliters to 120 milliliters, while decreased production costs have driven e-cigarette prices down. A 2017 U.S. surgeon general report found the average price of a single disposable e-cigarette went from $17 in 2010 to under $9 in 2014.
What's more, manufacturers are working to meet emerging regulations from the U.S. Food and Drug Administration, including an Aug. 8, 2022, deadline for applications for new e-cigarettes.
The process could cost companies millions of dollars, said Norm Bour, founder of the VapeMentors consultancy in Newport Beach, California.
But the FDA has postponed multiple compliance deadlines, said Barnaby Page, editorial director for British research firm ECigIntelligence. In response, e-cigarette companies have become less worried about regulations than they were a year ago.
European regulators, especially those in the United Kingdom, have been friendly to e-cigarettes, Page said, while Latin American and Asian countries have been less welcome.
Out of California
To avoid tight margins and any negative effects of consolidation among manufacturers, eCig has added more business segments, Wilson said. The company maintains a variety of websites for retail and wholesale electronic cigarettes under the names eJuices and eLiquid.
The company has added advertising services for emerging markets worldwide. With about 5,000 U.S. brands in the industry, and a goal to increase business in places like Europe and Asia, the company still has plenty of work ahead, Wilson said.
"We still have a lot of room to grow our supplier list," he said.
Bour said eCig Distributors ranks among the 10 largest distributors of electronic cigarettes.
It relocated all operations to Southern Nevada in March 2017, receiving about $72,000 in tax abatements from the Governor's Office of Economic Development to do so.
The abatements helped the company to grow from 40 employees to about 60. It started as a vape shop and grew into a distributor that sells and ships vapor products throughout the U.S. and to over 80 countries.
California voters passed a proposition in November 2016 that raised the tax on tobacco-related products, including e-cigarettes, to 27.3 percent of the wholesale cost.
Shortly after moving to Nevada, eCig helped kill a proposal for a 5-cents-a-milliliter tax on liquid nicotine, Wilson said.
Contact Wade Tyler Millward at 702-383-4602 or wmillward@reviewjournal.com. Follow @wademillward on Twitter.
An e-liquid bible
The first iteration of eCig started in 2012 as a 600-square-foot store in Orange County, California, which Wilson calls the "Silicon Valley of vaping."
Wilson joined with business partner Paul Davey after learning about the thousands of dollars in sales Davey made on a weekend with his store, The Vapor Loft.
With no reliable U.S. supplier, the men expanded from retail into distribution. eCig Distributors maintains a variety of websites for retail and wholesale electronic cigarettes under the names eJuices and eLiquid.
"We wanted to be the bible of e-liquid," Wilson said, using another term for the nicotine liquid users smoke. "We think of ourselves as more of a technology company."