Tivoli Village names new tenants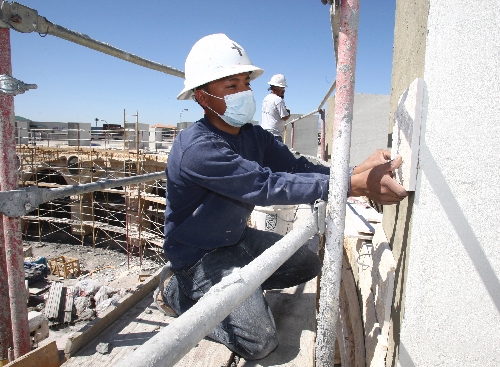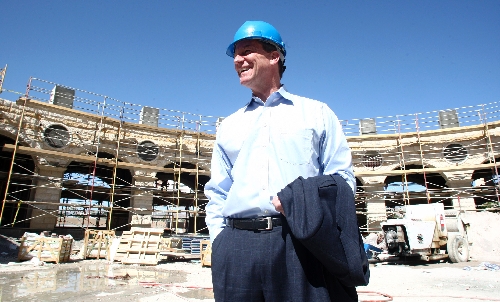 Some seven months after resuming construction in earnest, the Tivoli Village at Queensridge has announced several tenant offerings for the mixed-use, retail, office and dining center that is scheduled to open its first phase next year.
Developers of the center at Rampart Boulevard and Alta Drive announced on Monday a family play center, three restaurants and a specialty retailer have signed leases to operate inside Tivoli Village's 370,000-square-foot first phase.
Patrick Done, executive vice president of Tivoli Village, said last week he hoped to announce additional tenants soon, including a Las Vegas law firm that may take a large portion of the center's 146,000 square feet of office space.
"We're encouraged because we're one of the few projects like this moving forward, especially on this side of town," Done said of the center that is surrounded by almost 396,000 residents within a five-mile radius, including portions of Summerlin. "The center is an area where residents are looking for the variety of tenant offerings we hope to provide."
Done said Tivoli Village also will benefit from its proximity to the Suncoast and JW Marriott.
With the International Council of Shopping Center's ReCon 2010 meeting at the Las Vegas Convention Center this week, Tivoli Village's developers, IDB Development Corp. of Israel and EHB Cos., announced the project's first tenants.
Sales representatives signed lease agreements with family play center Kidville, gourmet Mexican restaurant Cantina Laredo, contemporary Italian restaurant Brio Tuscan Grille, Mark DiMartino's authentic German eatery Ratskeller and specialty retailer CORSA Collections.
"Las Vegas is a first for us, but the opportunity to expand our brand into this new market-dominate destination was one we could not pass up," said James Snell, vice president of real estate development for Cantina Laredo.
Tenants also leasing space inside Tivoli Village include Pesci's, a full-service pizzeria concept from actor Joe Pesci, on-the-go Japanese restaurant Sushibar and Ritual Salon & Spa.
The ownership announced several tenants in September 2008, but it was unclear if those businesses would still be part of the mix.
Done said the current deals fit the center's goals of fitting in with the neighboring community.
"The goal now is to find the right mix for the center," he said.
Tivoli, which is designed to resemble a European village, expects to have 40 to 50 retailers and approximately eight restaurants in place when the first phase opens next March.
The project will have two stories of below–ground parking, providing 1,044 spaces. An additional 220 spaces of surface parking will give Tivoli Village 1,264 parking spaces.
Done said work has begun on the second phase, which will give the center a total of 700,000 square feet of retail and office space when it's completed in 2012.
Plans for Tivoli had originally called for 340 condominium offerings, but those have been placed on indefinite hold. The site totals 29 acres.
Grading and infrastructure work on the site began in 2006, but by late 2008, tenants began questioning market conditions. At the behest of retailers, Tivoli Village's developers slowed construction to a crawl in December 2008 to give the economy time to recover. For most of 2009, a crew of 50 to 100 workers conducted only basic site work, such as grading.
Tivoli had a final build-out budget of $850 million.
On the west side of Las Vegas, Tivoli is the only project that is continuing. Bankrupt General Growth Properties' Summerlin Centre mall next to Red Rock Resort has been mothballed indefinitely, while other projects, including a massive mall in the Centennial Hills area, never got off the ground.
Done said the planned opening will give Tivoli Village a head start on forming a loyal customer base among underserved consumers in wealthy areas, including Summerlin, The Lakes and Peccole Ranch.
Contact reporter Howard Stutz at hstutz@reviewjournal.com or 702-477-3871.