Tivoli Village's time has nearly arrived
November 26, 2010 - 12:00 am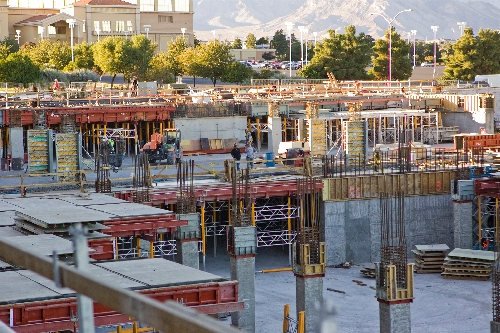 No more delays.
Tivoli Village might have happened in fits and starts over nearly five years, but this time, it's for real: The $850 million, 785,000-square-foot retail and office project at Rampart Boulevard and Alta Drive is on track to open at last in March, with construction nearing completion and tenants falling into place quickly.
Most recently, the project's developers added big investment brokerage Merrill Lynch to Tivoli Village's growing roster of tenants.
With that latest deal, the 145,000 square feet of office space in Tivoli Village's 370,000-square-foot first phase is 48 percent leased. Exterior finishes will be complete in December, interior tenant improvements are well under way and the developers just retained two big local firms to market the property's opening. In coming days and weeks, the center's developers will announce additional tenants, including an executive-suite concept and a law firm. Another local law practice, Kolesar & Leatham, signed up earlier this year to take over 30,000 square feet at the property.
Tivoli Village is important because it's the last big mixed-use center we're likely to see open in the local market for a long time to come, said Zack Hussain, a senior associate specializing in retail with Las Vegas commercial brokerage CB Richard Ellis.
But Patrick Done, executive vice president of Tivoli Village, said the center is also significant because it departs from conventional Southern Nevada retail environments.
More than a third of its retail area is dedicated to restaurants, for example, while similar lifestyle centers nationwide typically have about 25 percent of their space committed to restaurants.
Nor will there be any traditional department-store anchors; the center will instead go heavy on specialty concepts including high-end, multibrand retailer CORSA Collections, family play center Kidville and Ritual Salon & Spa. On the dining side, gourmet Mexican, contemporary Italian, authentic German and even sushi and pizza will all appear on Tivoli Village's menu. The idea? To serve not just as a shopping destination but as an entertainment center, particularly for residents in nearby Summerlin, Peccole Ranch and Queensridge, Done said.
Tivoli Village's design will also claim unusual touches that distinguish it from other projects locally and even nationally, Done said. Its European village motif will feature small but genuine vineyards throughout, as well as ornate details, including etched glass and multicolored stone building exteriors. Its signature entrance trees, graced with pink light-emitting diode lights, already catch the attention of passing motorists. A Tivoli Village restaurant tenant even ordered one of the trees for his Dallas location.
"What you'll see in the landscaping and with these lit trees, and what you'll experience in the retail-restaurant environment, will be very distinct," Done said. "We believe people will come here not only to shop, but to hang out, because it's going to be such an interesting place with its overall design. It's very detailed and very ornate. It's unlike anything that's been built before in Las Vegas, and, I suspect, unlike anything in the United States."
Even Tivoli Village's Class A office component is different from many market norms. Take that Merrill Lynch deal. The company's 20,000-square-foot office is considerably larger than a typical investment-brokerage branch. A local Merrill Lynch executive didn't return a call seeking comment, but Done said the company plans to use the outpost to consolidate some existing local offices and provide wealth-management services to nearby clients.
It hasn't been easy bringing Tivoli Village to the verge of its grand opening.
The center's developers, IDB Development Corp. of Israel and Great Wash Park of Las Vegas, started the project in 2006. By late 2008, though, tenants began fretting over recession-plagued market conditions. At the retailers' request, the developers in December 2008 slowed construction work to a crawl to give the economy time to recover. In November 2009, with indicators pointing to a stabilized national economy, heavy-duty building activity resumed.
The developers did slightly delay the project once again: A year ago, they planned to open the project this December, but they pushed back the debut to March in hopes the economy would show more signs of life.
"We could have opened in December with additional pressure on the construction and leasing schedule, but the market hadn't responded to the pace we wanted," Done said. "We felt that by waiting another three months, the market would be in a better place to absorb an opening."
Retail experts said it's March or never for Tivoli Village's unveiling.
Unlike the regional shopping center that General Growth Properties planned in nearby Summerlin Centre, Tivoli Village was too far along for mothballing when the economy hit the skids, said Chris Cunning, vice president of investments with local commercial brokerage Marcus & Millichap. The developers are financing the project with their own cash and they need to earn returns on their investment.
"They've got their equity in it. They have to get it open at this point, because whatever cash flow they can generate now contributes to covering their expenses," Cunning said.
Still, Tivoli Village's short-term prospects are iffy, experts said, even if its long-range potential is solid.
Cunning said consumer confidence is in a "transition period" while the markets wait to see whether the economy gets a boost from the Federal Reserve's Nov. 3 decision to buy $600 billion in U.S. Treasury bonds.
"The question is whether the latest actions by the Federal Reserve will take hold and cause people to loosen up their purse strings and start spending, or whether people will take whatever money gets freed up and hoard it," Cunning said.
If the Fed's bond investments help push up stock markets, Americans could feel wealthier as a result of their resurgent portfolios. In turn, more tourists might opt to visit Las Vegas. Local job markets would pick up, and that would boost retail projects such as Tivoli Village, Cunning said. But if the economy doesn't look poised for a turnaround by next spring, expect a bigger pinch on discretionary spending.
Tivoli Village's long-term fortunes look brighter, Cunning said. The property's location offers one of the best demographic profiles in the Las Vegas Valley.
"Over the next five years, the project has a strong probability of success," Cunning said. "It's just going to be potentially difficult over the next year or two."
Hussain, whose brokerage has placed some clients in Tivoli Village, said he sees signs of "slight improvement" in retail. Nevada's taxable sales, which measure the dollar volume of goods sold in the Silver State, have risen in recent months after two years of steep drops. Hussain said he doesn't expect additional drastic improvements in retail for at least six months, but the holiday shopping season's activity could provide clues as to how all retail, including Tivoli Village, will fare in the spring.
Tivoli Village has a few advantages in its long-term favor, Hussain said.
"It's in a very dense, high-income area that has seen a slew of food-and-beverage options coming online because there is demand," Hussain said. "And restaurants and retailers there are faring better compared to retailers in other parts of the valley. I don't believe we're seeing anything repetitive here, and that is where the risk is, when concepts are repetitive of what's already out there. These are new-to-the-market concepts, and there will be demand for that."
Plans for the 29-acre site had originally called for 340 condominiums, but those homes are on indefinite hold.
Tivoli Village's executives also announced recently that they've retained two local marketing agencies: SK+G Public Relations and Virgen. SK+G will manage a local, regional and national public-relations campaign for the opening, while Virgen will develop brand positioning and strategy, including media buying and website design.
Contact reporter Jennifer Robison at jrobison @reviewjournal.com or 702-380-4512.