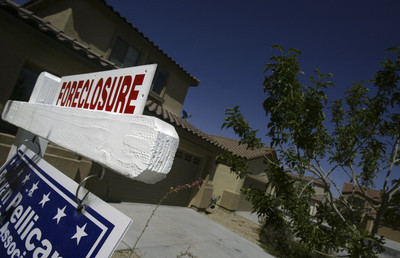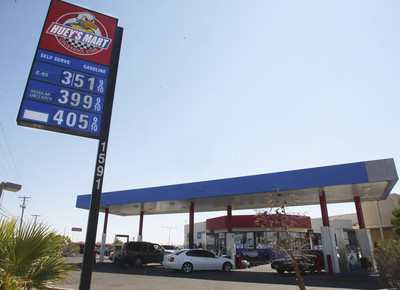 Well.
That was some year, huh?
If you're not glad it's over, you're probably a bankruptcy attorney, a bill collector or a payday lender.
For the rest of us — you know, the ones who make more coin when the economy is actually growing — 2008 presented a difficult balancing act that involved juggling higher expenses with flat or declining earnings. As 2008 wore on, locals mentioned the "r" word more and more, until the National Bureau of Economic Research made it official Dec. 1: The nation has been in recession since December 2007.
The revelation was no surprise in Las Vegas, where local economists said the downturn hit earlier. Analysts credited the nation's soft economy to slumping construction and consumer spending — two corners of the economy that propelled Las Vegas in its go-go years during the late 1990s and early 2000s. Because of its reliance on building and discretionary dollars, Las Vegas felt the downturn earlier, and fell harder, than many other regions of the country. This shows in the top local business stories of 2008.
So here, without further delay, are the 10 biggest economy-related headlines of the last 12 months. And before you bombard us with all that hate mail about how negative we are, just remember, people: We don't make the news, we only report it.
1. ECONOMY SAGS
Nevada's used to milestones, but not ones like these.
The Silver State spent 2008 morphing from a national star with record strings of revenue and job growth into scapegoat that helped drag the country into a housing-led recession.
Those double-digit leaps in year-over-year gaming win? Transformed into double-digit losses. That 5 percent annual job growth? Reversed into job losses, especially in key industries such as construction and hotels. Those California-style new-home prices? Reverted to Las Vegas-style new-home prices, with costs falling below $100 per square foot. And don't even ask about visitor volume (off 10.2 percent in October alone), taxable sales (down 5.2 percent year over year in September) and new-home building permits (just 180 issued in Southern Nevada in November, the lowest in the 20 years analysts have tracked numbers). Local home-building analyst Dennis Smith in mid-December called the housing sector a "horrific, humbling and scary atmosphere."
The only major local economic indicator that rose was unemployment, which bumped up against a 25-year high in November. Joblessness shot up to 8 percent last month, besting the nation's unemployment by 1.3 percentage points.
And the once-unthinkable happened, as cranes stopped swinging over Boyd Gaming Corp.'s $4 billion Echelon and the federal government took over First National Bank and Silver State Bank.
Even the good news came with a dose of bad medicine: home sales rebounded to their highest levels in nearly two years, with more than 3,000 sales a month toward year's end, but the purchases came mostly from the foreclosure market, which owned two-thirds of all home sales toward the year's end.
By the time it was all over, the state had lost the fastest-growing mantle it had held for the better part of 20 years, falling to a meager — and comparatively anemic — No. 8 in the nation for population expansion.
— Jennifer Robison
If you're not already suitably depressed, read on.
2. THE STRIP TRIPS
The imploding economy drove a stake through the heart of the Strip in 2008, proving that gambling wasn't recession-proof after all.
Rising unemployment, a high number of home foreclosures, a cutback in airline flights into McCarran International Airport and reduced visitation from Southern California tourists sent Las Vegas gaming revenues to historical lows.
In October, gaming revenues fell 22.3 percent, the biggest decline since the state began keeping records in 1984. The amount of money casinos won from gamblers during the first 10 months of 2008 was 8.3 percent lower than the first 10 months of 2007.
Meanwhile, the stock prices of the major publicly traded Nevada-based casino operators and slot machine manufacturers sank to record lows or reverted to 2005 prices. Shares of some companies, such as MGM Mirage, Las Vegas Sands Corp., Boyd Gaming Corp. and International Game Technology lost from 75 percent to 95 percent of their value.
Privately held Harrah's Entertainment and Station Casinos tried to renegotiate new deals with their bondholders. Herbst was negotiating with its bondholders to avoid bankruptcy. The $3.9 billion Cosmopolitan went into foreclosure and was taken over by Deutsche Bank. The bank is funding the construction, but the hotel-condominium's future is uncertain.
Lack of investor confidence and the sagging economy dried up the credit and lending markets. Several casino operators canceled or delayed new resorts or expansions.
On Aug. 1, Boyd Gaming said it was halting construction of the $4.8 billion Echelon due to the nonexistent credit markets. The company said it didn't expect to resume development on the former Stardust site until at least 2010.
Meanwhile, Crown Las Vegas; Elad Group's planned $5 billion version of New York's Plaza Hotel; a second Trump International; Las Vegas Sands' $600 million high-rise condominium tower; and an MGM Mirage joint-venture on the Strip's north end, were delayed indefinitely.
On the brighter side for Las Vegas, the $250 million Eastside Cannery (by Cannery Casino Resorts), $662 million Aliante Station (by Station Casinos) and the $2.3 billion Encore at Wynn Las Vegas (by Wynn Resorts Ltd.) opened.
The $1 billion M Resort, developed by Anthony Marnell III, is expected open in the spring, followed by MGM Mirage's $9.1 billion CityCenter at the end of 2009.
On Dec. 15, MGM Mirage said it will sell Treasure Island to former New Frontier owner Phil Ruffin for $775 million.
— Howard Stutz
3. COAL CRITICISM
Nevada's three coal-fired power projects drew heavy criticism in 2008 from environmentalists, nearby residents and Senate Majority Leader Harry Reid.
So far, though, developers of the three power generation projects are refusing to call it quits.
Opponents object to coal-fired power plants, generally because they throw off twice the carbon dioxide that natural gas-fired power plants do per unit of power. Scientists say carbon dioxide leads to global warming.
Expectations that Congress will start regulating carbon dioxide emissions and make coal power more expensive also weighs on plans for the three projects, observers say.
NV Energy Inc., the holding company for similarly named Nevada electric utilities, has postponed construction of the $5 billion, 1,500-megawatt Ely Energy Center.
The utility holding company in November 2007 said it was delaying construction of the Ely project several years because the Bureau of Land Management will need more time than originally thought to review NV Energy's request to use government land as a project site.
LS Power of New Jersey is seeking permits for White Pine Energy Station, a similar-size, coal-fired plant also near Ely. And Sithe Global Power wants to build the 750-megawatt, coal-fired Toquop Energy Station on the outskirts of Mesquite.
Many Mesquite residents oppose Toquop. But Ely has backed both the LS Power and NV Energy projects for their economic development potential.
The Nevada Division of Environmental Protection has issued draft or preliminary air permits for all three projects.
A spokesman for Sithe Global said the Nevada division could issue final air permits. But opponents say the state dare not issue final permits, given the ruling of a federal appeals board on a Utah power plant case.
The Environmental Protection Agency had approved an air permit for Deseret Electric Cooperative's proposed coal-power generation plant in Bonanza, Utah. But in November the Environmental Appeals Board ruled that EPA should have either required the plant to curtail dioxide emissions or should have explained why the EPA didn't require the plant to reduce carbon dioxide. The appeals also suggested that EPA develop a national policy based on a U.S. Supreme Court ruling on carbon dioxide.
Division spokesman Dante Pistone said the division hasn't decided whether the appeals board decision affects the permit applications for the three Nevada plants.
— John G. Edwards
4. TEED-OFF OVER TAXES
Stop us if you've heard this one.
State must plug budget hole. Gamblers advocate new business taxes. Nongamblers resist. Friendships fray, ties unravel.
That's the scenario from the Great Tax Battle of 2003, but it also describes 2008.
The yawning chasm between Nevada's 2007-2009 revenue — $5.5 billion — and its $7 billion spending plan renewed tax talk early in 2008. Former Nevada Gov. Bob Miller fired the first salvos of the new year at a January gaming forum, where he echoed previous calls from top gaming executives for some sort of broad-based income tax or gross-receipts levy on nongaming businesses. Then-MGM Mirage head Terry Lanni in particular had a plan: a 0.6 percent increase in the state's 0.63 percent gross-payroll tax. Lanni also suggested that room taxes jump 2 percentage points above their current Clark County rate of 10 percent.
But nongaming companies largely opposed new taxes. A Review-Journal survey found that 64.9 percent of companies wouldn't support a business tax. And the Nevada chapter of the National Federation of Independent Businesses reported that 97 percent of its members didn't want a corporate income tax or a gross-receipts tax.
The sides had lined up as they had in 2003, when gambling honchos called for a 0.25 percent tax on gross receipts and nongambling leaders challenged the idea. The back-and-forth yielded the gross-payroll tax. MGM Mirage and Station Casinos quit the Las Vegas Chamber of Commerce following the flap.
The two camps didn't merely trade barbs in 2008.
Hotel operators cut deals to fend off voter-mandated increases in gaming taxes, while the chamber commissioned several studies pointing to Nevada's comparatively lucrative public-sector wages and benefits.
By December, both sides agreed new revenue streams may be necessary.
Nevadans should know which side gets its way by the 2009 Legislative session's summer end.
— Jennifer Robison
5. SANDS SINKS
Las Vegas Sands Corp. was riding the wave. With a soaring stock price, billions of dollars in worldwide development projects and one of the world's richest men at the helm, the casino operator was Wall Street's darling. The $1.8 billion Palazzo opened in January to nationwide attention.
Then the economy tanked.
By the end of 2008, Las Vegas Sands and Chairman and CEO Sheldon Adelson were barely holding on.
The company had to raise more than $2.1 billion in new capital and get two separate cash infusions totaling more than $1 billion from Adelson and his family to avoid defaulting on $5.2 billion in loans. The company's auditor placed a "going concern" language on the company, which was removed after the capital was raised.
Meanwhile, Las Vegas Sands fell out of favor with investors. Shares of the casino operator traded as high as $148.76 on Oct. 29, 2007. The company hit an all-time low of $2.89 on Nov. 24.
Adelson, a 75-year-old billionaire who began 2008 as the third richest American according to Forbes magazine, sank to at least 15th on the list. The falling Las Vegas Sands stock price caused Adelson to lose an estimated $24 billion from his net worth by the end of November. His ownership in the company was reduced to 51.3 percent from just less than 70 percent.
"We had to do what we had to do to put ourselves in a position to survive," Las Vegas Sands President Bill Weidner told an investment forum in November.
So why didn't the company move more quickly to shore up its sagging finances?
"It was a matter of robust debate within the organization," Weidner said. "There are several of us who have very strong opinions. It was pretty much a monumental screw-up."
In a Securities and Exchange Commission filing Nov. 10, Las Vegas Sands said it would slow the pace of its development and suspend construction at its $600 million St. Regis condominium tower on the Strip and two sites on the Cotai Strip in Macau. Las Vegas Sands will focus available capital on completing the $5 billion Marina Bay Sands in Singapore and the $675 million Sands Bethlehem casino in Bethlehem, Pa.
In the same SEC filing, Las Vegas Sands said its board formed a committee to evaluate the company's decision-making and resolve disputes between Adelson and senior management. The filing said the committee was formed to address "a loss of confidence" by managers in how the company is being run.
"I think you can think of it as a junkyard dog fight," Weidner said.
Two shareholders sued the casino operator's board of directors in November over the falling stock price.
— Howard Stutz
6. LANNI EXITS
MGM Mirage Chairman and Chief Executive Officer Terry Lanni envisioned a quiet exit from the casino operator he headed for 13 years.
Lanni, 65, said Nov. 13 that he would retire from the company's day-to-day operations at the end of November but accept a role as an outside director on the MGM Mirage board.
Lanni would be replaced by Jim Murren, his handpicked successor and the company's president and chief operating officer.
Late that day, there was a cloud over the resignation.
The Wall Street Journal reported that questions had arisen about Lanni's academic credentials. Some company materials through the years said Lanni had a master's of business administration in finance from the University of Southern California. The university said Lanni never earned an MBA at the school. Gaming authorities in Nevada, New Jersey and Michigan began checking into Lanni's educational record.
The MGM Mirage board on Nov. 18 approved the appointment of Murren, 47, and made Lanni a director. On Nov. 26, Lanni declined the role and walked away from MGM Mirage entirely.
Lanni is credited with transforming what was once the one-casino MGM Grand Corp. into the gaming industry's dominant operator. He oversaw the $6.4 billion purchase of Mirage Resorts in 2000 and the $7.9 billion buyout of the Mandalay Resort Group in 2005. Lanni is also credited with starting MGM Mirage's corporate diversity efforts.
Murren, who joined MGM Mirage as chief financial officer in 1999, said he would have welcomed Lanni on the board. He called the exiting CEO the "most ethical, honest and forthright and careful person" he knows.
Murren, who kept his titles of president and COO, said his company is faced with delivering the $9.1 billion CityCenter next year, a project he is credited with envisioning.
Murren said MGM Mirage, which operates 10 Strip hotel-casinos, has the same challenges as its casino industry rivals: attracting customers and maximizing cash flow during a global recession.
— Howard Stutz
7. NEW CASINOS, NEW JOBS
As the year closed, three locally based gaming companies opened new hotel-casinos in different parts of the valley, bringing new jobs, or at least providing some relief from pending layoffs.
The $250 million Eastside Cannery opened in late August with 1,100 jobs and the first new property along Boulder Highway in 14 years.
The $662 million Aliante Station, in North Las Vegas along the Las Vegas Beltway, opened Nov. 11 with 1,400 jobs, many transfers from other Station Casinos' 17 properties.
The year closed with the soft opening of $2.3 billion Encore next door to Wynn Las Vegas on the Strip. The 2,034-room property added 5,000 new jobs, which also included many transfers from the sister property.
But the new jobs may bring less relief than expected to work seekers. Casino companies said that many of the new jobs were filled by transfers from existing properties and said the jobs left vacant by the transfers won't be refilled.
MGM Mirage said in late December that it will begin accepting applications Jan. 5 for the 12,000 jobs needed to staff the $9.1 billion CityCenter project opening late next year.
— Arnold M. Knightly
8. CENTERED ON CITYCENTER
With a pair of deaths, a 24-hour walkout, congressional hearings and drinking construction workers, it was quite a summer for the $9.1 billion CityCenter job site.
The year began with a safety cloud over the project from the deaths of four workers in 2007.
Unions on the project were grumbling the general contractor, Perini Building Co., was not addressing safety issues and the Occupational Safety and Health Administration in Nevada was lax in its enforcement.
Two more deaths, on April 26 and May 31, lead to a June 2 work stoppage by unions affiliated with the Southern Nevada Building and Construction Trades Council.
The construction workers ended the strike after Perini agreed to address safety concerns with a safety assessment of the work site, on-site safety training and better access to the site by union safety officials.
Edwin Foulke Jr., the head of the federal OSHA, visited Las Vegas on June 10 for a conference of safety engineers. He avoided publicly discussing CityCenter, but did meet with construction union officials.
Questions of worker culpability in job site safety, however, were raised when a July investigation by the Review-Journal documented 10 workers drinking alcohol across from the job site, then returning to work.
With the contractor and the unions both professing a "zero-tolerance policy," the men were identified and fired. Construction workers stopped patronizing the bars around the job site.
These problems don't even touch on the financing problems or the remediation work needed for one of the hotel-condominium towers.
— Arnold M. Knightly
9. MONTE CARLO FIRE
When thick, black smoke billowed above the Monte Carlo on the morning of Jan. 25, some observers envisioned deadly Strip hotel fires from the past.
But this fire was more nuisance than catastrophe.
The three-alarm blaze on the hotel-casino's rooftop caused almost $100 million in damage and lost business. About 6,000 people were evacuated from the property during the fire.
The 3,000-room hotel-casino was closed for three weeks for repairs and the south-facing upper facade was blackened. About 500 rooms on the hotel-casino's upper floors were damaged by water and taken out of commission.
The Clark County Fire Department blamed the fire on welders who failed to use proper safety procedures. No citations were issued as the blaze was termed accidental.
Stray bits of molten metal ignited foam material used in the Monte Carlo's outer design work. The construction material, called exterior insulation and finish system, or EFIS for short, is used commonly and can be molded into many shapes.
Construction sources said EFIS was used in exterior design work at Bellagio, Paris Las Vegas, Excalibur, Treasure Island and New York-New York.
However, Clark County building codes governing the use of EFIS had changed in the years after the Monte Carlo's 1996 opening, reducing the allowable thickness of the material and relaxing requirements on encapsulating the product.
The Monte Carlo fire was not the Strip's only building issue. A Review-Journal investigation found Harrah's Entertainment had violated numerous building codes when renovating rooms at Rio, Harrah's and Flamingo.
In May, the company was charged with six misdemeanor counts for improper building alterations. In October, it was learned Harrah's struck a deal with the county to pay for an outside review of mechanical, electrical, plumbing and structural work at 60 randomly selected projects at Bally's, Bill's, Caesars Palace, Flamingo, Harrah's, Imperial Palace, Paris Las Vegas and Rio.
— Howard Stutz
10. GASOLINE'S WILD RIDE
From virtually the moment 2008 started, even the most casual observer had to sense trouble ahead for gasoline prices.
The cost of a barrel of crude oil, a key fuel component, hit $100 for the first time on Jan. 2, the new year's first business day. The milestone portended a wild year for gasoline prices.
Unrest in oil-producing regions such as Africa, combined with high demand for petroleum in China, India and other emerging economies to push crude prices up. Traders wondered whether supplies could keep up with global fuel needs.
The weak dollar hurt, too, as oil producers demanded more dollars for each barrel of crude.
Oil surged to a record of $147.27 a barrel on July 11, and the price gain took gasoline costs along for the ride.
The price of a gallon of regular unleaded gasoline surpassed $4 a gallon locally for the first time in early June, and maxed out at $4.28 on June 21. In response, Las Vegans slashed spending on road trips, restaurants, movies, casino play, groceries, utilities and hair salon visits, among other things. Businesses imposed new delivery and service charges to cover higher fuel costs.
Rising energy expenses even pinched a corner of the job market, as seniors grappling with higher fuel costs returned to the work force and pushed college students and teens out of summer retail and service jobs. Tourism also suffered: When gasoline charged past $4 a gallon, drive-in traffic to Las Vegas fell 7.8 percent compared with inbound car trips a year earlier.
By August, though, air hissed out of the crude-oil bubble as policymakers talked of lifting bans on offshore drilling and traders dumped petroleum futures stakes.
And in the last two months of 2008, oil prices flirted with $40 a barrel. Local gasoline prices fell below $2 a gallon for the first time since February 2005, providing consumers with budget relief just in time for the holidays.
— Jennifer Robison