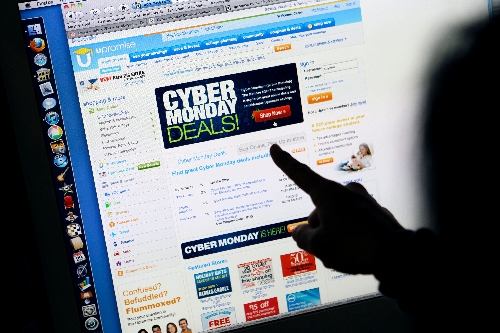 If you're Mary Ann Guanlao's boss, cover your ears. Look away. Stop reading now.
Guanlao's about to get busted.
The local executive assistant has taken to the Internet during office hours for 30 minutes a day in recent weeks to work on her personal holiday shopping. And new national numbers show Guanlao had plenty of company on Monday, as millions of Americans took to the World Wide Web for the unofficial launch of the online shopping season.
Cyber Monday started as a gimmick to get people to shop at their desks on the first workday after Thanksgiving. This year, stores swamped customers with online ads and e-mail deals, and experts say sales could top $1 billion, making it bigger than any shopping day last year.
Online sales were already running 15 percent ahead of last year's by 3 p.m. Monday, with the biggest shopping hours of the day still to come, according to IBM's Coremetrics tracking service.
"The numbers are really strong," said the service's chief strategy officer, John Squire, who added that he expects Cyber Monday to be the biggest online shopping day of the season.
All that online buying means legions of locals have spent time on the job snapping up Christmas gifts when they might instead have been, you know, working.
Guanlao hadn't bought any personal gifts via the Web by about 3:30 p.m. Monday, but she said she's typically online for about two hours a day these days, often including half an hour over her lunch break. From the office, she's purchased DVD sets, toys and Blu-ray discs, among other goodies. But Guanlao's shopping habits won't get her in trouble at work: Her company, Gatski Commercial Real Estate Services, grants employees a 30-minute daily allowance for personal computer use.
"It's a new age, and who doesn't shop online? And not only do we shop, but we check our finances, we check our bank accounts, we do other things," said Guanlao, who also uses the Internet almost exclusively to buy gifts and arrange gift deliveries from both local and out-of-state companies. "The company gives us the opportunity to take care of our personal business in that 30 minutes."
Nor does local public-relations executive Darcy Neighbors fret over Cyber Monday and the online holiday shopping it heralds.
Neighbors, the founder and chief executive officer of CIM Marketing Partners, does have formal Internet-use policies that prohibit the conducting of personal Internet business during work hours.
"But I can't be ignorant and think they're not shopping online," Neighbors said. "Everybody's busy these days. It's the world we live in. I've got great employees who go above and beyond the call of duty. I had someone work until 3 a.m. to turn around a creative idea for a client. I don't think I have anyone in question on my team who would abuse the privilege of the Internet as a resource."
Besides, Neighbors even sees a potential upside to e-shopping on the job.
"I kind of hope people are buying this year. I don't want it to take away from the work force, but the economy needs it very badly. I'm hoping that if it is happening, it's a good sign the economy is coming back somewhat," she said.
The Monday after Thanksgiving was dubbed Cyber Monday by the National Retail Federation trade group in 2005 to describe the unofficial kickoff to the online shopping season. The idea was that people returning to work after the long weekend would shop at their desks.
It never really was the busiest online shopping day of the year.
But like any good marketing angle, it spawned imitation. Nearly 90 percent of U.S. retailers offered some kind of Cyber Monday promotion this year, targeting shoppers who didn't want to venture out at 4 a.m. for those in-store deals. In 2007, 72 percent offered a Cyber Monday promotion.
"Retailers are doing everything they can to build up and extend the event aspect of it — tweeting deals every hour, running Cyber Monday ads — like it's such a big thing you can't miss out on," said Stacy Landreth Grau, associate professor of marketing at Texas Christian University's Neeley School of Business.
It has rarely been the biggest online shopping day of the holiday season, however — last year it was No. 2 — and this year, online deals have been stretched by retailers throughout the weekend.
Historically the biggest online shopping day of the year comes sometime in mid-December, when shoppers face deadlines for ordering to ensure delivery by Christmas Eve. Last year, it was Dec. 15, according to online research firm ComScore.
The Associated Press contributed to this report.