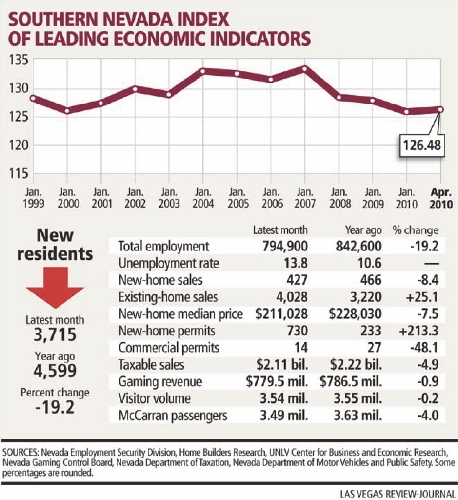 The health of Las Vegas' essential tourism industry has improved in some areas but remains largely a drag on the overall economy, the director of a UNLV research center said Tuesday.
The Southern Nevada Index of Leading Economic Indicators rose to 126.48 in April, up slightly from 126.09 in the same month a year ago, the Center for Business and Economic Research reported.
Residential and commercial building permit valuation increased to $51.2 million and $11.3 million, respectively, in February, but any contribution to the index from expected construction activity is offset by the decline in the number of residential and commercial permits from January.
"We're just not going to see construction come back for a long time," said Mary Riddel, director of the research center and professor of economics at the University of Nevada, Las Vegas. "It's a tough road for Southern Nevada."
It would take at least five years at 3 percent annual population growth to absorb the estimated 25,000 excess housing units in Las Vegas. At best, the region might see 1 percent growth, the economist said.
"It's the same with commercial properties. There's excess supply. That's a big part of our problem," Riddel said.
Taxable sales, McCarran International Airport passengers, visitors volume and gasoline sales all fell from January's figures, while convention attendance and gaming revenue increased, the economic index showed.
Still, it wasn't enough to move the index into strong positive territory, Riddel said. Visitors who come to Las Vegas aren't staying as long and aren't spending as much, she said. Hotel room rates have been discounted to an average of $93.23, the lowest level since 2007.
The index will not show substantial improvement until Southern Nevada sees "comprehensive growth" in either the tourism or construction sector, Riddel said.
The economic index, compiled by the UNLV research center, is a six-month forecast from the month of data, based on a net-weighted average of each series after adjustment for seasonal variation. April's index is based on February data.
The accompanying chart includes several of the index's categories, along with data such as new residents, employment and housing numbers, updated for the most recent month for which figures are available.
Riddel will present her midyear Southern Nevada Economic Outlook on June 15 at the Palazzo . Registration information is available at http://cber.unlv.edu/outlook/2010myoutlook.html or by calling 702-895-3191.
Contact reporter Hubble Smith at hsmith@reviewjournal.com or 702-383-0491.
Southern Nevada Economic Outlook
June 15, The Palazzo
Information: cber.unlv.edu; 702-895-3191