7 things to do at Topgolf besides hit golf balls
August 30, 2016 - 8:44 am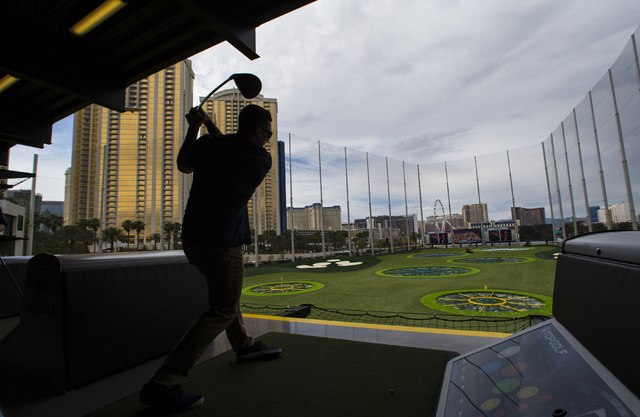 Topgolf officially opened in Las Vegas in mid-June.
Topgolf is widely known as a place to hit golf balls — there are more than 100 hitting bays. Golf Digest called it "the world's most insane driving range."
But there are other things to do at the 105,000 square-foot facility at 4627 Koval Lane at the MGM Grand.
Here are seven things you can do at Topgolf — besides drive golf balls.
No. 1 — Enjoy the view. The four-level complex offers impressive views of the sunrise, sunset and the Strip.
No. 2 — Go for a swim. There are pools on both the third and fourth levels. There are also cabanas, daybeds and chaise lounges.
No. 3 — Watch the big game. There's more than 300 television screens throughout Topgolf. They include four 28-foot x 50-foot screens in the outfield and a 14-foot x 48-foot screen in The Yard that can be broken into many different games.
No. 4 — Make a bet. During busy times, Topgolf has a mobile sports book located in The Yard.
No. 5 — Host your next company meeting. With three traditional meeting rooms, Topgolf can host up to 150 people in a traditional meeting setting. Just outside the doors, there's those hitting bays to help offer built-in team building. Or maybe to just relax and unwind after being in a long meeting.
No. 6 — Eat. Drink. Or both. There's the Riv Bar, designed to pay homage to the recently imploded Riviera. Beside the Riv Bar, there's the Birdie Bar, The Runway Lounge, the third level Pool Bar and top floor Rooftop Bar. The menu includes such items as Sea Bass Sliders.
No. 7 — Watch the planes take off at McCarran. The Landing, an intimate spot on the third floor of the venue offers comfortable seating, a fireplace for chilly Las Vegas winter nights and a view of the planes taking off and landing at McCarran.
RELATED
Las Vegas' Topgolf is more than a driving range
Construction continues on Topgolf near the Strip
Topgolf, PGA Tour, LPGA Tour create strategic alliance to grow golf