A High Roller emergency will require a high-intensity response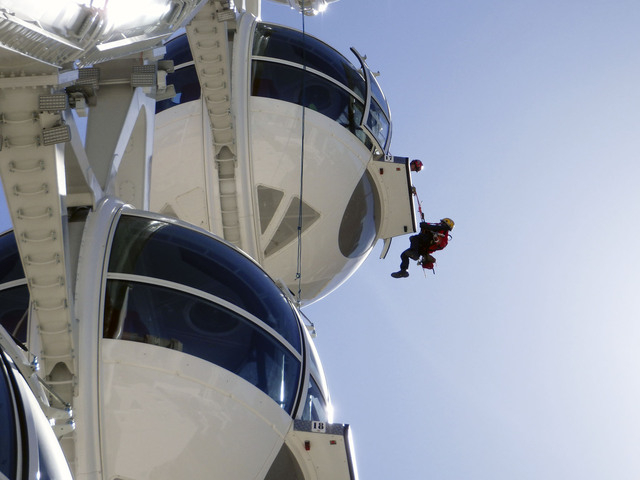 Getting the High Roller ready for the Strip was no simple feat. Besides preparing the wheel for riders, planners designed equipment and made preparations for the worst-case scenario — how to rescue stranded riders.
The design of the world's highest Ferris wheel, 550 feet tall, was influenced partly by the Las Vegas Fire Department. The department's heavy rescue team, which completes a variety of high-angle rescues, would be responsible for evacuating the wheel, should circumstances — which Ferris wheel officials describe as highly unlikely — ever require it.
The Fire Department was heavily involved in project planning, scouring design plans, attending meetings with the planners, and traveling the world for research. There were also five practice drills on the wheel itself before March 31 when Caesars Entertainment Corp. opened the marquee attraction at The Linq on the Strip.
PLANNING A RESCUE
Las Vegas Fire Capt. Scott Province said the department started working with the planners two years ago, beginning with review of blueprints.
During a vacation in Europe, Province rode the similar, 443-foot London Eye to see how it works. Ferris wheel planners also studied the 541-foot Singapore Flyer.
"It's definitely an intense rescue," said Province, who leads the Fire Department's 35-person heavy rescue team.
The department does a variety of rescues, from helping stranded window washers to removing people trapped in wrecked vehicles. Most of its work high above the ground is close to a solid structure. The free-standing High Roller is different.
"With the wheel, you're suspended in midair. So, when the wind blows, you spin," Province said. "You're out there. … It's a feeling like you have nothing around you. You're just out there in the middle of the air."
The drills helped rescue workers become accustomed to the difference, and were an excellent team-building practice, he said. Annual practice is expected in the future.
With 28 pods that can hold 40 people apiece, evacuating the entire Ferris wheel could involve lowering as many as 1,120 passengers by rope — a formidable task. Less extensive problems — such as getting everyone out of a single, mechanically unstable pod, wouldn't force evacuation of everyone on the ride.
Rescuers would climb a ladder built into a leg of the wheel to reach its hub, then ride a special trolley — a device with two pulleys — on one of the wheel's 3-inch cables close to the rim, where they will have to rappel onto the outer rim itself.
The firefighters will use ropes and hooks to climb a ladder built into the rim to reach the individual pods — hanging upside-down at times. That's one example of how firefighters and the Ferris wheel designers planned the project together. At the Fire Department's request, each ladder run has a hole where a climber can hook in, hang and rest.
Province estimates that it would take about two hours for firefighters to reach the first pod and 30 to 40 minutes to evacuate an average load of 20 passengers. Moving between pods on the rim won't take long, he said.
Once at a pod, the rescuers would rig two ropes, a main and a backup, and lower passengers, three at a time. Each pod has metal loops, anchor points for rope and equipment, built into its cabin ceiling. The Fire Department and designers worked together on the locations.
A team of 10 to 15 firefighters would be assigned to a single rescue operation to handle equipment, set up ropes and trolleys and assist.
Three firefighters would make the climb to each pod — one would hook each passenger to a harness, one would work the main rope and one would handle a backup rope.
And the plan calls for evacuating no more than two pods at a time.
That means an emergency evacuation of the entire wheel would take two days, and possibly require additional resources such as helicopters from the Metropolitan Police Department. The Henderson Fire Department heavy rescue team could also be called to help.
With Las Vegas' heat, evacuating the wheel efficiently would be a priority, Province said.
"When we do a rescue, nothing can go wrong," Province said.
COOPERATIVE EFFORT
Province commended Caesars for working closely with the department throughout the process. The corporation also flew him to Grand Junction, Colo., to look at the pods as they were being built.
At the Fire Department's suggestion, a system using screws to hold the cabin doors closed was replaced with fasteners considered less likely to strip out or jam as rescuers work high above ground.
Caesars also covered the Fire Department's costs for rescue preparation and spent more than $30,000 on rope, harnesses, trolleys and other gear, Province said.
Randy Printz, the High Roller's project manager, said it's unlikely the rescue workers will ever be needed.
That's because of built-in redundancies in the system, such as three layers of electrical power sources: the utility-provided electricity, a backup generator and yet a third system.
The Ferris wheel's pods are equipped with an air-conditioning system with four compressors. Just two compressors are enough to keep the pods cool.
There's also a supplemental ventilation system. If the air conditioning were to fail and temperatures were to climb above about 85 degrees, each pod has two backup hatches, one that vents out hot air and another with a suction fan that draws in outside air.
Printz praised the firefighters.
"I just marvel at the expertise of the guys in the technical rescue team and what they do," he said.
The High Roller's planners also looked at other Ferris wheels for lessons, most notably the Singapore Flyer, which had to be evacuated in 2008 when riders were stranded for six hours by a short circuit, according to news reports. No injuries were reported.
"They didn't have a plan, so it became important for us to work with local authorities," Printz said.
The High Roller is situated in unincorporated Clark County. However, the county Fire Department shuttered its heavy equipment rescue team several years ago to cut costs. Therefore, the city Fire Department's regional team would work in consultation with the county department.
The Clark County Building Department will oversee four safety inspections annually, two from the county and two from a consultant, Ron Lynn of the department said. Out of the four inspections, two will be random, he said.
The department also is keeping tabs on other giant Ferris wheels to stay on top of any common problems.
And in the unlikely event that the big wheel ever freezes in place, riders shouldn't have to worry about their immediate needs until help arrives. Each pod has compartments stocked with water, food, window shades and a portable toilet.
Contact Ben Botkin at bbotkin@reviewjournal.com or 702-405-9781. Find him on Twitter: @BenBotkin1.