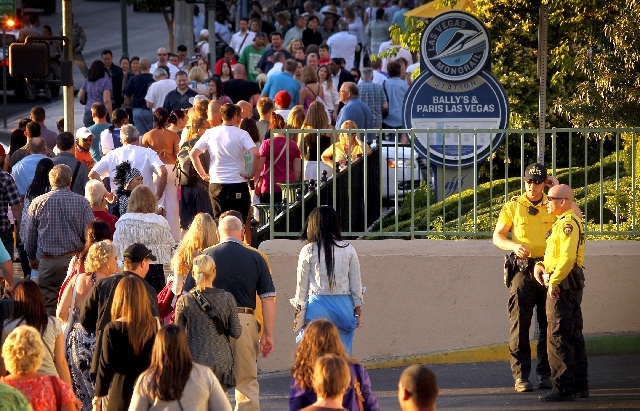 The economic recovery on the Strip is expected to remain sluggish this year, brought on by an oversupply of hotel rooms, analysts believe.
A report released Monday by Moody's said it expects gaming revenue and room rates to grow in line with its U.S. GDP growth forecasts of 1.5 percent to 2.5 percent for 2013 and 2 percent to 3 percent for 2014, which would still leave the Strip shy of its 2007 peak. Visitation and convention attendance are likely to be flat to up 2 percent in 2013 due to still-weak economic conditions.
"The 12 percent increase in room supply between 2007 and 2010 will continue to depress growth," Peggy Holloway, vice president and senior credit officer with Moody's, said in a statement. "Even with visitations at a record, hotel occupancy has been essentially flat and room rates have seen only modest increases, suggesting the Strip's hotel capacity is built for stronger economic conditions than exist today."
The average daily room rate in March was $110.96, up 3.5 percent from March 2012's $107.21, according to the Las Vegas Convention and Visitors Authority. Citywide occupancy year-to-date through March was 83.3 percent, up slightly from 2012's 82.8 percent.
Personal spending on hotel rooms has been increasing faster than spending on gambling across the U.S., indicated by data from the U.S. Bureau of Economic Analysis. As such, high-margin hotel revenue is expected to recover at a slightly faster pace than gaming revenue, the report says.
Companies in the luxury end of the market, such as MGM Resorts International, Las Vegas Sands and Wynn Resorts have better recovery prospects than others because they cater to business and leisure travelers, giving them a greater ability to raise room rates. As they do, operators of mid-tier properties such as American Casino & Entertainment Properties, will benefit as more price-sensitive consumers trade down.
The report cited little new hotel supply in the pipeline as a positive for the Strip.
"We do not anticipate any meaningful additions in the near term other than planned renovations of 1,600 rooms at SLS Las Vegas, which would add about 1 percent to supply in mid-2014. However, new supply could enter the market by 2017 as a result of the March acquisition of Boyd Gaming Corp.'s Echelon site on the Strip by Genting Group of Malaysia, part of Genting Berhad," Holloway said.
Genting has said it plans to build a $2 billion hotel casino complex on the site consisting of 3,500 hotel rooms.
Contact reporter Laura Carroll at lcarroll@reviewjournal.com or 702-380-4588. Follow @lscvegas on Twitter.