Airbnb bookings, revenue in Las Vegas nearly doubled in 2017
January 10, 2018 - 1:13 pm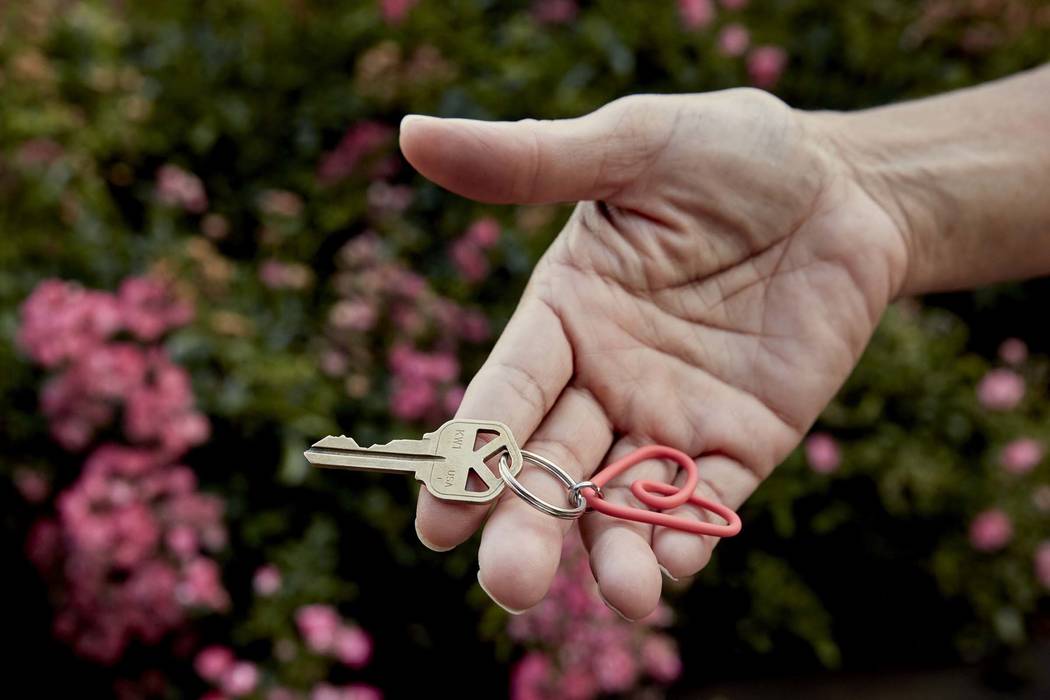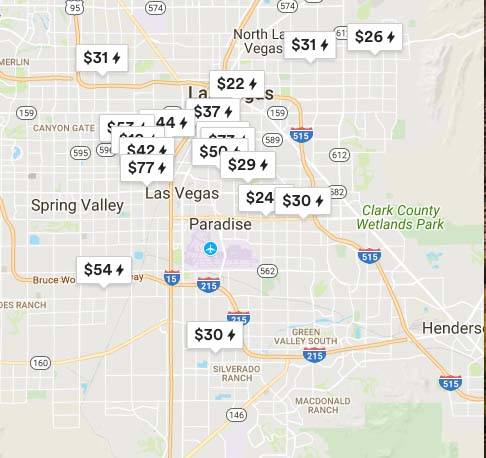 Airbnb is taking customers away from Las Vegas hotels — albeit a small slice of them.
While the number of visitors to Las Vegas fell last year, the number of people who booked home stays in the city through Airbnb surged.
Las Vegas was in the top 10 cities in the U.S. by highest Airbnb guest arrivals in 2017 with about 500,000 visitors staying at homes or private apartments offered on Airbnb during their trip to Las Vegas last year, the San Francisco-based company said in a statement.
That is nearly double the 265,000 that came in 2016, the company said.
On Tuesday, the Las Vegas Convention Center board of directors received a report with the preliminary visitation statistics for 2017. Kevin Bagger, executive director of the LVCVA Research Center, said visitation for the year was down 1.7 percent from 2016's record 42.2 million.
Mehmet Erdem, an assistant professor for the hotel college at UNLV, said those numbers are small but significant.
"Anytime a visitor opts for Airbnb, that is money left on the table for the hotel industry," Erdem said in an email.
"It may seem like just 'drip, drip, drip' for now, but hoteliers will be wise to design collaborative efforts with Airbnb and offer services that appeal to Airbnb guests. And, whenever feasible, certain hotel brands should look into expanding further into the Las Vegas market and capture more of the underserved markets."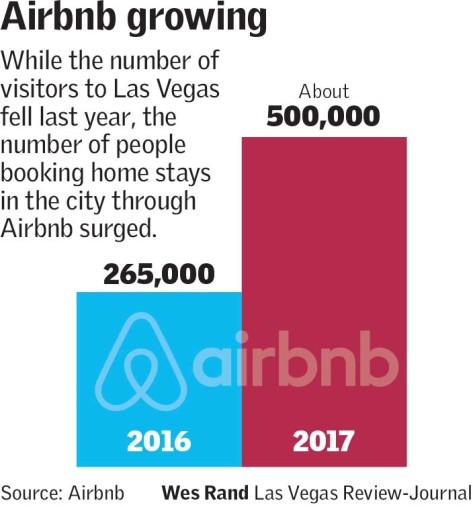 Erdem said there are several niche markets that are underserved by Las Vegas lodging services, including families whose children are participating in sports tournaments, international backpackers and people looking for longer-term temporary accommodations.
"We have a limited amount of extended-stay hotels. And during peak season, these hotels are fully booked, leading to families with children opting for Airbnb due to the lower price point and conveniences a home — versus a hotel room."
Strip hotel rates have climbed in recent years, making alternative forms of accommodation more attractive. There has been a growing backlash to rising resort fees as well.
Growth in average room rates will slow as the rebound following the financial crisis runs out of strength, Deutsche Bank said in a note last week.
Still, Erdem said his research shows that Airbnb users are more likely to develop loyalty toward Airbnb options if they had a positive service experience and therefore not book hotels going forward.
"This rings true for condo hotels are high-rise residences on or near the Strip where the guests benefit from access to services resorts offer while staying at a residence with a kitchen, etc.," he said.
Statewide, about 600,000 people stayed at homes or apartments through Airbnb. In 2017, 5,700 Nevadans hosted at least one guest statewide, and the typical earnings for a host in Nevada was $7,000 last year, according to the company.
One in seven hosts is 60 years or older.
Airbnb currently works with three jurisdictions in Nevada to collect and remit local taxes, including Washoe County, Sparks and Reno.
Contact Todd Prince at tprince@reviewjournal.com or 702-383-0386. Follow @toddprincetv on Twitter.