Allegiant Travel reports $6.9M in first-quarter income
Updated May 4, 2021 - 2:28 pm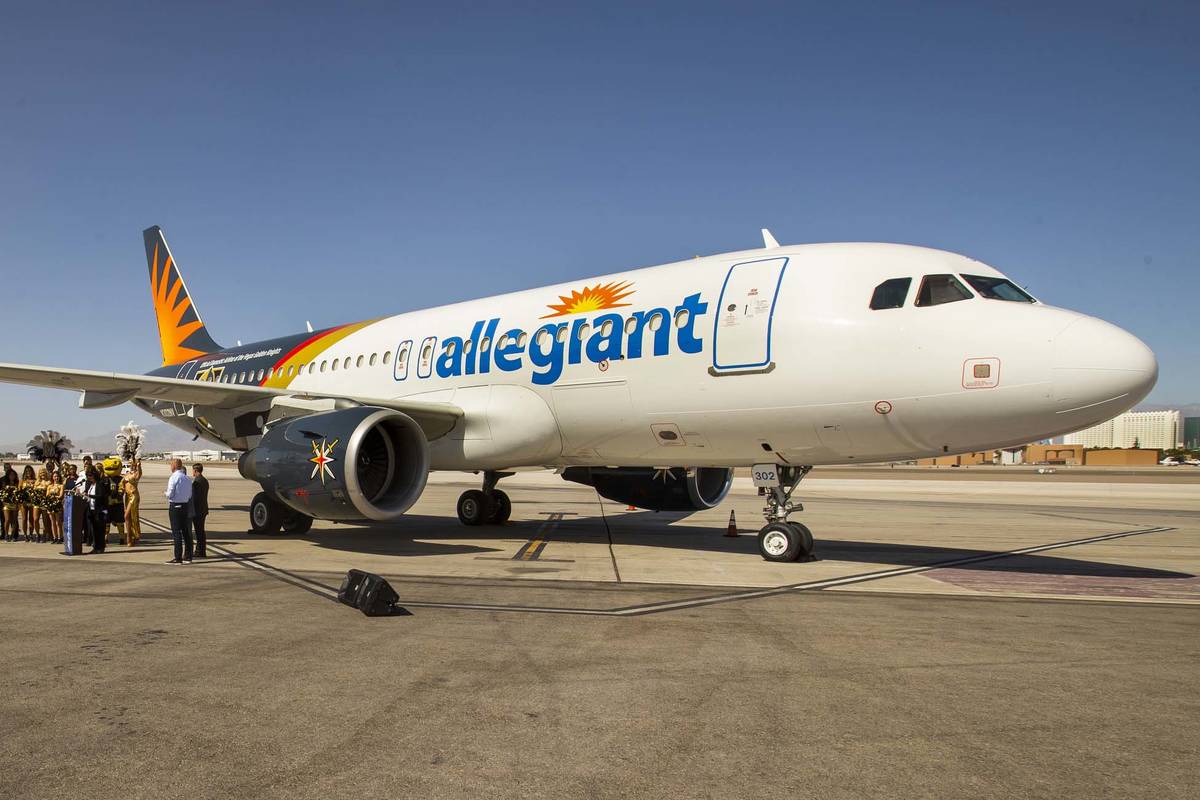 After a year of layoffs and financial losses, Allegiant Air's parent company squeaked out a profit in the first quarter as the economy picks itself up and people start flying more.
Las Vegas-based Allegiant Travel Co. on Tuesday said it earned $6.9 million in net income in the three months ended March 31, compared with a $33 million loss during the same period last year.
Revenue fell hard, dropping 31.8 percent year-over-year to $279.1 million in the first quarter, but expenses fell even further, sliding 51.7 percent to $254.5 million.
Allegiant Chairman and CEO Maurice "Maury" Gallagher said in a news release that average daily bookings for March and April surpassed the same period in 2019, a year before the coronavirus outbreak shut off much of the economy and devastated the travel industry as people stayed home and avoided crowds over fear of getting infected.
"I'm extremely excited about our future, more so than I have been in previous quarters. … Based on the data we're seeing, I would say we are back," Gallagher told analysts during a conference call Tuesday.
'Conserve cash'
Allegiant, a deep-discount carrier, is known for flying from small, underserved cities to warm-weather vacation spots, usually without competition on its routes.
But the company, like countless others in the travel industry, saw a plunge in business after the pandemic hit.
The airline flew more than 8.6 million passengers last year, down 42.6 percent from 2019, Allegiant previously reported. Overall, it booked a $184.1 million loss in 2020, following 17 consecutive profitable years.
"Our primary focus at the current time has been to conserve cash," the company said in a securities filing March 1, adding it had "reduced management and support teams by roughly 300 positions," suspended cash dividends and stock buybacks, tabled construction of its $470 million riverfront Sunseeker resort project in Florida, closed its Allegiant-branded arcades, eliminated other nonessential spending and "renegotiated arrangements" with vendors.
Allegiant's first-quarter passenger total this year, more than 2.3 million, was still down 26.5 percent from the same period in 2020. But its monthly tally of fliers is on the rise.
It carried 1.1 million passengers in March, up from roughly 681,000 in February and around 550,700 in January.
Leisure is 'king'
Las Vegas' tourism-dependent economy has been among the hardest hit in the nation by the pandemic, marked by steep drops in visitors and gambling revenue and huge job losses last year. The Strip was a ghost town of shuttered resorts and quiet sidewalks for a while, and at one point, one out of every three people in the valley was out of work.
However, Las Vegas' jobless rate has since shrunk, and as vaccines roll out and daily life starts to resemble something normal again, America's casino capital has seen a surge of visitors lately.
Gallagher told analysts Tuesday that Allegiant is "fortunate to be a domestic, leisure-oriented carrier," adding leisure "is king today" and business and international traffic "continue to substantially underperform."
He also alluded to the increased traffic on Las Vegas Boulevard.
"You're just getting this feeling, in our town here, that the leisure world's back," he said. "And frankly, Las Vegas has been one of the weaker cities over the last year just because it's been shut down so much."
Contact Eli Segall at esegall@reviewjournal.com or 702-383-0342. Follow @eli_segall on Twitter.