Allegiant's Sunseeker Resort not coming to Las Vegas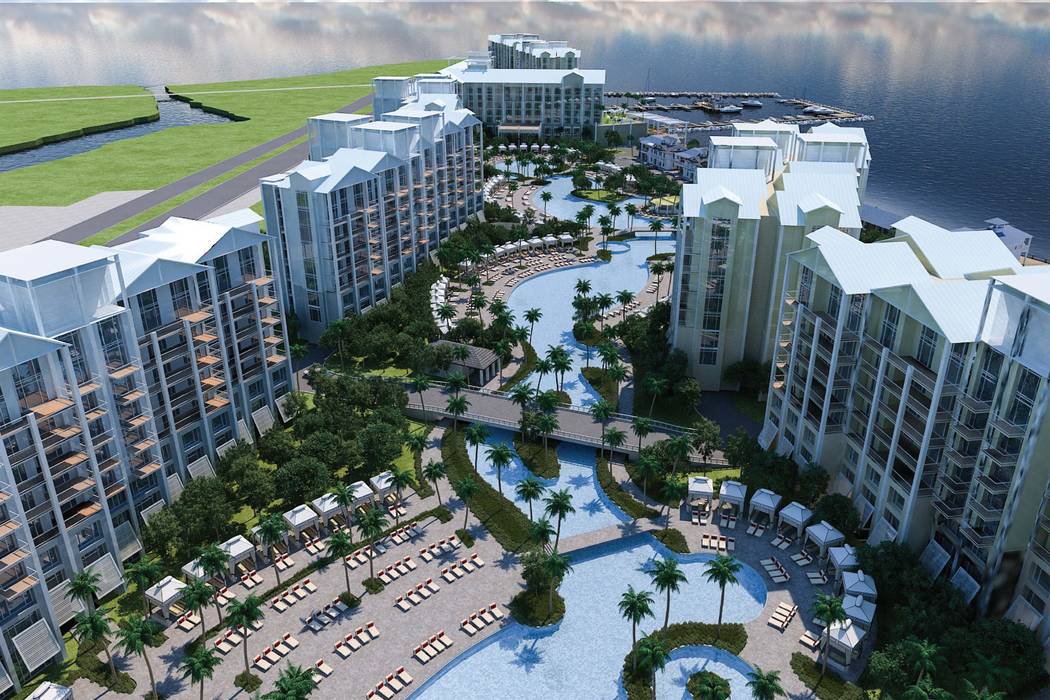 As bullish as Las Vegas-based Allegiant Travel Co. is on its planned $600 million Sunseeker resort in Florida, don't expect the company to build anything like it in Southern Nevada.
Company executives explained the Sunseeker concept at a briefing with institutional investors Thursday in Las Vegas.
Investors have been critical of the company's plans to build a more than 500-room hotel with about 180 condominium units in Port Charlotte on Florida's Gulf coast.
Allegiant Chairman and CEO Maurice Gallagher thinks the institutional investors aren't as enthusiastic about the project because they focus more on short-term investments instead of for the long haul.
Allegiant slumped to a closing price of $123.45 a share Thursday. In mid-March, the issue was about $177 a share.
Allegiant decided to go ahead with the project after determining how little airlines profit when booking flights and hotel rooms for customers. Reviewing the business model established by The Walt Disney Company in the Orlando area, Allegiant managers determined they could profit with both transportation and lodging, especially in markets where they're the dominant air carrier.
The company's financial analysts determined that lodging companies and third parties collect about 90 percent of revenue in packages sold by airlines. By becoming a lodging provider with minimal competition, Allegiant could collect most of the revenue in packages the company provides. The company is anticipating generating $113.2 million in revenue and $46.3 million in cash flow by the fifth year of Sunseeker operations.
But the competition would be too great in Southern Nevada if it tried doing the same thing here.
"We never thought about coming here (Las Vegas) and trying to do this," Gallagher said after the session. "Call us a big fish in the small pond."
The airline connects 81 cities mostly in the Northeast and Midwest with seven Florida destination cities on 230 routes. Allegiant dominates air traffic at St. Pete-Clearwater International Airport in the Tampa Bay area and Punta Gorda Airport, about 10 minutes away from the Sunseeker site.
Allegiant's Florida air traffic has grown from about 2.8 million passengers in 2013 to 7.9 million this year.
The company has stocked up on top MGM Resorts International executives in recent hirings. After announcing plans to build the resort about a year ago, the project is now in the planning and permitting stages in Port Charlotte and the company has begun sharing details of the features of the resort.
Allegiant officials told investors that in addition to the nearly 700 units — initially, the company will dedicate condominium units to hotel rentals — Sunseeker will have 40,000 square feet of meeting and catering space, several compelling restaurants and bar concepts and retail space. The company expects to dominate the region's convention and meetings market.
The resort also will have a 200-slip marina, anticipating some guests to arrive by boat and eat at the resort.
Rooms will have hardwood floors for easy maintenance and each room will have a television with at least a 55-inch screen. A harbor walk will take visitors to the edge of the waterfront and while there is no beach access, the resort will have swimming pools.
Allegiant President John Redmond, who joined the company in 2016, was more familiar with hotels than airlines as a former president and CEO of MGM Resorts. Redmond hired MGM officials he had worked with — Ben Mammina, executive vice president of design, construction and development; Micah Richins, executive vice president and chief operating officer of Sunseeker Resorts; and Jason Shkorupa, vice president of food and beverage and resort development.
The former MGM executives said they joined Allegiant because they liked the idea of being able to develop a disruptive new property in a new market.
"It's basically a blank slate," said Shkorupa, the newest of the new hires, joining earlier this month.
Contact Richard N. Velotta at rvelotta@reviewjournal.com or 702-477-3893. Follow @RickVelotta on Twitter.
Allegiant and Sunseeker by the numbers
$88 million — Revenue projected at Sunseeker Resort in first year of operation.
$113.2 million — Revenue projected at Sunseeker Resort after the fifth year of operation.
$46.3 million — Cash flow at Sunseeker after the fifth year of operation.
96 percent — Projected hotel occupancy rate after the fifth year of operation.
$214.32 — Projected average daily room rate at Sunseeker after fifth year of operation.
7.9 million — Number of Allegiant Air passengers projected to seven Florida destinations in 2018.
230 — Number of Allegiant Air routes served to Florida destinations in 2018.
1,432 — Number of existing rooms in Charlotte County, Florida's 16 hotels where Sunseeker is being built.
Related
MGM's Jason Shkorupa to lead Allegiant's Sunseeker Resort food
Former MGM exec to head Allegiant's resort hotel branch
Allegiant selects design, construction teams for Florida hotel-condos