Artisan Hotel becoming cannabis-friendly, taking on new name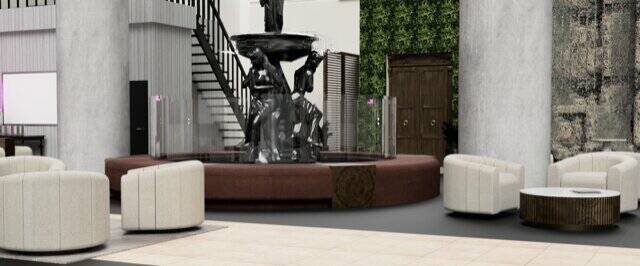 The new owner of the nongaming Artisan Hotel says the 64-room boutique property will be rebranded when it opens as a cannabis-friendly resort in three months.
Elevations Hotels and Resorts President and CEO Alex Rizk said Tuesday that the property would open as The Lexi. A formal opening date hasn't been set, but Rizk said it would occur in early April.
The company, formerly Pro Hospitality Group, acquired the Artisan Hotel for $11.9 million from The Siegel Group, in a deal that closed in March 2022. It invested more than $15 million to purchase and renovate the hotel at 1501 W. Sahara Ave., just east of Interstate 15.
Rizk said he wanted to maintain the Artisan's personality but brighten the dark and eclectic space.
"We want to make it a classy experience and keep that vibe going," he said. "We want to keep the mischievous attitude. We want to be sure to keep the sexiness of the hotel, but we want to classy it up from where it was."
Phoenix-based Elevations, which operates the Clarendon Hotel in Phoenix that has a cannabis-friendly lounge and rooms, initially planed to renovate and reopen Artisan by September. But improvements took longer than expected, and the property is now on course for its spring reopening.
The Lexi will feature all new guest rooms and suites, including an entire fourth floor that's been designated as cannabis-friendly with each room featuring a state-of-the-art RestorAir filtration system.
Rizk said the hotel hopes to normalize the idea of cannabis in travel. The company is working to establish a ground-floor cannabis lounge, but won't be selling cannabis products on-site.
The Lexi also will be home to a new Cajun-inspired steakhouse concept led by Executive Chef Jordan Savell, a newly designed Artisan Bar & Lounge and the Lexi Pool, a European style pool that encourages topless swimming.
The lobby will have towering ceilings, an indoor water feature, a walk-up cafe that will offer breakfast and late-night snacks, cocktail service and a transformative soundscape designed to house live music and intimate entertainment concepts.
One of the special features being introduced is the introduction of its Elevations Nation membership, a hotel rewards system also open to locals that is for more than just travel.
For a nominal monthly fee that hasn't yet been determined, Elevations Nation will offer members access to all Lexi lounges, including a planned cannabis lounge. Members will receive invitations to three-times-weekly concerts, comedy shows, a dinner series, wine pairings and cannabis-infused dinners and special deals with off-property retail partners offering meals, high-end wine, cigars and spirits.
"For example, if a restaurant wants to offer a guest of the Lexi certain discounts or certain offerings for spa or anything off property, we try to partner with these local groups and make their offers visible and accessible to our guests when they check in," Rizk said. "They'll receive a text that will allow them to have access to these special local offers."
Rizk said Elevations is hoping to expand to San Diego, Los Angeles and Palm Springs, California.
Contact Richard N. Velotta at rvelotta@reviewjournal.com or 702-477-3893. Follow @RickVelotta on Twitter.