August flier tally increases at McCarran
September 28, 2011 - 1:01 am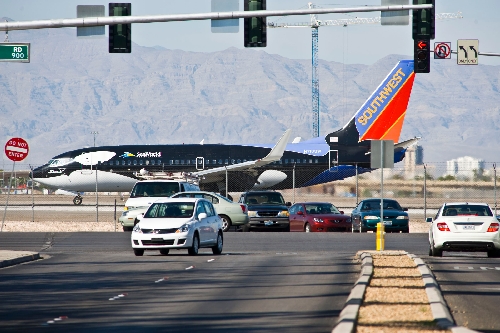 The August passenger count at McCarran International Airport grew at the same pace as the rest of this year, but with hints of possible turbulence ahead.
The 3.6 million people that either departed from or arrived at the airport marked a 4 percent increase from a year ago. This almost exactly matched the 3.9 percent increase for the eight months through August.
Half of the monthly gain came from discounter Spirit, as it added several new cities to what was previously a bare-bones local schedule. Several other domestic carriers, including Alaska, the AirTran subsidiary of Southwest, and JetBlue also posted double-digit percentage improvements.
Overall, seat counts projected for the balance of the year are running 5.1 percent ahead of last year, according to an analyst report from Rodman & Renshaw, creating the capacity to sustain the current rebound. Earlier this year, however, the tentative schedules showed a 5.5 percent gain.
Market leader Southwest rose 0.9 percent, compared with 2 percent for the year to date. During a conference call in July to detail second-quarter earnings, Southwest Chairman and CEO Gary Kelly said the airline would "become more aggressive in addressing capacity," a way of saying that the schedule would stop growing or may shrink as a response to higher fuel prices.
No. 2 Delta has already started to reduce its presence as its McCarran passenger count dropped 6 percent in August.
US Airways surged 15.5 percent, but has announced that it will slash its schedule from 36 flights a day to 21 starting in November.
Although Continental was up 10 percent, United dropped 28.5 percent as management continued to deploy planes elsewhere now that the two are under common ownership. Together, they are off 12.3 percent from a year ago.
Still, wrote Rodman & Renshaw analyst Robert LaFleur, "We expect airlines to reduce overall capacity, but Las Vegas should be spared given the market-share battle among JetBlue, American and Spirit."
How many planes come is important to the visitor industry because about 41 percent of tourists and conventioneers arrive by air. Surveys by the Las Vegas Convention and Visitors Authority have consistently shown that people who fly in spend more than people who drive in.
International traffic jumped 24 percent, to 218,000 people in August, with the biggest gains coming from Canadian discounter WestJet. Also, the entry of Mexican discounter Volaris coupled with the expanded schedule of AeroMexico has more than offset the loss of Mexicana, which quit flying after if fell into bankruptcy a year ago.
Both British Airways, using larger planes than a year ago, and Virgin Atlantic, with two destinations instead of one, were up more than 20 percent. But the nonstops to Paris on France's XL Airways declined 13.5 percent despite an intensified national sales effort.
Contact reporter Tim O'Reiley at toreiley@reviewjournal.com or 702-387-5290.