Bold, brash and big: Sphere architecture dazzles as much as big screen's content
Updated September 28, 2023 - 7:39 pm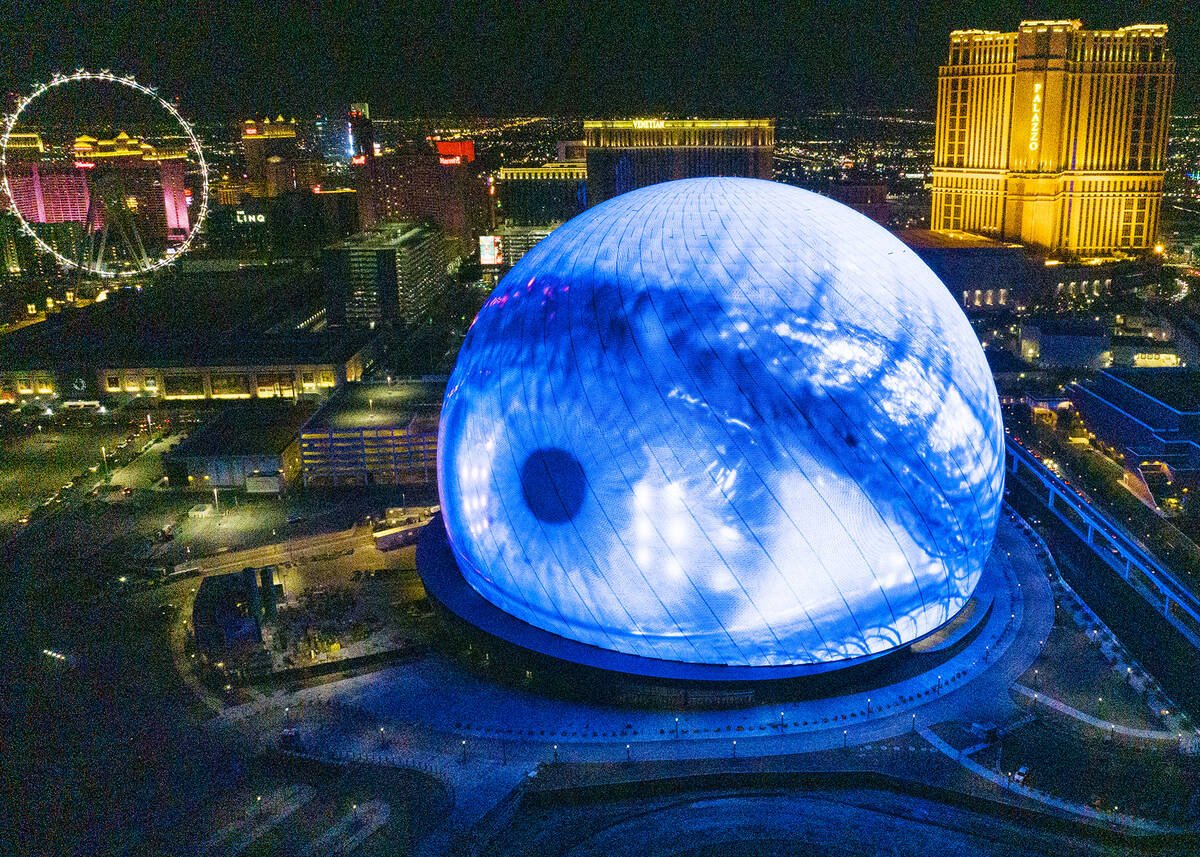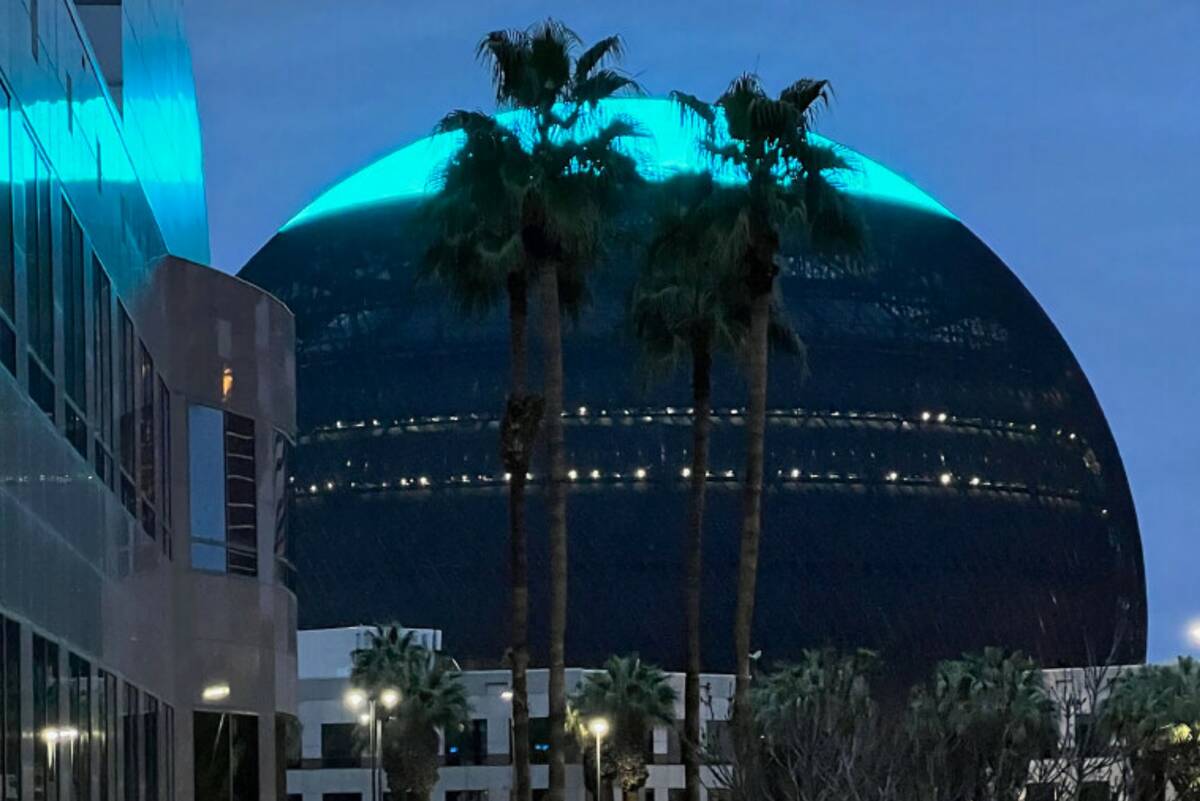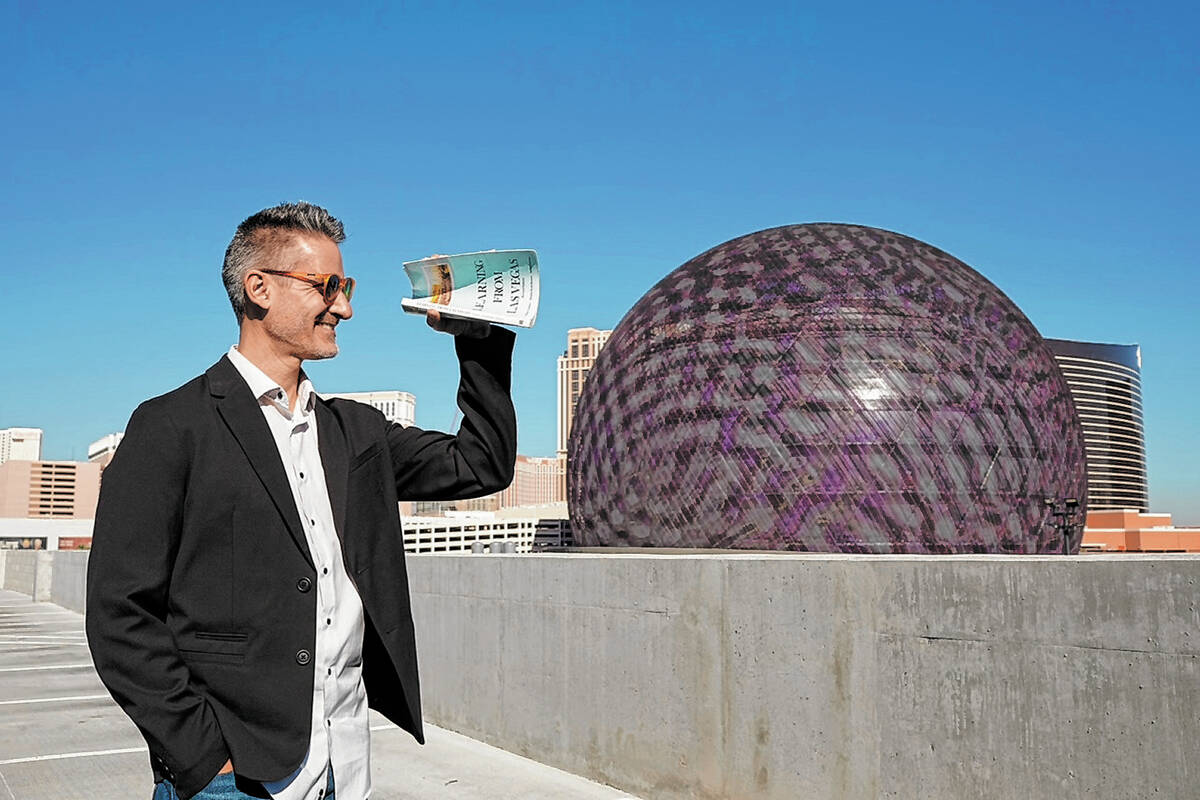 While the technological marvels of the Sphere have dazzled tourists and locals, UNLV professor Glenn Nowak sees the building that opened its doors Friday from a different perspective.
Nowak, founder of the UNLV School of Architecture's hospitality design program, says the world's largest sphere-shaped building is a perfect fit for the city because visitors to Las Vegas expect things that are bold, brash and big.
But Sphere content providers, be forewarned: Nowak also believes images need to be refreshed so that people see something better than what they saw before.
"It really seems to make sense with just the direction the city has always been pushing in terms of entertainment architecture," said Nowak, who has digitally archived photographs, architectural sketches and blueprints showing the evolution of Las Vegas Boulevard resort architecture over the decades.
Impressive scale
"I was really surprised just at the scale of it," Nowak said of the Sphere. "You just don't see that form in architecture at that scale. And especially with the programming that it's designed to support inside. It's just a massive building. But, again, not surprised because it's Las Vegas."
The last time a large interestingly shaped building took center stage in Las Vegas was nearly 30 years ago when the pyramid-shaped Luxor was under construction.
"It was designed to produce this immediate emotional response and to delight and entertain," Nowak said of MGM Resorts International's south Strip 4,407-room resort. "We could go back further to all the old marquee signs that were larger than life. There was always this kind of combination of architectural form and electronics and emerging technology, whether that's neon or flashing bulb lights or the beam into outer space from Luxor. Now, we're wrapping a sphere in LEDs."
The Sphere and its architecture also will be a centerpiece of "Duck Duck Shed," a celebration of Las Vegas architecture sponsored by the Neon Museum and the Commission for the Las Vegas Centennial Oct. 4-7.
The use of buildings to illustrate the content inside has evolved, and the Sphere is the newest iteration.
It started with building wraps and giant signage. Visitors were enthused to see giant images of Penn & Teller at the Rio, Donnie and Marie Osmond at Flamingo and the Beatles at The Mirage. That evolved into huge video screens on buildings, an idea adopted by several properties. Now, the Sphere has maximum exposure.
"Architecture has figured out, especially in Las Vegas, how to maximize marketing opportunities," Nowak said. "I think years ago, the big story was just plastering the sides of hotels with huge murals advertising the show inside. But those were static, and they didn't change for weeks or months at a time.
"And now we've got this Sphere that is able to be in constant change 24 hours a day, seven days a week, 365 days a year. And I still think back to Luxor, because just its place and its form, when it has had signage plastered on it, there is a recognition that people could read that from the airplanes as they come and go from Las Vegas. And very rarely do you get that kind of opportunity on a building facade, but with the Sphere, obviously that works in every direction, whether you're coming or going. And it is legible for the pedestrian, for the vehicle, for people in planes, and who knows, maybe one day on high-speed rail."
While several buildings have taken to video screens on buildings — The Cosmopolitan of Las Vegas, Circa, a tower at Palms and Allegiant Stadium among them — Resorts World set a new video standard by dedicating an entire hotel facade to video billboard status.
"That was a huge move in terms of really pushing the LED technology at scale," he said, "But it also is more in line with just the decorated shed. There wasn't much of a change in terms of architectural form. It kind of follows the normative rules of hotel tower design, and they've applied an LED screen to it. So I think even something like the Palms tower, the one with the LED going from edge to edge, is almost more of a seamless integration of LED and the architecture."
Game-changer
Nowak said from the moment he first saw the Sphere activated that it was going to be a game-changer for the city.
"I was coming from the Howard Hughes Business Park," he said. "And it was just rolling through different colors. It almost looked like it was running diagnostics at that point, but bright and crisp. And it looked like it was an alien planet that had just landed in our backyard. And I literally just stopped on my way to the car and thought, this is going to change the way architecture is approached now in Las Vegas and elsewhere."
Nowak believes the interest in the Sphere will only grow if the content continues to be dynamic.
"If you repeat (images) too often, then that messaging, whatever the screen is showing, people become a little desensitized to it," he said.
"Right now, I think the Sphere is really enjoying its heyday, its spotlight in, really on the world stage. People are totally enamored by it. People are setting up their lawn chairs wherever they can at night to catch a glimpse and sharing their videos. So it's going to be interesting to see just the staying power of that. To some extent I see this kind of like our infatuation with our phones and having to constantly scroll through the entertainment on our feeds. Being able to scroll through, if you watch that Sphere long enough you're going see so many cool things, but at what point are you are you going to become anxious to see what else it can do or what else others are going to do with this technology and architecture combined?"
Art and advertising
But don't count on content growing stale. Sphere President and Chief Operating Officer David Hopkinson in a recent interview said the content on the Sphere will be a combination of art and advertising — and it's all expected to attract eyeballs.
"Our ambition for Sphere is art as well as commerce," he said. "Half of the operational time of Sphere will be art, and we're looking forward to being part of that community. We've got this incredible canvas that we're very curious to see what the artists and creatives can do with. The other half of the time we expect will be commercial and brands and advertisers, many of whom are household names or aspiring to be household names, will be interested in showcasing their brands and products on Sphere."
Contact Richard N. Velotta at rvelotta@reviewjournal.com or 702-477-3893. Follow @RickVelotta on X.