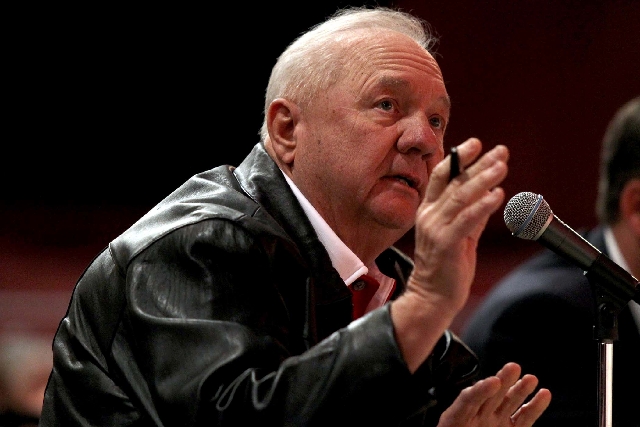 An executive with Las Vegas' second-largest cab company on Friday angrily responded to a recent state legislative audit that argued nearly 1.5 million travelers were overcharged an estimated $14.8 million last year by cabdrivers and cab companies.
Bill Shranko, chief operating officer of Yellow Checker Star Transportation, said the company is demanding a retraction by the Audit Division of the Legislative Counsel Bureau "for causing irreparable harm to the national reputation of the city of Las Vegas, over 9,000 hardworking taxi cab drivers and the entire taxicab industry in Las Vegas."
The audit released this month estimated 22.5 percent of the 6.6 million rides by local taxis to and from McCarran International Airport in 2012 were deceptively long. The "long hauling" practices added an average of about $10 to the typical cab fare, the audit said, and it recommended the Taxicab Authority take measures to address the long hauling problems.
The auditors reviewed 2,730 airport trips and said 614 involved long hauling.
Shranko blasted the audit in a statement this week.
"The unfounded charges provided to the national media resulted in the legislative auditors acting as judge, jury and executioner by making unproven allegations without following a fundamental, verifiable investigative auditing process," Shranko said.
"The primary failure of the audit." he said, "was that it assumed any taxi fare $5 over an average was presumptive long hauling. Nothing could be further from the truth in Las Vegas where taxi fares from the same embarkation point to the same destination vary dramatically day to day and hour to hour due to traffic, road construction and the direction of the passenger amongst numerous other variables."
Shranko said the audit was flawed because no customers, taxicab drivers or taxi companies were interviewed for the report. He noted the audit's conclusions did not include a long-hauling complaint from a customer.
"The audit committee shockingly failed to take into account the differences in current traffic conditions affecting a passenger's choice as to whether the freeway route or city street route is chosen to or from the airport," he said.
Yellow Checker Star Transportation is seeking all legal remedies, Shranko said.
As the second-largest cab company in Las Vegas, Yellow Checker Star holds one-fourth of the operating permits for local taxis. About 1,300 of the company's 1,700 drivers belong to the Industrial Technical & Professional Employees Union Local 4873, which is part of the other union.
The auditors argued their estimate was conservative. They said they did not count a trip as a long hauling ride unless the fare was at least $5 higher than the estimated fare to a specific destination.
They suggested placing signs at the airport and in cabs that would show the estimated fare to popular tourist resorts.
Contact reporter Alan Snel at asnel@reviewjournal.com or 702-387-5273.