Cake, champagne greet passengers on first Beijing-Las Vegas nonstop flight
December 2, 2016 - 3:04 pm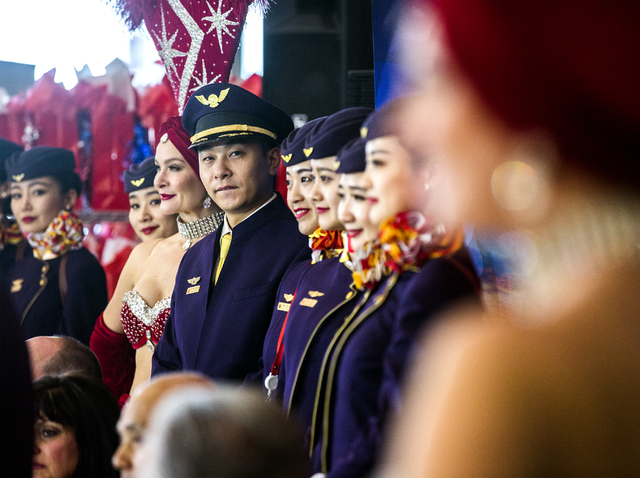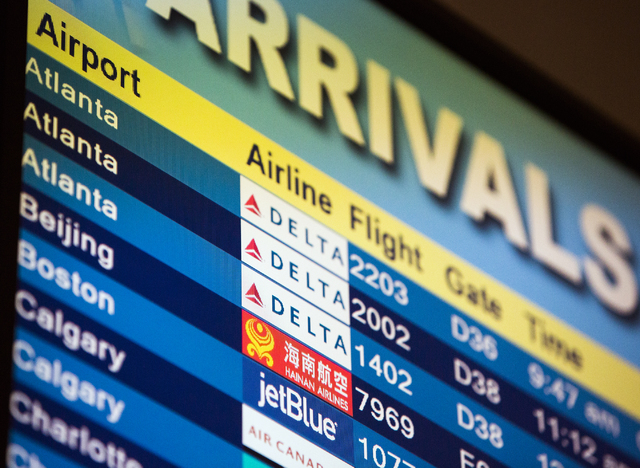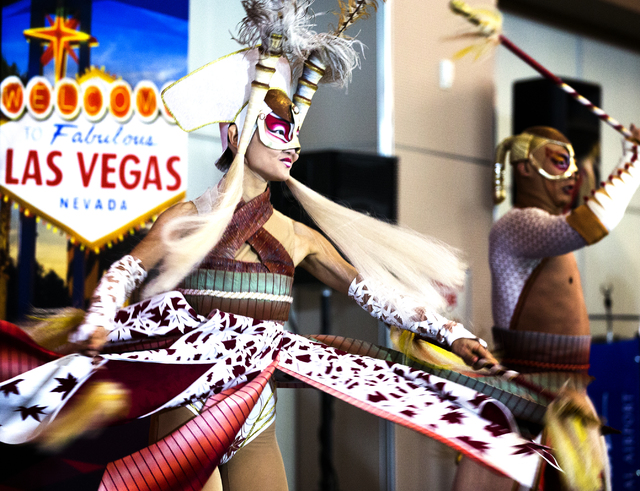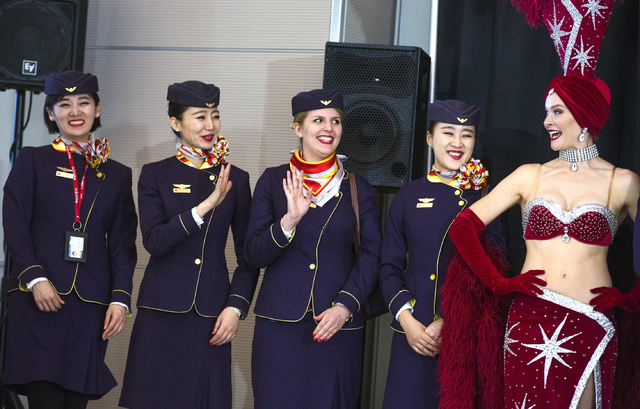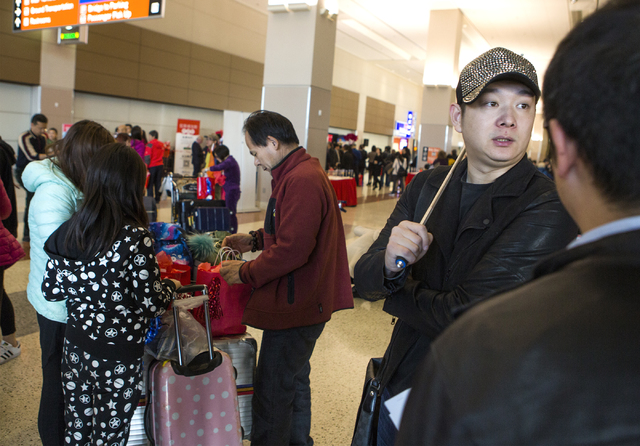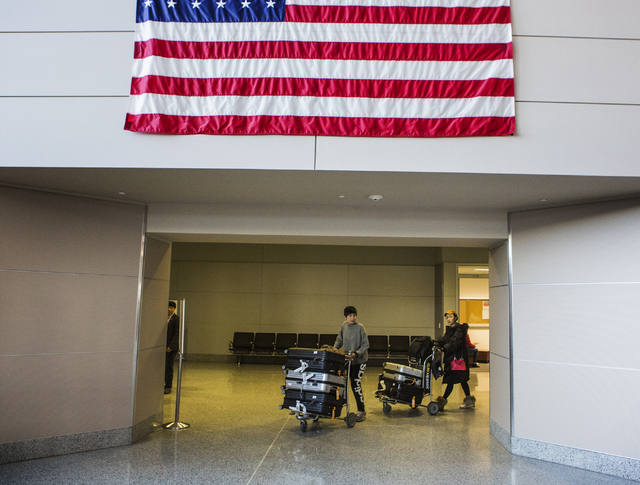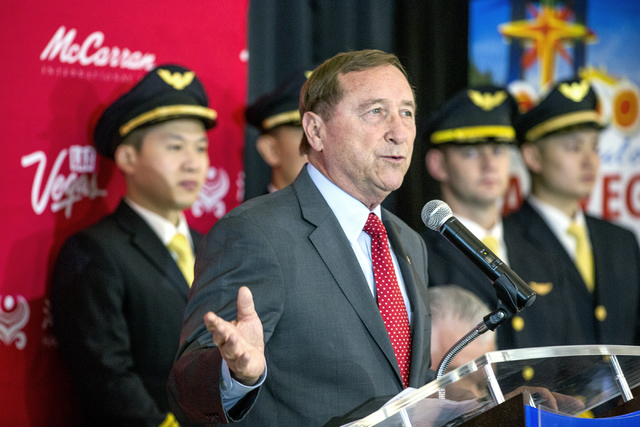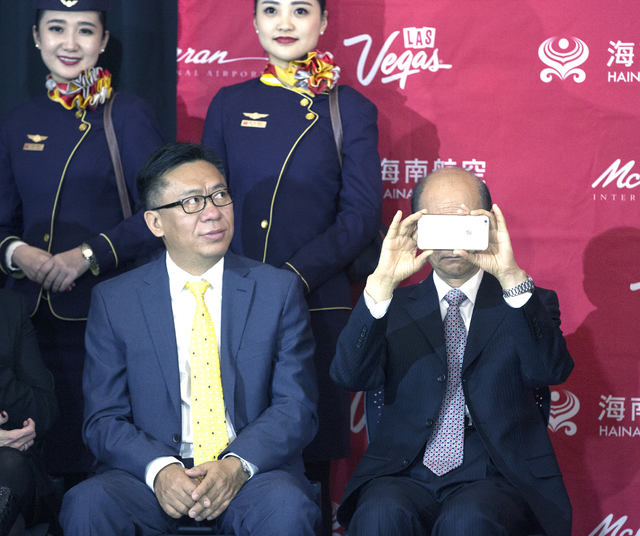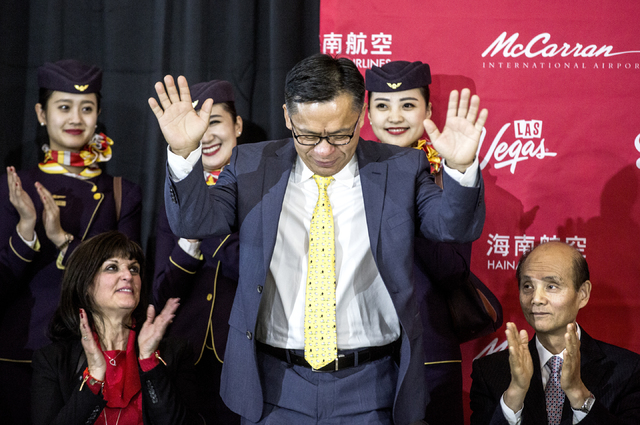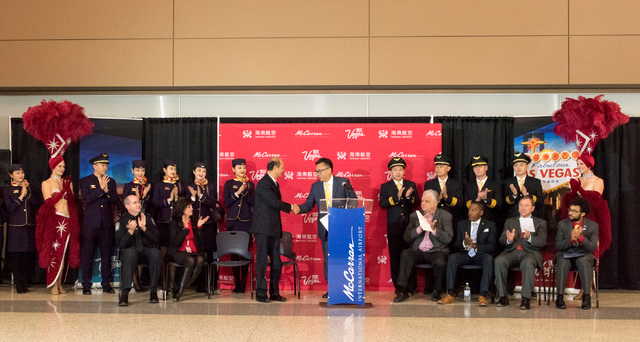 How eager are Chinese travelers to get to Las Vegas?
Extremely so, if the inaugural Beijing-to-Las Vegas nonstop flight on Hainan Airlines is any indication.
Hainan Capt. Zhao Zhi Long guided the airline's Boeing 787 Dreamliner into McCarran International Airport nearly an hour ahead of schedule on Friday and once the nearly 300 Chinese travelers, media and tourism leaders arrived, they were treated to champagne, gift bags, a brief performance by some of the Cirque du Soleil "Ka" cast and a welcoming ceremony.
Las Vegas is the eighth gateway city for Hainan in North America and speakers at a welcoming ceremony made several references to eight being a lucky number for the Chinese.
For many aboard the flight, like Sun Jing Yi, it is their first time coming to the United States.
Sun said she is excited to experience Christmas in Las Vegas and see all of the sights.
Passenger Dong Yue is one of 22 Chinese on a group tour that will spend a week in Las Vegas and then three or four days in Los Angeles. She said she is excited to visit the United States but has no idea what to expect from Las Vegas. She trusts she will enjoy whatever the tour guide has planned.
Tour Guide Xun Xiao Liang said the group will tour the casinos and visit the Grand Canyon, a popular choice for Chinese travelers.
It's Zhu Jian Ping's second time coming to the U.S. She said she is most looking forward to taking a helicopter ride over the Grand Canyon.
The journey over to Las Vegas began with a celebratory event at the gate inside Beijing Capital International Airport. Passengers and Hainan crew members posed for pictures in front of different Las Vegas-themed backdrops and with two Las Vegas showgirls.
Upon boarding the plane each passenger received a travel pillow as a gift, and during the flight, passengers enjoyed a cake-cutting ceremony and passengers received gifts.
The crew hid two envelopes in first class and three envelopes in economy class, and the people who found them won prizes. CEO Rossi Ralenkotter, in first class, won a stuffed animal panda character from "Kung Fu Panda" as well as a mahogany box containing fine glasses. A man in economy class won a model replica airplane of the Hainan Airlines inaugural aircraft.
'FIRST DAY OF SCHOOL'
Ralenkotter said getting on the plane in Beijing was "very exciting" and felt like "the first day of school."
"It's a great sense of accomplishment, it's a team effort," Ralenkotter said. "This is the start of a new relationship. Now we really can be even more aggressive in the Chinese marketplace."
A traditional water arch salute greeted the aircraft as it taxied to the gate at McCarran. Firetrucks sandwiched the plane and sprayed plumes of water onto the jet after the 11-hour-and-10-minute trip.
Chris Jones, chief marketing officer for McCarran International Airport, said it's been a long, well-earned win for Las Vegas.
"It will be great to finally see those people stepping off of the plane experiencing an airport that was really designed to accommodate days like Dec. 2," Jones said.
Nevada leaders have pressed for nonstop flights between China and Las Vegas for close to two decades. Former Lt. Govs. Lorraine Hunt-Bono and Brian Krolicki, as chairs of the Nevada Commission on Tourism, began the effort in the late 1990s and early 2000s.
Officials with McCarran and the Las Vegas Convention and Visitors Authority sealed the deal with Hainan, announcing last summer the date of the inaugural flight.
As the Chinese passengers stepped off the plane, they were the first to experience McCarran's new China Welcome program. Through an agreement with New York-based China Ni Hao and its principal, Jack Lok, the airport is now equipped with Mandarin signage, six Chinese-speaking ambassadors to welcome passengers and help them to navigate, as well as a WeChat presence. WeChat is a widely used social networking and mobile wallet app in China.
Hou Wei, senior vice president of Hainan Airlines, said he was impressed with the signage.
"The signs seem to be quite strategically positioned, which should help (Chinese travelers to navigate through the airport)," he said.
Michael Boyd, chairman of Evergreen, Colorado-based Boyd Group International, assisted China Ni Hao and the airport and said McCarran now is the only airport in the country that is truly China ready.
As Chinese passengers left the airplane they were greeted with airport staff welcoming them to Las Vegas. After gathering their luggage, they were treated to champagne, a short Cirque du Soleil performance featuring acrobats of Chinese descent and a gift bag containing tea, a small stuffed teddy bear, chocolates wrapped in Las Vegas-themed packaging and a mini bottle of Canadian Icewine.
ECONOMIC IMPACT
Speaking at a welcoming ceremony upon arrival, Ralenkotter said the new route is expected to generate an estimated $33.5 million annually in direct visitor spending for Southern Nevada.
"Hainan Airlines' new nonstop service connects China to Las Vegas for the very first time, offering additional conveniences and flexibility for both business and leisure international travelers," he said. "Further lift will also help contribute to the record visitation we are already experiencing in 2016."
Clark County Commissioner and convention authority board Chairman Lawrence Weekly, who traveled to Beijing, and Commission Chairman Steve Sisolak as well as Luo Linquan, consul general for the People's Republic of China in San Francisco, were among the dignitaries who spoke at the arrival ceremony.
Boyd said Las Vegas' preparedness for Chinese visitors could lead to additional flights from that country. He said 13 cities in China are prospective sources for additional flights for Hainan and other Chinese carriers.
With China considered to be one of the leading growth markets for visitation to Las Vegas, the accessibility of the new route introduces Las Vegas to millions of prospective visitors and will be instrumental to increase international visitation.
Currently, international travelers account for 16 percent of annual visitation to Las Vegas, which translates to 30 percent of revenue.
Chinese travelers are considered one of the fastest-growing and largest-spending groups of international visitors to Las Vegas. The new Hainan route operates Mondays, Wednesdays and Fridays.
The convention authority team and other representatives from Las Vegas and Hainan Airlines now start their next leg of the journey: growing demand for the route.
Tourism officials say they hope to see additional nonstop routes from China within the next five years.
The first arrival from Beijing also occurred the day before the official grand opening of the new Chinese-themed Lucky Dragon just off the Las Vegas Strip.
The inaugural flight comes on the heels of the one-year anniversary of the declaration of 2016 as China U.S. Tourism Year by President Barack Obama and Chinese President Xi Jinping.
"What better way to end the (China-U.S. Tourism) Year than to have new nonstop service," Ralenkotter said.
Contact Nicole Raz at nraz@reviewjournal.com or 702-380-4512. Follow @JournalistNikki on Twitter. Contact Richard N. Velotta at rvelotta@reviewjournal.com or 702-477-3893. Follow @RickVelotta on Twitter.