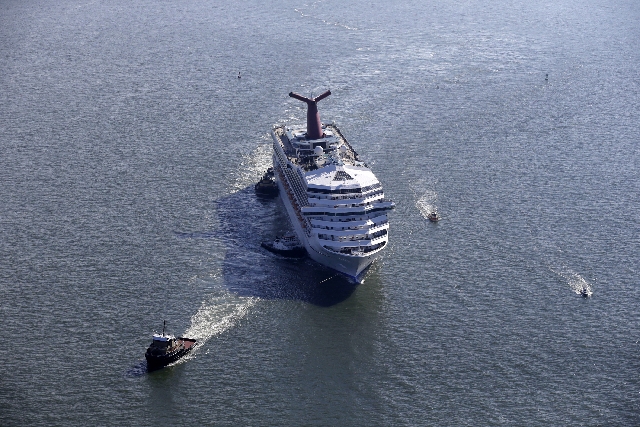 NEW YORK — Carnival Cruise Lines on Wednesday announced a $300 million program to add emergency generators, upgrade fire safety and improve engine rooms on all 24 of its ships.
The announcement could help the brand begin rebounding from a wave of bad publicity that began in February, when an engine fire knocked out power on the Carnival Triumph. Passengers endured filthy conditions as the Triumph was towed to Mobile, Ala., resurrecting stories of a similar incident from 2010 aboard the Carnival Splendor.
Cruise sellers say prices for Carnival cruises have dropped as minor incidents with other Carnival ships also have made headlines.
Emma Jupp, president of Liberty Travel, which does about 25 percent of its business booking cruises, applauded the announcement.
"This is an important and well-timed decision by Carnival Cruise Lines that will provide both added reassurance and value to Liberty Travel's strong base of cruise customers," she said.
Carnival said the first phase of improvements involves installing an additional emergency generator on every ship to ensure operation of safety equipment and services such as plumbing, fresh water and elevators during a power loss. The extra temporary generators will eventually be replaced by permanent generators.
Carnival also is installing high-pressure upgraded water mist systems on all ships to improve fire safety. All of those measures will be completed in 18 months, Carnival CEO Gerry Cahill said Wednesday.
Final upgrades will take longer, requiring drydocking to reconfigure cables that connect each ship's two engine rooms, among other measures. That way, if one engine room goes out, the other will be unaffected.
Carnival Cruise Line's parent company, Carnival Corp., owns 10 cruise lines, including Princess, Holland America and Cunard. The company said all 101 ships from all brands will be assessed to see whether similar upgrades are warranted. Carnival Corp., based in Doral, Fla., also owns Costa Cruises, whose Costa Concordia ship sank last year, killing 32 people.
"We've operated 8,000 or 9,000 cruises in the last six years," Cahill said. "The vast majority of them offered a great vacation experience. We failed on two. But we're going to make these investments to reduce the possibility of it happening again."
Earlier this week, Carnival said it would reimburse the U.S. government for costs incurred by the U.S. Coast Guard and Navy in helping the Triumph and Splendor. Last week, U.S. Sen. Jay Rockefeller, D-W.Va., demanded repayment for the rescues.
In a statement Wednesday, Rockefeller said, "It's unfortunate that it has taken a series of terrible cruise line failures, and the scrutiny that followed, for Carnival to respond with some improvements for their passengers' safety."
Todd Elliott, owner of Cruise Vacation Outlet, said he wasn't sure the announcement of improvements would matter to consumers planning their next vacation. "It's a boring subject unless you're an engineer," he said.
But Beyondships.com editor Richard Wagner said, "Even though events like the Carnival Triumph fire are very rare, the publicity about recent events has caused some people to be concerned about cruise ship safety.
"The fact that Carnival is making a significant investment to improve the safety features of its ships should provide reassurance."
Carnival Corp. shares fell 8 cents, or 0.24 percent, Wednesday to close at $33.23 on the New York Stock Exchange.