Company behind Las Vegas high-speed rail plans to go public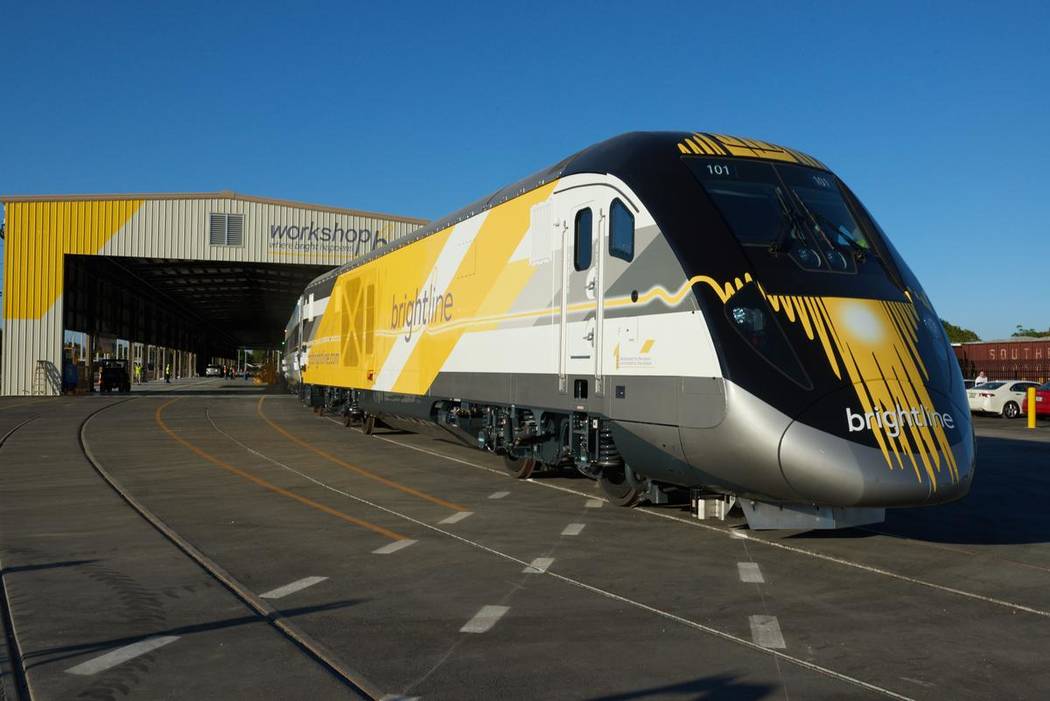 The company planning to build a high-speed rail line between Southern California and Las Vegas intends to create a public company and develop a public stock offering.
Privately held Fortress Investment Group on Friday filed a preliminary prospectus for Virgin Trains USA LLC with the Securities and Exchange Commission providing new details about the expansion of rail service in South Florida and building a 185-mile dual-track line between Las Vegas and Victorville, California.
Earlier Friday, Brightline, the company financed by Fortress, announced plans to partner with British entrepreneur and adventurer Richard Branson to form Virgin Trains USA and take over the proposed XpressWest train route in Southern California and Southern Nevada.
The prospectus provides details and confirms speculation about several aspects of California-Nevada train route the company plans to start building next year and have completed by the fourth quarter of 2021 or the first quarter of 2022.
According to the prospectus, the company expects to complete the Las Vegas-Victorville portion of the project for $3.6 billion, well short of the $7 billion XpressWest had estimated. The difference in cost is related to the company suggesting fewer daily trips and therefore fewer train sets needed for the route. XpressWest had discussed running trains every 20 to 30 minutes.
Richard Little, a retired director for Public Finance and Infrastructure Policy at the University of Southern California and an expert on high-speed rail projects, said he was never enamored with the idea of making Victorville the southern end of the line, but having the proposal privately financed should make it more appealing as far as the cost is concerned.
"I guess if Branson's got so much money he wants to build trains, more power to him. I don't know that I'd put my money into it," said Little, now a consultant in Pinehurst, North Carolina.
"I don't want to say Victorville's a bad idea, I just don't find it particularly compelling," he said. "If they can make the numbers work, bless their hearts. It'll take some cars off the road."
Other details from the prospectus about the Las Vegas project:
— The route, referred to in the document as the "Vegas Expansion" and the route between Las Vegas and Victorville as the "Victorville Phase," relies on information from the High Desert Corridor Study commissioned by San Bernardino and Los Angeles counties and the cities of Adelanto, Victorville, Apple Valley, Lancaster and Palmdale.
—The company has entered into an agreement to acquire about 38 acres for about $150 million in the resort corridor for a train station and a mixed-use development. The deal is expected to be for $140 million cash and the balance in share of common stock. The station is expected to serve as a hub with access to taxis, buses, ride shares, shuttles and limousines.
— Executives believe the Vegas Expansion will result in trips between Victorville and Las Vegas taking 90 minutes compared with an estimate of approximately 2 hours 50 minutes by car.
— The company expects fares between Victorville and Las Vegas would average about $60, "which is less expensive than the cost of driving (when including parking costs) and the typical cost of flying. For example, the cost of a next-day Friday flight from Los Angeles to Las Vegas can often exceed $150."
— The company expects fully operational annual ridership of 11.3 million passengers for the Vegas Expansion by the fourth quarter of 2023 or the first quarter of 2024. "We expect the ramp-up of ridership for the Vegas Expansion will proceed at a faster rate than our Florida passenger rail system due in part to the more concentrated travel pattern in the corridor between Las Vegas and Southern California," the prospectus said.
— Total revenue of $863 million is expected from the Vegas Expansion in the first year. "That includes approximately $674 million in ticket revenue and approximately $189 million in ancillary revenue (which reflects an expected $5 in additional ancillary revenue per passenger as compared to our Florida passenger rail system, based on management's expectation that the average trip length and nature of the market served by the Vegas Expansion will result in increased demand for food and beverage and potential sponsorship opportunities)."
Contact Richard N. Velotta at rvelotta@reviewjournal.com or 702-477-3893. Follow @RickVelotta on Twitter.
RELATED
Local leaders hopeful for Las Vegas, Victorville high-speed rail
XpressWest acquisition renews hope for area high-speed rail
Florida firm acquires company planning Las Vegas to LA rail line
More prospectus details
The initial public offering for Virgin Trains USA is being underwritten by Barclays Capital Inc., J.P. Morgan Securities LLC and Morgan Stanley & Co. LLC.
It hasn't been priced and there's no indication what percentage of shares would be controlled by Fortress Investment Group, which filed the IPO and has led Brightline's South Florida efforts.
More details from the prospectus:
— The deal for XpressWest is expected to close by the second quarter of 2019.
— Ancillary revenue is expected to consist of food and beverage sales, merchandise sales, parking fees, advertising, sponsorships and marketing affiliations (including naming rights), commissions from travel partners and ground transportation extensions and other services.
—The company's goal is to generate a stabilized operating income margin, before depreciation, amortization and interest, of about 70 percent of total revenue.
— The company is exploring other potential city pairs on federally identified high-speed rail corridors. Among the prospective routes: Los Angeles-San Diego; Chicago-St. Louis; Houston-Dallas; Houston-San Antonio-Austin; Atlanta-Charlotte; Portland-Seattle-Vancouver; and Washington-New York-Boston.